Zoo Animals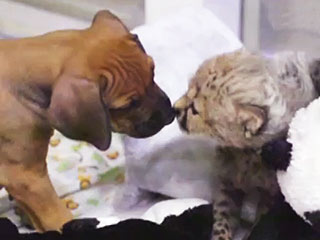 Here's some more definitive proof we can all, indeed, get along: A 6-week-old cheetah cub named Ruuxa has befriended a 7-week-old Rhodesian ridgeback puppy named Raina.

After the cheetah, born at the San Diego Zoo's Safari Park, was rejected by his mother, the keepers helped nurse the youngster. And then they found him a friend.

"Because the cheetah was by himself and did not have any siblings, we wanted him to have a companion immediately," animal training manager Susie Ekard said in the zoo's blog. "They definitely like to play, and when they take naps together, they often will snuggle up together for that warmth and closeness." (See them in action in the video below.)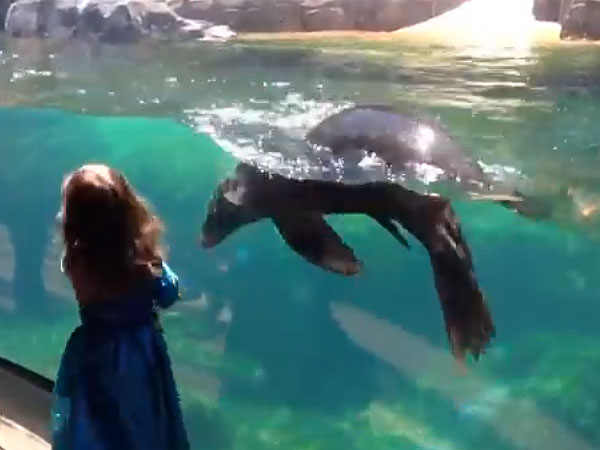 She is beauty. She is grace. Whoops, where did she go?


A goat named Mr. G received the surprise of his life recently when he was reunited with his best friend, a donkey named Jellybean.

The pair's inspiring friendship began when they lived together for years in the menagerie of a hoarder; after her brood was taken away from her, Mr. G and Jellybean were split up between two different sanctuaries.

Mr. G was taken to California's Animal Place, where the owners soon noted his emotional distress. The buck sat in his pen all day, refusing to eat or even move.


There are times in life when you just have to dive right in – and that was a lesson four African lion cubs at Smithsonian's National Zoo learned earlier this week.

The cubs, born March 10, were tasked with passing a swim reliability test on Tuesday. And they nailed it! (Watch the test in the video above.)

National Zoo staff say that the 10-week-old cuties were all able to keep their heads afloat, swim to the shallow end of the moat (2½-feet deep!) and climb back onto dry land, reports USA Today. That means they're almost ready to explore the terrain of their Washington, D.C., habitat with their mother, 9-year-old Shera.
We're not the only kids at this playground. There are countless species of animals who also call earth home.

And so, as we celebrate Earth Day on Tuesday, we want to give you seven more reasons to recycle that can of soda you just guzzled for lunch.

Seven more reasons to bike to the store for that gallon of milk instead of drive.

Seven more reasons to turn off your computer (gasp!) and save a little energy.
With summer on the way, the penguins are ready to play!

A group of hatchlings born at the Oregon Zoo is on its way to joining the zoo's Humboldt penguin colony of 18 adults this summer.

The facility has welcomed five little ones over the past few months and even managed to capture one of the baby's hatchings on camera.
Don't shed any tears for a crocodile that was captured wandering outside a pet store at a Northern California shopping mall.


Ever since Ellen DeGeneres took the mother of all selfies at the Oscars last month, people everywhere have been trying to top it. Well, it appears someone finally has – a koala.

The cuddly residents of the Wild Life Sydney Zoo are the latest members of the animal kingdom to become selfie-obssessed. When a camera was set up on a moveable tripod in their enclosure a few weeks ago, Bruce, Aaron and Bill immediately started posing for snaps.

Jayden, a 6-year-old with Type 1 diabetes, likes to look out the window in his room at the Children's Memorial Hermann Hospital in Houston. The Houston Zoo is located across the street, so he's trying to see the animals.

"We always drive by the zoo to get to the hospital," says his mother. "He had mentioned, 'Mommy, I just want to go to the zoo.' "

But thanks to a little technology, Jayden didn't have to leave his hospital bed to see jaguars, giraffes and sea lions.
A Danish zoo on Wednesday defended its decision to kill two aging lions and two cubs, citing the risk of inbreeding and the arrival of a new male.


Zoo Animals
Get PEOPLE Pets Everywhere
Advertisement
Photo Special
Top Pets Category