Zoo Animals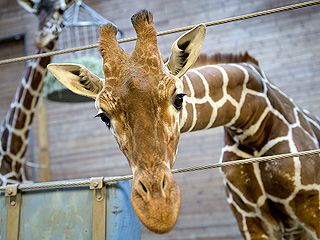 Credit: AFP/Getty
Police say a California woman was cited after climbing into the giraffe exhibit at a Madison, Wisconsin, zoo and getting kicked in the face.


If there's one thing you remember from today, it should be this: there is nothing cuter than a set of panda triplets.

There is also nothing more rare. Born on July 29 at Guangzhou's Chimelong Safari Park in China, these 16-day-old siblings are the world's first surviving panda triplets, according to The Guardian.

The birth of the panda babies – who are being cared for by their mother Juxiao and a round-the-clock team of zoo nannies – is extra-special since the animals have such a low reproductive rate.
Wildlife expert Kevin Richardson just wanted to tell the world about lions.

Turns out the lions wanted to, too.

As the self-proclaimed "Lion Whisperer" was recording a PSA for Sunday's World Lion Day, he was interrupted by the majestic roars of Tau, a lion he has known since it was just a cub.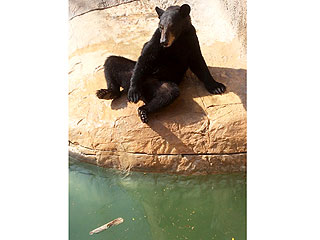 A 220-pound black bear who managed to climb out of a South Texas zoo exhibit took a dip in a pond with some harbor seals before staffers tranquilized him.

No one was hurt in the incident Monday at the Gladys Porter Zoo in Brownsville. Zoo spokeswoman Cynthia Galvan said Tuesday that the male bear, named Oscar, is staying in his sleeping quarters, out of public view, until repairs are made to cracks in the concrete wall of his bear grotto.
What do you get when you cross a sheep and a goat? (This isn't a trick question.)

Meet Butterfly, the "geep." She's the offspring of a female sheep named Momma and a male pygmy goat named Michael, and she was born at MyPettingZoo.com's facility in Arizona.

"We were not even aware that [Momma] was pregnant because we don't have a male [sheep]," Priscilla Motola, owner of the petting zoo, told Azcentral.com of the surprise arrival, which is believed to have happened on Sunday.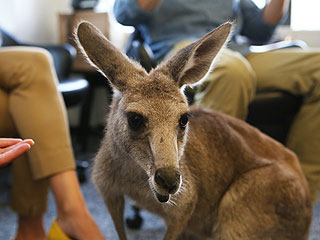 They may not be king of the jungle, but to us, kangaroos have a certain mystical quality – like that of Kanye, Kim or any K-named celeb for that matter.

So, when National Geographic asked us if they could bring a gray kangaroo to our New York City offices to promote their new special Urban Jungle (airing Aug. 3 at 9 p.m.), we were more than happy (hoppy?) to oblige.

Her name was Ingrid and she definitely stole our hearts – and any ounce of remaining productivity we had on a Thursday morning. As she hopped down our halls with a GoPro camera, hordes of people gathered to catch a glimpse, a selfie, or any other evidence that the Australian native was actually on the 29th floor of our usually quiet office building.
It's International Tiger Day, and some very special Internet stars are here to meow all about it.

Lil Bub, Princess Monster Truck, Pudge and more famous web moggies recently joined up with Greenpeace to create the video "Cats Save Tigers." Think of it as a "We Are the World" with more yowling.

In the clip, the kitties explain (with a little help from captions) that while tigers are the largest felines in the world, their numbers are rapidly declining. There are only 3,000 tigers left on Earth today, a depressing figure these cats hope to change.


An owner of a zoo in Michigan's Upper Peninsula says a 12-inch alligator has escaped, possibly with some help from a tortoise.

MLive.com reports the alligator named Carlos got out of an enclosure over the weekend at the GarLyn Zoo near Naubinway. He was spotted by people nearby, who called police, but he wasn't caught.


We're used to celebrities dropping by our offices – but when a fox and an alligator paid us a visit recently, we all went a little wild!

The visit was courtesy of Martin and Chris Kratt, the brothers who star in PBS's Wild Kratts, an animated children's series about animals who live in places like jungles and swamplands.
Zoo animals in Georgia's capital are not allowed to be lonely, even if it means they end up with rather unusual companions.


Zoo Animals
Get PEOPLE Pets Everywhere
Advertisement
Photo Special
Top Pets Category