Zoo Animals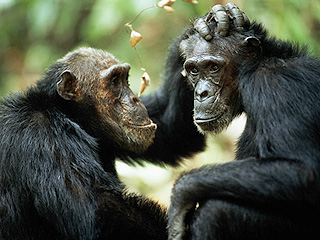 Credit: Anup Shah/Getty
What do chimpanzees talk about when they talk about love? (Or anything else, really?)

Scientists are finally getting to the root of that question. A new study published in Animal Behaviour details the efforts of scientists who studied chimpanzees in the Ivory Coast's Taï Forest for over 750 hours.
We can hardly bear the cuteness of Vietnam's Halong Bay bears – and that's just one reason why celebrities around the world are joining Animals Asia's campaign to save them from suffering on bile farms.

In an effort to rescue Asia's furry friends, singer/actress Olivia Newton-John, actor/writer (and newlywed!) Stephen Fry and actress Ali MacGraw have lent their helping hands to remove these bears from dangerous conditions and place them into Animals Asia's care and rehabilitation at its Tam Dao bear sanctuary.
He looks like a too-perfect special effects creation for a movie, but nope, he's real. Behold the pygmy hippo born to England's Whipsnade Zoo on December 26.


Sew, here's the deal: Project Pouch needs you!

Koalas aren't the only animals affected by the bushfires in Australia. Orphaned or injured possums, kangaroos, and wallabies need to be kept warm in a pouch-like environment. To help, Project Pouch, a new campaign created by the International Fund for Animal Welfare, is asking for handmade "pouch liner" donations to comfort the traumatized animal babies, nine of which are being cared for by the Adelaide Zoo.
New York City's John F. Kennedy Airport is about to get truly zooey.




A video of The National Zoo's panda cub playing in the cold snow for the first time is melting hearts around the globe.

The Washington, D.C., zoo released video of Bao Bao the panda cub rolling downhill in the snow as she played with a block of wood Tuesday – and not surprisingly, the clip immediately went viral.

After her moment of bliss, Bao Bao does a backward somersault and later pounces on her mother, Mei Xiang (seriously, you have to watch this).
Christmas came a little late for the lions at the Linton Zoological Gardens in Cambridgeshire, England.


It's the mother-baby bond in action.


This is no time to monkey around.

When one monkey's friend passed out from an electric shock he received from a railway track in Kanpur, India, he turned into George Clooney (circa ER) and tried to save his friend's life by administering what looks like CPR (cardiopulmonary resuscitation).

It all plays out in a heart-pumping YouTube video, first with the monkey shaking his lifeless buddy, who appears totally limp when his friend picks him up.
Harbor seals are being exhibited at the Central Park Zoo for the first time since 2011.

The Wildlife Conservation Society says the two seals, Adam and Anson, are natives of Brooklyn. They were the first harbor seals born at the New York Aquarium in more than 15 years.

Though not endangered, harbor seals are protected under the Marine Mammal Protection Act.

They can sometimes be seen off the coast of New York City and Long Island.
Zoo Animals