Zoo Animals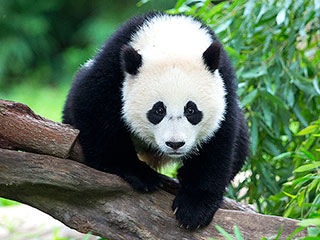 Credit: Pablo Martinez Monsivais/AP Photo
If pandas are anything like humans, Bao Bao will soon ask for the keys to the car.

For more than six months, zookeepers at the Smithsonian's National Zoo in Washington, D.C., have been working toward weaning the giant panda from her mother Mei Xiang, just as she would in the wild, and now, well, the 18-month-old is basically like your typical American teenager: taking lots of time apart from her parent.
It's furry, with a long tail, and has big ears … if you guessed monkey, we'd make great teammates!

A new app called TailsUp! tests your animal knowledge with a Charades-like game, using verbal and physical clues to help your teammate guess the right animal.

The game, created by the Association of Zoos and Aquariums to help kids and families learn more about animals, will give proceeds from in-app purchases to the AZA's animal conservation.
Citizens of Phoenix can now rest easy: two escaped llamas previously terrorizing (and most likely fertilizing) the streets have been captured.


We like snow … mainly because it gives us the perfect excuse to wear blankets as clothes.


Malcolm Brenner's summer-long fling with a dolphin named Dolly is the subject of a new documentary short called Dolphin Lover, which received an honorable mention at the 2015 Slamdance Film Festival in Park CIty, Utah.

"My name is Malcolm J. Brenner and this is the story of how I fell in love with Dolly the dolphin," Brenner says in a teaser for the film, directed by Kareem Tabsch.
What do chimpanzees talk about when they talk about love? (Or anything else, really?)

Scientists are finally getting to the root of that question. A new study published in Animal Behaviour details the efforts of scientists who studied chimpanzees in the Ivory Coast's Taï Forest for over 750 hours.
We can hardly bear the cuteness of Vietnam's Halong Bay bears – and that's just one reason why celebrities around the world are joining Animals Asia's campaign to save them from suffering on bile farms.

In an effort to rescue Asia's furry friends, singer/actress Olivia Newton-John, actor/writer (and newlywed!) Stephen Fry and actress Ali MacGraw have lent their helping hands to remove these bears from dangerous conditions and place them into Animals Asia's care and rehabilitation at its Tam Dao bear sanctuary.
He looks like a too-perfect special effects creation for a movie, but nope, he's real. Behold the pygmy hippo born to England's Whipsnade Zoo on December 26.


Sew, here's the deal: Project Pouch needs you!

Koalas aren't the only animals affected by the bushfires in Australia. Orphaned or injured possums, kangaroos, and wallabies need to be kept warm in a pouch-like environment. To help, Project Pouch, a new campaign created by the International Fund for Animal Welfare, is asking for handmade "pouch liner" donations to comfort the traumatized animal babies, nine of which are being cared for by the Adelaide Zoo.
New York City's John F. Kennedy Airport is about to get truly zooey.


Zoo Animals
Get PEOPLE Pets Everywhere
Photo Special
Top Pets Category