Funny Pet Videos
Sometimes cats have to take matters into their own paws.

This kitty has hatched a wicked plan to get some extra treats and more peace and quiet around the house by hypnotizing the dog.

"You're going to give ME all of your biscuits, and all of your food," whispers this crafty feline into a sleeping dog's ear as she massages his head.

"You no longer need tennis balls in your life," kitty continues. "You're not going to want to chase them, you're not going to want to fetch them."
Cats and dogs can get along, at least when there is food involved.


It's going down, they're yelling timber!

Christmas isn't here yet, but these cats are ready to take down your tree.

As you can see in this essential video compilation, they'll use any means necessary to break down those branches, rip off the lights, and blast those Christmas balls like a slugger up at bat (Thwap!).

It's not that cats are bah humbug about the holidays – quite the contrary, actually.
Santa must look at some Christmas lists and say, "Pffft! In your dreams."

Well, not that of Moko the bunny.

The thing most dear to this bunny's heart can be purchased for around 10 cents at most party supply stores – so even elves can buy these things in bulk.
They requested a catnip cake.


When you give Star Wars fanatics a trailer, amazing things happen.

When the trailer for Star Wars: Episode VII – The Force Awakens hit the Internet on Nov. 28, their fingers clicked with such brute force that, so far, it's been viewed more than 46 million times.
The top comment on this video's YouTube page pretty much sums it up: "Dogs > people."


Like you've never been jealous of a baby before.


What happens when your mom is an animal lover? You'll probably be one too, and little baby Alia is getting started early.

The little girl's best friend isn't a teddy bear or a blanket, it's a sloth! Alia's mother, Julia Heckathorn, brought the 4-month-old animal home two days after Alia was born, and the baby and sloth have been inseparable ever since.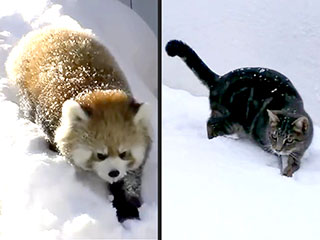 While folks in Buffalo, New York, are asking for an end to the snow already, animals around the world are begging for more of the white, fluffy stuff.


Funny Pet Videos
Get PEOPLE Pets Everywhere
Advertisement
Photo Special
Top Pets Category