Funny Pet Videos
We've teamed up with one of our favorite sites, BarkPost, to bring you and your four-legged friends even more adorable pet videos, photos and must-see stories. Check back every week for new furry fun from BarkPost!

There's no worse, soul-crushing feeling for a kid than getting busted for something by your parents and expecting the usual punishment – and then getting the "I'm not angry, just disappointed in you" speech instead.
Meet the bearded ladies who lunch.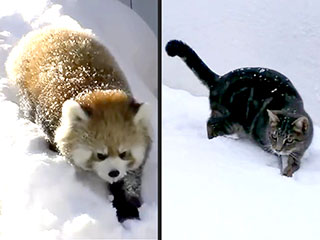 While folks in Buffalo, New York, are asking for an end to the snow already, animals around the world are begging for more.


[YOUTUBE "rh87_hrVP5c"]
We'd like to introduce you to the canine Simon Cowell.


[YOUTUBE "J9P20HuX7mo"]
We can't stop watching this video of a dog riding around on a Roomba. Yes, the vacuum cleaning robot.


Oskar the cat has more Christmas spirit than the holidays can handle.


Peace on earth and goodwill to all adorably small animals.


We've all been there: After a long day apart, you're completely unable to contain your excitement because your husband, Ryan Gosling, has returned.


Sometimes cats have to take matters into their own paws.

This kitty has hatched a wicked plan to get some extra treats and more peace and quiet around the house by hypnotizing the dog.

"You're going to give ME all of your biscuits, and all of your food," whispers this crafty feline into a sleeping dog's ear as she massages his head.

"You no longer need tennis balls in your life," kitty continues. "You're not going to want to chase them, you're not going to want to fetch them."
Funny Pet Videos
Get PEOPLE Pets Everywhere
Advertisement
Photo Special
Top Pets Category