Funny Pet Videos
Swan Lake, "Blackbird," Flock of Seagulls – feathered creatures have always had a place in the arts.


Trick or treat? Scary costume or funny outfit? Snickers or Butterfinger? Halloween is full of touch decisions. Don't let all these choices stress you out.

Take a cue from these cool cats, and approach this holiday with a sense of festive calm.
Sure, Internet celebri-cats are cute, but what are they like once the webcam turns off?

Mike's HARDER decided to find out, gathering cyber kitty darlings Waffles, Lil Bub, Venus, Princess Monster Truck, Oskar and Klaus for a special celebrity cat selfie to promote their new Apple Firebomb flavor, which features Waffles on the can. By the end of the furry feat, the group had an adorable photo and a Clickhole video from behind the scenes that will make you meow out loud.


Just practicing moves for the next sleepover.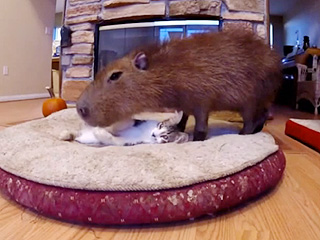 Dog may be man's best friend, but cats are becoming buddies with just about every other creature they can get their paws on.

After befriending donkeys and deer, felines have moved on to making amends with their former nemesis: the rodent.
Ladies and gentlemen, we are, indeed, in a whole new world.


Ever had a meal so good it sent shivers down your spine? Teddy Bear the porcupine knows the feeling.

When the hungry critter is presented with a cauldron of mini pumpkins in this YouTube video, he savors every single delicious bite. Groaning and snorting – and sounding a lot like a joyful Julia Child fawning over ingredients in her kitchen – the adorable animal seemingly gets closer to exploding with each piece (which would be extremely painful for everyone involved on account of those spiky spines).


Let's face it, your life is not a cat-astrophe.
Lesson learned: Zombies do not faze Maymo the Lemon Beagle.

Perhaps you've heard of Maymo. This dog gained online fame for videos showing his big reactions to mundane things – the lemon that gave him his nickname, for example, or a head of cabbage that he decided was the most precious thing ever.
Funny Pet Videos
Get PEOPLE Pets Everywhere
Advertisement
Photo Special
Top Pets Category