Funny Pet Videos
No one takes fall more seriously than Stella.




Sadness is a dog who has lost his favorite toy.

The love story of Blanky the French bulldog and this tennis ball is quite like a Shakespearean tragedy. In the YouTube video, the pooch reaches for the beloved ball, which is just out of his grasp on a couch – but to no avail. The adorable dog whines, weeps and barks at the painful distance between them – and you're left wondering if the pair will ever be together again.
So this sums up exactly how we feel about October.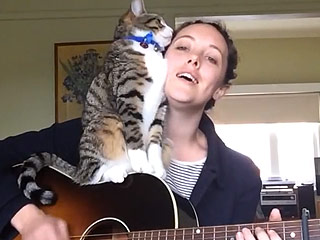 We wonder what his percentage is.

Ayleen O'Hanlon is a singer-songwriter from Victoria, Australia. George is her cat. O'Hanlon says that George "gets a little needy" from time to time, which may explain why he's "helping" her perform her tune "Loverless" by perching on her guitar, shoving his posterior in her face and batting at her guitar strings.
Move over, rubber duckie. This baby bunny makes bath time way more fun than you.

This 2-week-old fluffy rabbit seems completely confused at first about the bathing process (watch the video above). She sniffs the water – which tickles her nose! – and then stares blankly at the camera, as if to say, "Is this some-bunny's idea of a joke?"
Cooper the canine sings the chorus, of course.


Sometimes the best reward after a long week is a hot shower.

That nasty email you received, the comments your annoying boss made and the memories of the vending machine eating all of your quarters simply roll off your back and spiral down the drain. Consider it a paper shredder for your mind and body.

This pup bathing in a sink reminds us of our favorite stress reliever and, by the looks of things, we're pretty sure the dog is trying to fur-get some unpleasant happenings during his week, too.

Just as they are in the office, dog park politics can be brutal.
When one door closes, another one opens.

Well, we're not entirely sure this pooch would move a muscle if either of these things were to happen.

The tiny pup is standing at an open terrace door, patiently waiting for someone to open it so he can enter to see his owner, who beckons him with sweet nothings.


Meet the boy, er, dog who cried wolf.

While he deserves a round of app-paws for pronouncing the word "HELP!" so clearly with prompting from an iPad, this pug needs to know that in the event of a real emergency, we're certain people who've seen this video will just smile at his amazing accomplishment, pat him on the head and give him a treat – and then continue surfing the Internet for funny cat videos.

So, a bit of advice, buddy: Use your distress call sparingly. You never know when your Internet connection will go down and you'll really need some assistance.
These girls are living the dream.
Funny Pet Videos
Get PEOPLE Pets Everywhere
Advertisement
Photo Special
Top Pets Category