Stars and Pets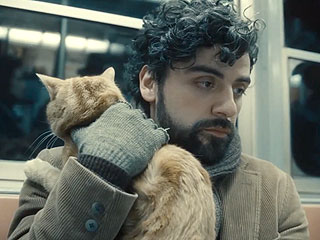 Hollywood's finest and most familiar faces – from Jessica Chastain to Jessica Biel – have flocked to the South of France for the Cannes Film Festival. (Did we mention Jennifer Lawrence, Leonardo DiCaprio and Emma Watson, too?)

But the true stars of the festival have yet to show up.

Meet the ginger-colored cats who steal scenes from Oscar Isaac, Carey Mulligan and Justin Timberlake in the Coen brothers' latest film, Inside Llewyn Davis. (Fun fact: It took six felines to fill the role of the cat who follows Isaac around 1961 New York in the film.)
At 32, newly single reality star Jenna Morasca knows what she wants in a future mate. Following her breakup from fellow Survivor winner Ethan Zohn after 10 years of dating, Morasca has decided that she wants to find a guy who'll love her and her dog Bobbi – unconditionally. In her third blog for People.com, she discusses how she came to that realization.

I am a single parent – a newly single parent, that is. Loving and parenting a dog as a single parent can create all sorts of new and unusual problems, but also new sources of joy. When I adopted 5-year-old Bobbi, I was in a relationship, and we mutually agreed it was time to expand the family – well, it was more like I wore him down, convincing him it was time to adopt a dog.
Mariah Carey's family has once again expanded – and she wants your help.

Nope, not a babysitter: Now raising three puppies – in addition to 2-year-old twins Monroe and Moroccan – the American Idol judge, 43, is asking her fans to suggest names for the new additions.

"Help name dem puppies!!" she Tweeted of the two males and one female dog, the offspring of her pooch Squeak E. Beans. (She also has four other Jack Russell terriers: Cha Cha, Jackie Lambchops, Jill E. Beans and JJ.)
Clearly, Lauren Conrad's dog prefers to cap off a ruff day at the office the same way you do: with a nice, relaxing bubble bath.

The fashion expert's most recent canine addition, Fitz – whom she adopted last year – gets the spa treatment in a photo she shared on her blog.

But the bath isn't just for Fitz's enjoyment, explained the mom-of-two dogs, 27.
If you cross Taylor Swift, you can pretty much expect to get a CD's worth of heart-wrenching songs, a sneaky diss at the Grammys and, to top it all off, the wrath of her army of Twitter-savvy fans.

So it should come as a relief to the most famous goat on the Internet that he has the singer's approval. In fact, when the video of the farm animal singing (er, screaming?) along to her single "I Knew You Were Trouble" went viral in February, she was feeling the bleat.

"I thought the goat video for 'I Knew You Were Trouble' was brilliant," Swift, 23, tells Billboard. "I showed it to everyone on my tour."
"Pomp and Circumstance" – or pup and circumstance?

Recent University of Illinois at Urbana-Champaign graduate Bridget Evans marked the milestone with a very special classmate by her side: her service dog, aptly named Hero.

"He's been with me through all my classes," the Master's degree recipient, 24, who was born with spina bifida (a birth defect hindering mobility), tells Today. "He deserved a cap and gown as much as I did."
Well, now, this is awkward.

We're not sure if we're the right ones to say it, but, um, Finn Seyfried, it seems like you got a little something on your nose.

Or perhaps the Australian shepherd, who calls Les Misérables star Amanda Seyfried Mom, likes it that way?
She's beautiful, stylish and fun, but when Lauren Conrad throws a party, it's actually her rescue dogs, Chloe and Fitz, who end up stealing the scene.

"They get thrilled when I have people over because they get so much attention," the fashion expert, 27, told PEOPLE at a launch event for Malibu Island Spiced Rum in New York on May 7. "They're the belles of the ball," she said, before humorously wondering about new addition Fitz, "What's a boy belle of the ball?"

But while she described her pooches as "sweet," not everything is perfect at Casa Conrad since the arrival of Fitz, whom the former MTV star dogshamed in November for chewing on one of her shoes.
We've committed a great deal of time and energy to envying Blake Lively. Those legs. That wardrobe. Her man.

Yes, she's the girl who won Ryan Reynolds's heart, getting the best of our jealous hearts and marrying him last September.

But we're going to let her off the hook for a minute because there's a new subject deserving of our green streak: We're looking at you, Baxter.
Looks like all that walking in the park is catching up to Jenna Dewan-Tatum and her pair of pooches!

The pregnant actress and her dogs, pit bull Lulu and Japanese Spitz Meeka, are all in London while dad Channing Tatum shoots a new film. Still, they were the ones who needed a break on Tuesday.

"The whole fam napping in dads trailer today," Dewan-Tatum shared on WhoSay.
Stars and Pets
Get PEOPLE Pets Everywhere
Advertisement
Photo Special
Top Pets Category
Photo Special