Stars and Pets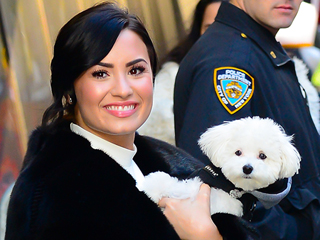 Credit: Raymond Hall/GC Images
Less than a week after their dog died, Demi Lovato and Wilmer Valderrama have reached out to fans thanking them for their support.


When actress Rachel Brosnahan saw an elderly dog alone and struggling in a Santa Fe, New Mexico, dog park, she knew she had to do something.

The Manhattan and House of Cards star was walking with her own two pups when she spotted the dog who appeared to be dehydrated.

"He kept trying to stand up on his front legs, but his back legs had totally given out, we thought he was injured," Brosnahan, who is filming the second season of Manhattan in Santa Fe, told KRQE News 13. "The poor guy had just been toasting out there I think. We brought him some water and called Animal Services."
Paws up, Little Monsters ... literally.


Johnny Depp has conquered all foes as Jack Sparrow, but now he faces a daunting new adversary – the agriculture minister of Australia, who has threatened the actor's dogs, in no uncertain terms, after Depp allegedly brought them into the country illegally.


It's no secret that James Franco is a cat man, but did you know his love for farm animals also runs deep?

In this exclusive video he filmed for the Farm Sanctuary, the actor talks about how he believes farm animals deserve the same respect as dogs and cats, and he applauds the hard work of the organization, which is dedicated to protecting farm animals from cruelty.
She may be pocket-sized, but Kelly Osbourne's new dog is a giant-sized load of responsibility – and the TV personality is working overtime.

Not that she's complaining. Judging by the adorable photos on her Instagram feed, her love for Nancy the miniature Pomeranian is immense – so great that she can't resist taking the pup everywhere (and in all honesty, if we had a dog this cute neither could we).

"She is like having a real [baby]," Osbourne wrote on Instagram May 1. "I have not slept a full night since we got her, she has to eat every 3 hours!"

But seriously, who needs sleep when you have a dog this cute? Nancy is living proof that Puppy Insomnia is very real.
Barbra Streisand's beloved dog has the sweetest face – but turns out she has quite the bite, too.


Stars and Pets
Get PEOPLE Pets Everywhere
Photo Special
Top Pets Category