Stars and Pets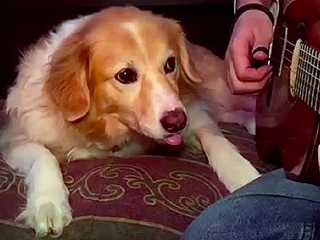 Credit: Courtesy Trench
We're declaring Maple the official canine music critic of the Internet.


Two of our favorite animal-loving actors – Morgan Freeman and Diane Keaton – are taking their passion for pets to the big screen, and we're pretty doggone excited about it.

In their new comedy, 5 Flights Up, they play a married couple in chaos over a lot of things, including their sick dog, Dorothy.
She has one hot husband and two shiny Grammys, but when it comes to the singer's dogs, Miranda Lambert's math can get a little fuzzy.

"I have four dogs from the street and two dogs from shelters, er, three dogs from shelters," she says in this blooper reel, filmed in promotion for her MuttNation Foundation charity. "I can't keep track!"
There's only one thing we love more than chocolate-shaped rabbits, and that's the real, fuzzy deal.


Have you ever seen a chubby English bulldog in a tux? How about John Legend officiating a wedding between an English bulldog in a tux and a French bulldog in a bridal gown? No?


Long before Jill Rappaport became know for her animal advocacy, the NBC correspondent was already saving the lives of pets in need.

"I always had rescue dogs growing up," she tells PEOPLE. "I was the kid that would come home with a stray, even if it was a little mouse."

Now an award-winning animal advocate and author, Rappaport is teaming up with celebs including Betty White, Lindsey Vonn and Emmylou Harris for her new special Best in Shelter, which aims to raise awareness for homeless animals and to help them find their forever homes.
As true Harry Potter fans know, Luna Lovegood's protective patronus – the spirit animal of the Wizarding World – is a rabbit. Now the actress who played Luna in the films, Evanna Lynch, is showing bunnies in the Muggle World some love.

Lynch, 23, is raising awareness for End the Cage Age, an animal-rights campaign organized by the French branch of Compassion in World Farming, a worldwide farm animal welfare group.
Stars and Pets
Get PEOPLE Pets Everywhere
Photo Special
Top Pets Category