Stars and Pets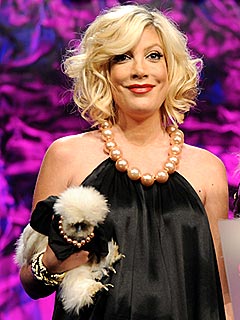 Credit: Jason Merritt/WireImage
Things are getting a bit crowded in Tori Spelling's bed.

The actress, 39, posted a Vine video to her Twitter account Sunday, giving followers an inside look at her family's nighttime ritual.

"This is how we sleep…" she wrote alongside a video that shows shirtless husband Dean McDermott in bed with dog Mitzi (watch below). Off to the side, the clip gives a quick peek at two of their four children – Liam, 6, Stella, 4, Hattie, 18 months, and Finn, almost 8 months old – fast asleep while the family chicken, Coco, lounges nearby.
Like any working actress, Susan Sarandon's dog tries hard to stay current. So now, she's entered the digital age, trying her hand – er, paw – at social media.

"She felt after she watched Melancholia that she had to reach out," The Big Wedding star joked on Thursday's visit to Late Night with Jimmy Fallon of why her Pomeranian/Maltese mix, Penny, decided to create a Twitter account. "She Tweets from where we are."
In what almost seems like a scene out of Fatal Attraction, former heavyweight champion Mike Tyson recounted how an ex-girlfriend boiled and ate one his pet pigeons.

Speaking Thursday on the WFAN's Boomer & Carton show, Tyson, who lives near Las Vegas and has raised pigeons since before his boxing career, said he was aghast by what went down.

"I was dating this young lady and she said, 'I don't know why you're flying those damn birds, you should be eating them,' " Tyson, 46, told the hosts. "She happened to grab one – and she cooked one and proceeded to eat it. And I just couldn't do it."
Last August, Survivor winner Jenna Morasca went to a shelter and brought home the unexpected: an older dog with her share of "quirks". Have you ever known a dog to throw bones in the air like a quarterback? That's pit bull Bobbi-Ricki's trick and in a very short time, Morasca has become quite the wide receiver. Here, the reality star talks about the perks of adopting an older pup and why you should consider doing it too.

As human beings we value the experience that comes with age. We are reminded over and over again with statements like "older and wiser" and "respect your elders," promoting age as something to be cherished and respected.

So why are these ideals lost on animal kind? When animals age, some humans see them as less valuable, less important and less entertaining. This is why when you walk into one of the many animal shelters across the country, they're usually filled with animals that are older, or, as I like to say, wiser.
We'd totally talk guys with the woman who snagged Justin Timberlake.

Before she wed the pop star, after all, Jessica Biel knew what it was like to be a single lady. And now she's helping dog Tina navigate the dating world.

"So he still hasn't called, huh? Bastard," the actress playfully Tweeted on Tuesday, posting a photo of her and her beloved pooch sitting side-by-side in a crate.
It's becoming an animal house for TV personality Beth Stern and her husband, America's Got Talent judge Howard Stern.

"I'm turning into one of those crazy cat ladies," Stern jokingly tells PEOPLE. "Right now my husband and I have four rescue cats from the North Shore Animal League and we will hopefully adopt a dog this summer. So we definitely have a full house of pets and I absolutely love it."

Stern, the host of Nat Geo Wild's new show Spoiled Rotten Pets, premiering on April 20, says she was "born with the love" for animals. In fact, her pets are her babies.
Between her ever-expanding trophy collection and menagerie of mutts, Miranda Lambert has a full house – and both she and husband Blake Shelton prefer it that way.

"He's used to it now," Lambert, 29, tells PEOPLE about how Shelton has learned to accept her penchant for taking in stray animals, though she admits, "At first I think he was like, 'What's going on? We have a zoo.' "

Case in point: Last month, after bringing home a dog she found by the side of the highway, the country star named him Pistol Andy (in honor of her girl group the Pistol Annies) and attempted to find him a home. And she did – kind of.
Hope someone's pushed back the call time on The Vampire Diaries set!

The CW show's leading lady, Nina Dobrev, Tweeted on Thursday about a late-night feline emergency.
Looks like Lola is taking after mommy!

When Dancing with the Stars pro Kym Johnson hits the studio to perfect her choreography, she brings her Bichon Frise-Pomeranian mix along for company.

"She's used to me dancing around. She actually sort of follows me," Johnson, 36, tells PEOPLE. "She prances around with the music, and then when it stops, she'll go and sit down."

A gift from her mother, Lola has been with Johnson for more than two years and first joined her when she was performing on Broadway.
They weren't monkeying around!

German customs officials seized a capuchin monkey from Justin Bieber last Thursday after the singer apparently attempted to bring it into the country without official permission.

"Justin Bieber brought his monkey to Germany, but had no official paperwork with him," Thomas Meister, spokesman for the customs office at the Franz Josef Strauss Airport in Munich, tells PEOPLE. "We were forced to confiscate the animal."

When customs in Munich found the monkey had been brought into the country on Bieber's private plane, they detained the star and quarantined the monkey in their facilities at the airport.
Stars and Pets
Get PEOPLE Pets Everywhere
Advertisement
Photo Special
Top Pets Category
Photo Special