Stars and Pets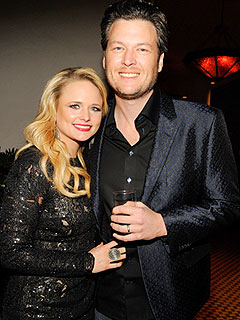 Credit: Kevin Mazur/WireImage
Between her ever-expanding trophy collection and menagerie of mutts, Miranda Lambert has a full house – and both she and husband Blake Shelton prefer it that way.

"He's used to it now," Lambert, 29, tells PEOPLE about how Shelton has learned to accept her penchant for taking in stray animals, though she admits, "At first I think he was like, 'What's going on? We have a zoo.' "

Case in point: Last month, after bringing home a dog she found by the side of the highway, the country star named him Pistol Andy (in honor of her girl group the Pistol Annies) and attempted to find him a home. And she did – kind of.
Hope someone's pushed back the call time on The Vampire Diaries set!

The CW show's leading lady, Nina Dobrev, Tweeted on Thursday about a late-night feline emergency.
Looks like Lola is taking after mommy!

When Dancing with the Stars pro Kym Johnson hits the studio to perfect her choreography, she brings her Bichon Frise-Pomeranian mix along for company.

"She's used to me dancing around. She actually sort of follows me," Johnson, 36, tells PEOPLE. "She prances around with the music, and then when it stops, she'll go and sit down."

A gift from her mother, Lola has been with Johnson for more than two years and first joined her when she was performing on Broadway.
They weren't monkeying around!

German customs officials seized a capuchin monkey from Justin Bieber last Thursday after the singer apparently attempted to bring it into the country without official permission.

"Justin Bieber brought his monkey to Germany, but had no official paperwork with him," Thomas Meister, spokesman for the customs office at the Franz Josef Strauss Airport in Munich, tells PEOPLE. "We were forced to confiscate the animal."

When customs in Munich found the monkey had been brought into the country on Bieber's private plane, they detained the star and quarantined the monkey in their facilities at the airport.


Will he be able to sniff them out?

Ahead of the 135th annual White House Easter Egg Roll, which will take place Monday on the South Lawn in Washington, D.C., Bo Obama received a special first look at this year's commemorative eggs.

Putting his sleuthing skills to work in the clip above, the 4-year-old pup searches high and low – including inside a tree and around the vegetable garden – for the multi-colored keepsakes, which include a special teal egg that's marked with his paw print and name.
It's a sad day for Frances Bean Cobain, who announced on Twitter Thursday that her French bulldog, Uncle Fester, had died.

"I am beyond devastated," she wrote. "I will miss his giant head and alien/gremlin personality & his big dumb dopey grin."

Explaining that the pup passed away during surgery while under anesthesia, Cobain, 20, continued, "Essentially he died in his sleep, which is all I could've asked for. I am greatful his suffering has ended & that he is somewhere peacful without pain."
He may be only 4 years old, but it seems Bo Obama is already a ladies' man.

A Goldendoodle named Ramona, who resides at the Oregon Humane Society, has taken her affections for the first dog to the Internet, posting a video that asks Bo to serve as the grand marshal for the Humane Society's Doggie Dash fundraiser in May.

In the clip, Ramona tries to contact Bo through Twitter, Facebook and even over the phone before settling on a letter as the best way to ask him out. But with the entire saga now available to view on YouTube, perhaps the longing lady will get her wish, much like the high school teen who asked Kate Upton to prom or the Marines who scored dates from Mila Kunis and Justin Timberlake.
He's at it again!

Of course one adorable photo of Tom Hardy with a dog wasn't enough, so The Dark Knight Rises star struck an even more precious pose Thursday while continuing to shoot his new movie Animal Rescue in New York.

Not content with a mere cuddle this time, Hardy puckered his lips and possibly prepared to plant a wet one on his furry friend – who seemed to return the affection! Pouting right back, the pup leaned his head out of the actor's coat and looked ready for a smooch.
Looks like the New Girl took home some new girls of her own.

Zooey Deschanel rescued a pair of pooches from Los Angeles's Bill Foundation, she announced on Twitter Wednesday.

"I have to thank the #billfoundation for the greatest, sweetest, most wonderful dogs in the world," she wrote of her canine companions, whom she named Zelda and Dot. "Apples of my eye!"
Stars and Pets
Get PEOPLE Pets Everywhere
Advertisement
Photo Special
Top Pets Category
Photo Special