Stars and Pets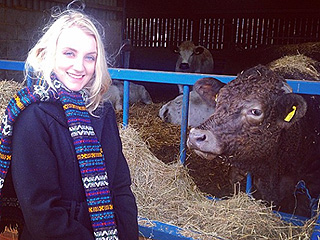 Credit: Courtesy Evanna Lynch
As true Harry Potter fans know, Luna Lovegood's protective patronus – the spirit animal of the Wizarding World – is a rabbit. Now the actress who played Luna in the films, Evanna Lynch, is showing bunnies in the Muggle World some love.

Lynch, 23, is raising awareness for End the Cage Age, an animal-rights campaign organized by the French branch of Compassion in World Farming, a worldwide farm animal welfare group.
Hunter Hayes has a fast new friend.

The country singer recently adopted a retired racing dog from Greyhound Pets of America. On Monday, he introduced the pup, named Cole, to his fans in an adorable YouTube video.

"He's awesome, he runs really fast ... reeeeally fast," says Hayes, as he sits on the floor next to the caramel-colored pooch, who rests comfortably on a couch beside him.
When a beloved pet goes missing, fellow pet lovers can relate.

That's why stars like Hilary Duff, George Lopez and Lance Bass are doing what they can to help a friend who says her dog was stolen in Beverly Hills.

"PLEASE HELP US FIND CHARLIE!!!! He is missing. Last seen being picked up by a pregnant woman and her son. White Maltese. Red collar. Please call!! (310) 860-1650!" reads an Instagram post by Duff, with a picture of the adorable dog.
He was one of PEOPLE's Ones to Watch last year, and right now, we're watching Jon Bernthal.

In a new public service announcement for the Animal Farm Foundation, the Fury actor stars alongside his dogs Boss and Venice, and his 2-year-old son Billy, to bring attention to pit bulls and the owners who love them.
Paula Deen's heart has gone to the dogs – again.

So much so that she's added a new Goldendoodle pup to join current Deen family dog Gus.

"I just love my Goldendoodle Gus so much, I had to have another one!" Deen, 68, enthused on her Facebook page where she shared heart-melting pictures of her latest sweet addition. "He just joined our family so I need y'all's help to name him!"
Jimmy Fallon and puppies: What more do you even need?

Well, how about football, too?

On Wednesday's The Tonight Show, Fallon called upon a snuggly pack of golden retrievers to look into the crystal (okay, metal) chow bowl and determine who will win the 2015 college championship between the Ohio State Buckeyes and Oregon Ducks.

As ever, the starting line-up consisted of Brad Johnson, Kyle McAdams, Mary Kennedy, Ted Mooney, Roger Blain, Lisa Armstrong and Gary Frick, Jr. (the heir to Fallon's dog Gary Frick, who predicted – unfortunately, alas – the 2012 Presidential election in favor or Republican Mitt Romney).
Good things come to those who wait.


[BRIGHTCOVE "3973766759001" "" "" "auto"]
For Taylor Swift, it's all about the cats.


The life of the luckiest dog on the planet just got a little bit sweeter.

Hugh Jackman announced on Instagram Tuesday that his family has added another dog to their brood, making French bulldog Dali an instant big brother.

"Santa came early and he brought a sister for Dali. No name just yet," said Jackman, sharing a photo of himself holding the adorably shaggy caramel-colored pooch in his arms (swoon).

By Friday, the pup had a name – Allegra – and made its video debut on Jackman's Instagram in a post captioned "Getting to know you ... Dali and Allegra."


If we've learned anything from watching Jackman and his beloved Dali, whom he brought home in 2010, it's this: Life as the actor's right-hand man is best described as bliss. The cute canine often
travels with Jackman
and his family, is an able and willing
participant in yoga
and even has an official title when he joins dad at work:
Chief of Staff
.
Stars and Pets
Get PEOPLE Pets Everywhere
Photo Special
Top Pets Category