Stars and Pets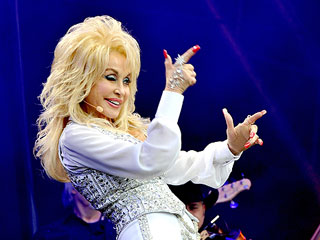 Credit: Shirlaine Forrest/WireImage
Dolly Parton was feeling "saxy" at Glastonbury, and now a dog rescued at the music festival has captured her heart.


True love is fur-ever, so Miley Cyrus is paying tribute to her late dog in one of the most permanent ways possible.

The singer, 21, debuted a new tattoo honoring her dog Floyd, whose death she announced in April.

"#floydtat," she wrote on Instagram Sunday, posting several photos of the fresh ink on the left side of her body.
As she continues to mourn the death of her dog Floyd, Miley Cyrus is getting a little help from a new furry friend.


Me-WOW, Mariska Hargitay.

It appears that Taylor Swift has welcomed a new cat, and named her fab feline addition after Hargitay's most famous character: Law & Order: Special Victims Unit's detective Olivia Benson.

On Wednesday, Swift shared an Instagram of a fluffy white kitten sitting sweetly in her lap with the simple caption, "Meet Olivia Benson." No confirmation on whether or not the cutie is actually her kitty, though the rest of the Twitterverse seems to think so.
Adopting a pet is a big decision – one Anne Hathaway and her husband, Adam Shulman, didn't take lightly.

"They were looking for a companion for [their chocolate Lab] Esmeralda," says Teri Austin, president of The Amanda Foundation, the Beverly Hills rescue where the couple adopted a terrier mix last week. "Adam came in first. Then when Anne was in town the following week, they spent a long time with one litter. We always like people to sleep on it. They wanted to do that, too."
Just like his quarterback dad, Eli Manning's dog, Chester, has to be quick on his feet.

"He has two babies running around, and so, finally, the oldest has stopped grabbing the tail, but he's got a new 1-year-old," the New York Giants quarterback says of his daughters, Ava, 3, and Lucy, who turns one on June 17. "But he's gotten used to that and understands – he's been sweet and doing great."

Though an ankle injury sidelined the athlete last season, he was given the all-clear to hit the green at New York's Mount Kisco Country Club on Monday for the 37th Annual Guiding Eyes for the Blind Golf Classic, where he putted with a blindfold over his eyes to see exactly what it's like to play with a visual impairment (watch him swing in the video below).

The 33-year-old football player – and dog lover! – also met pups who serve as the eyes for so many people, like 20-month-old Jansen (left), a yellow Lab and guide dog-in-training.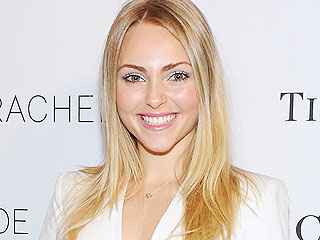 There's something very highbrow about the new man in AnnaSophia Robb's life: he has a royally paw-some name!

The actress has welcomed an adorable new puppy and named him Sir Fergusson, a title commonly given only at knighthood by the Queen of England.

"Meet my new man ... Sir Fergusson. I'm in love!" she shared with an Instagram video (below) of the tiny pooch barking at her feet. When she Tweeted a WhoSay portrait of the pooch, she also created a hashtag, #sirferg, in his honor. (In our opinion, she should take a cue from the famous royal folk across the pond and nickname her caramel-colored little prince Fergie.)
Stars and Pets
Get PEOPLE Pets Everywhere
Advertisement
Photo Special
Top Pets Category