Stars and Pets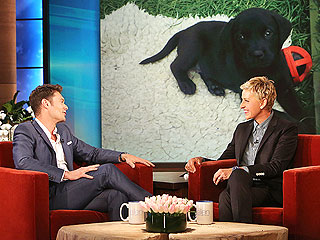 Credit: Michael Rozman/Warner Bros.
There's a new love in Ryan Seacrest's life, and he's finally ready to commit.

Seacrest, 39, debuted his new pup, a Labrador named Georgia, on Wednesday's The Ellen DeGeneres Show.

He's hoping his new addition will fill the furry void in his heart left by those other loves.

"I had dogs in relationships, and then they end and the dogs would go," said Seacrest, who split from Julianne Hough last year. "This is my first dog. My very own dog."
Three animals hit the jackpot this weekend when they found fur-ever homes with a trio of famous faces. But which newly adopted pet is the most purr-recious? Help us decide!

On Saturday, bride-to-be Lauren Conrad introduced the third member of her canine clan on Instagram, a fuzzy-wuzzy black and brown pooch (above) whose name has yet to be revealed.
It was a very happy weekend, indeed, for George Clooney.

As for those still holding out hope for their own happy ending with the eternal bachelor ... not so much.

Hey, put down the ice cream – here's what you missed:


5. Why Nick Offerman's Loving Work Right Now
The Parks and Recreation star is mixing business and pleasure at his latest job. Taking the stage with wife (and seasoned costar) Megan Mullally in the Off-Broadway production of Annapurna, Offerman caught up with PEOPLE to chat about his new gig. Why the real-life couple are perfect coworkers.
You've been warned, William Tell: There's yet another cutie sharing Lauren Conrad's heart.

The bride-to-be, 28, introduced fans to her latest furry addition on Saturday.

"Newest member of the Conrad clan stole me heart," Tell's fiancée wrote on Instagram.
Thousands turned out for the 136th annual White House Easter Egg Roll on Monday, and the big bunny wasn't the only furry face people were clamoring to see.

First dogs Sunny and Bo Obama were two of the famous names on hand for the event, which also featured appearances by singer Ariana Grande and Jim Carrey.

According to The Washington Post, the crowd screamed when they laid eyes on the pups, who donned red leashes on the South Lawn where more than 30,000 guests were invited by President Barack Obama and First Lady Michelle Obama to enjoy egg hunting, face painting and obstacle courses.
Looks like Katy Perry won't be the only one "Roar"-ing during her world tour!

The singer took to Instagram on Wednesday to debut the newest member of her animal family.

"Meet my new Prismatic World Tour mascot, BUTTERS!" she wrote, hashtagging the photo "#nolongerjustacatlady."
Yep, it's puppy love!

Watch What Happens Live host Andy Cohen adopted a beagle-foxhound mix last fall, and he still couldn't be happier.

"I'm madly in love," Cohen told PEOPLE at the ASPCA's 17th Annual Bergh Ball Gala in New York City Thursday night. "My assistant, on the way out tonight, was saying she's never seen me with this look in my eye, and it's true."
As Miley Cyrus mourns the death of her dog Floyd, she's found herself a cutie who's happy to lend a paw.

The singer, 21, took to Twitter on Friday to introduce fans to Moonie, a new doggy addition from her mother, Tish.

"My mama knew my heart was broken & this morning I woke up to Moonie kisses," she wrote, adding, "No one could ever replace my baby Floyd but this precious angel is lendin me some fur to cry on along with my other babies."
Stars and Pets
Get PEOPLE Pets Everywhere
Advertisement
Photo Special
Top Pets Category