Stars and Pets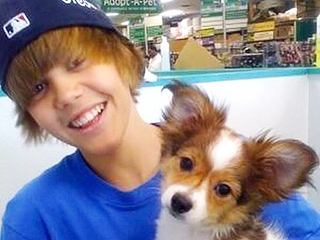 Credit: Courtesy Justin Bieber
Justin Bieber has lost a friend.

The singer shared on Instagram Thursday that his beloved dog, Sammy, had passed away.

"R.I.P Sammy you were the best puppy ever," he wrote, with a picture of his much younger, shaggy-haired self holding the small pooch in his lap.

Canada's CTV News reported that the pup, who lived with Bieber's grandparents, was a comfort to the star when he moved in 2009.
Miranda Lambert has a big heart for homeless pets.

So much so that the devoted dog lover – and mom to seven of her own pups – took over a kill shelter in her own hometown of Tishomingo, Oklahoma, and turned it into a safe place where dogs can find their fur-ever families, Taste of Country reports.
This little piggy did what? Fans started squealing after Miley Cyrus shared pictures of her pet pig, Bubba Sue, getting a pedicure on Nov. 5.


Anywhere between five to seven million pets enter shelters every year.


She's not talking about her messy split from ex-boyfriend Matt Prokop, but Sarah Hyland is open to discussing the messy circumstances involving the main man in her life right now: her dog, Barkley Bixby.


Clearly, fashion is a family affair for the Bündchen-Brady clan.

Lua, the pit bull mix of football star Tom Brady and wife Gisele Bündchen, costars with her dapper dad in his new marketing campaign for UGG Australia, and the dog is definitely bringing fashion forward in the cutest way possible.

In the video titled "Down Time," the third in the series, Lua plays fetch with the three-time Super Bowl-winning quarterback on a deserted beach. (Brady's parents, Tom and Galynn, starred in the previous installments.)
When you're done aimlessly dissecting Taylor Swift's latest hit for hints about her exes – pro tip: You're better off focusing on the confession she rearranged her furniture for a dance party – redirect your attention to the true loves of her life.


For actress Nikki Reed, it's all about animals – all the time.


Stars and Pets
Get PEOPLE Pets Everywhere
Photo Special
Top Pets Category