Stars and Pets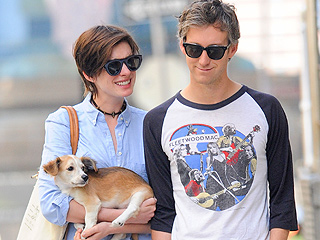 Credit: Ken Katz/StarTraks
Adopting a pet is a big decision – one Anne Hathaway and her husband, Adam Shulman, didn't take lightly.

"They were looking for a companion for [their chocolate Lab] Esmeralda," says Teri Austin, president of The Amanda Foundation, the Beverly Hills rescue where the couple adopted a terrier mix last week. "Adam came in first. Then when Anne was in town the following week, they spent a long time with one litter. We always like people to sleep on it. They wanted to do that, too."
Just like his quarterback dad, Eli Manning's dog, Chester, has to be quick on his feet.

"He has two babies running around, and so, finally, the oldest has stopped grabbing the tail, but he's got a new 1-year-old," the New York Giants quarterback says of his daughters, Ava, 3, and Lucy, who turns one on June 17. "But he's gotten used to that and understands – he's been sweet and doing great."

Though an ankle injury sidelined the athlete last season, he was given the all-clear to hit the green at New York's Mount Kisco Country Club on Monday for the 37th Annual Guiding Eyes for the Blind Golf Classic, where he putted with a blindfold over his eyes to see exactly what it's like to play with a visual impairment (watch him swing in the video below).

The 33-year-old football player – and dog lover! – also met pups who serve as the eyes for so many people, like 20-month-old Jansen (left), a yellow Lab and guide dog-in-training.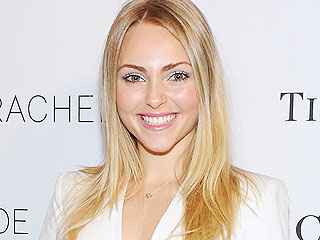 There's something very highbrow about the new man in AnnaSophia Robb's life: he has a royally paw-some name!

The actress has welcomed an adorable new puppy and named him Sir Fergusson, a title commonly given only at knighthood by the Queen of England.

"Meet my new man ... Sir Fergusson. I'm in love!" she shared with an Instagram video (below) of the tiny pooch barking at her feet. When she Tweeted a WhoSay portrait of the pooch, she also created a hashtag, #sirferg, in his honor. (In our opinion, she should take a cue from the famous royal folk across the pond and nickname her caramel-colored little prince Fergie.)
Lady Gaga describes her overflowing love for her pup as "an illness." And, apparently the condition is highly contagious.

We too can't get enough of the pop star's adorable French bulldog, Asia, and we've decided to cause a full-on outbreak by sharing some of our favorite Instagrams of the pooch.

On Wednesday, she shared a photo (above) of the cuddly pup wrapped in sheets in her bed after a performance at New York's Madison Square Garden. This, little monsters, is what sweet dreams are made of.
The new love of Ryan Seacrest's life has finally moved in – and, boy, is she a cutie!

After weeks of preparation, waiting and advice gathering from the likes of Ellen DeGeneres, the star welcomed his black Lab pub into his home this week. But someone better sweep the floors and close the cupboards, because this girl is ready to munch.
There's a new love in Ryan Seacrest's life, and he's finally ready to commit.

Seacrest, 39, debuted his new pup, a Labrador named Georgia, on Wednesday's The Ellen DeGeneres Show.

He's hoping his new addition will fill the furry void in his heart left by those other loves.

"I had dogs in relationships, and then they end and the dogs would go," said Seacrest, who split from Julianne Hough last year. "This is my first dog. My very own dog."
Three animals hit the jackpot this weekend when they found fur-ever homes with a trio of famous faces. But which newly adopted pet is the most purr-recious? Help us decide!

On Saturday, bride-to-be Lauren Conrad introduced the third member of her canine clan on Instagram, a fuzzy-wuzzy black and brown pooch (above) whose name has yet to be revealed.
It was a very happy weekend, indeed, for George Clooney.

As for those still holding out hope for their own happy ending with the eternal bachelor ... not so much.

Hey, put down the ice cream – here's what you missed:


5. Why Nick Offerman's Loving Work Right Now
The Parks and Recreation star is mixing business and pleasure at his latest job. Taking the stage with wife (and seasoned costar) Megan Mullally in the Off-Broadway production of Annapurna, Offerman caught up with PEOPLE to chat about his new gig. Why the real-life couple are perfect coworkers.
Stars and Pets
Get PEOPLE Pets Everywhere
Advertisement
Photo Special
Top Pets Category