Stars and Pets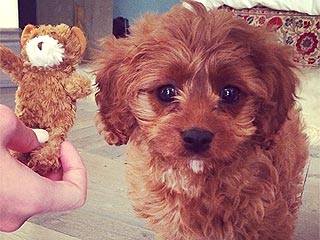 Credit: Courtesy Katy Perry
Looks like Katy Perry won't be the only one "Roar"-ing during her world tour!

The singer took to Instagram on Wednesday to debut the newest member of her animal family.

"Meet my new Prismatic World Tour mascot, BUTTERS!" she wrote, hashtagging the photo "#nolongerjustacatlady."
Yep, it's puppy love!

Watch What Happens Live host Andy Cohen adopted a beagle-foxhound mix last fall, and he still couldn't be happier.

"I'm madly in love," Cohen told PEOPLE at the ASPCA's 17th Annual Bergh Ball Gala in New York City Thursday night. "My assistant, on the way out tonight, was saying she's never seen me with this look in my eye, and it's true."
As Miley Cyrus mourns the death of her dog Floyd, she's found herself a cutie who's happy to lend a paw.

The singer, 21, took to Twitter on Friday to introduce fans to Moonie, a new doggy addition from her mother, Tish.

"My mama knew my heart was broken & this morning I woke up to Moonie kisses," she wrote, adding, "No one could ever replace my baby Floyd but this precious angel is lendin me some fur to cry on along with my other babies."
Tuesday proved to be a sad day for Miley Cyrus, who announced on Twitter that her dog Floyd has died.

"I don't wanna say it because I don't want it to be real... But my precious baby Floyd has passed away," she wrote. "I am broken."

She added: "I know I don't mean it but I wish he would've taken me with him this is unbearable. What am I gonna do without him?"
Whenever Eric Stonestreet and his dog play Monopoly, the game goes down purr-tty much the same way.

"Coleman's Monopoly #HouseRules – He's the dog & I'm the cat token everytime," the Modern Family star Tweeted on Thursday, sharing a photo of the pair playing the board game in his kitchen in a sponsored Tweet.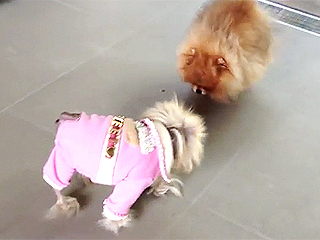 The Real Housewives of Beverly Hills has a (furry) new cast member!

Lisa Vanderpump has adopted the father of her much-loved Pomeranian Giggy, which she revealed on Twitter Sunday by sharing a video of the father-son reunion.

Much like the Bravo series's recent reunion show, Giggy's face-to-face meeting with his father was not entirely drama-free. The younger Pom barked a few times when Dad – a former show dog named Shooter – first stepped foot in his new home.

Get ready to wag, shake and groove because nothing will get you in the mood for Thursday's International Day of Happiness more than this furry version of Pharrell Williams's Oscar-nominated song, "Happy."

Some sample lyrics from the music video (watch above): "Wag along if you feel like your master loves you/Wag along if you feel like your tail is chasing you/Howl along if you want to cuddle from me to you/Dog around if you think you're my best friend, too."

Ready to smile? The Pet Collective's remix features (no suprise here!) super happy dogs doing adorable things that dogs like to do, like rolling on the ground, pawing at the camera, playing in bubbles and swimming.
Like father, like son: Prince Jackson appears to have inherited late dad Michael Jackson's love of animals.

Days after being spotted leaving a Woodland Hills, Calif., pet supply store with his arms full, the king of pop's son updated his fans with a Vine video showing off his latest pet project.

"80 hours of actual work in total 7 hours just today of work with 1hr of transporting the materials it should be done in a couple weeks," Jackson, 17, captioned the video, which documents an in-the-works structure for reptile cages (and a parrot!).

"Prince has about 10 snakes. He started with them after his father died when he went to live with his grandmother. He's got lizards, too," a family source tells PEOPLE.
Stars and Pets
Get PEOPLE Pets Everywhere
Advertisement
Photo Special
Top Pets Category