Stars and Pets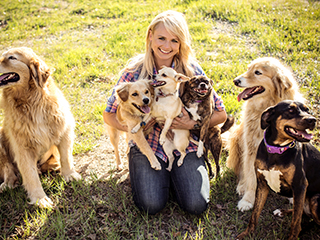 Credit: Becky Fluke
For Miranda Lambert, home is where her dogs are.

The singer is currently mother to six adorable pups – Waylon, Bellamy, Cher, Delta Dawn, Jessi and Black Betty – and counting.

"I have a little plaque in my house that says: 'There is always room for one more dog,' " she tells PEOPLE.

Lambert, 30, has been rescuing strays since she was a little girl, but it was her first shelter dog, Delilah, who inspired her to found the MuttNation Foundation.

"I started the foundation in 2009 along with my mom and two other board members, with the mission of raising funds to help dogs and shelters," she says.
Cairo isn't just a place in Egypt.

It's the name of Macklemore's cat – and by the looks of things, the singer adores his pretty kitty just as much as the ancient Egyptians loved their feline friends.

The female tabby has her own Instagram page, which is filled with photos of her doing the most paw-dorable things, like sleeping, cuddling with dad, more sleeping and stealing dad's bling (clearly, she has expensive taste).
Looks like there's a fairy tail ending after all for Dolly Parton's furry namesake, who was found alone in a tent at the Glastonbury Music Festival.

The pooch, nicknamed "Doggie Parton," is back in a fur-ever home – just not with Parton.

"In the last five minutes, we got a call from the main people with the government, and they told us that the true owners did come forward," Parton, 68, said in a virtual press conference on Thursday. "They had reported the dog missing. There was a language barrier; I think they were from another country. They got the dog back, and everyone feels good about it."
Dolly Parton was feeling "saxy" at Glastonbury, and now a dog rescued at the music festival has captured her heart.


True love is fur-ever, so Miley Cyrus is paying tribute to her late dog in one of the most permanent ways possible.

The singer, 21, debuted a new tattoo honoring her dog Floyd, whose death she announced in April.

"#floydtat," she wrote on Instagram Sunday, posting several photos of the fresh ink on the left side of her body.
As she continues to mourn the death of her dog Floyd, Miley Cyrus is getting a little help from a new furry friend.


Me-WOW, Mariska Hargitay.

It appears that Taylor Swift has welcomed a new cat, and named her fab feline addition after Hargitay's most famous character: Law & Order: Special Victims Unit's detective Olivia Benson.

On Wednesday, Swift shared an Instagram of a fluffy white kitten sitting sweetly in her lap with the simple caption, "Meet Olivia Benson." No confirmation on whether or not the cutie is actually her kitty, though the rest of the Twitterverse seems to think so.
Adopting a pet is a big decision – one Anne Hathaway and her husband, Adam Shulman, didn't take lightly.

"They were looking for a companion for [their chocolate Lab] Esmeralda," says Teri Austin, president of The Amanda Foundation, the Beverly Hills rescue where the couple adopted a terrier mix last week. "Adam came in first. Then when Anne was in town the following week, they spent a long time with one litter. We always like people to sleep on it. They wanted to do that, too."
Stars and Pets
Get PEOPLE Pets Everywhere
Advertisement
Photo Special
Top Pets Category