Cats
You have probably heard of a Purple People Eater, but how about a Purple Kibble Eater?


Judging from his Golden Globe hosting gigs, funnyman Ricky Gervais may offend people from time to time. But someone he can always count on? His cat Ollie.

The comedian, 53, who stars as an oddball retirement-home worker in Netflix's Derek Special (out April 3), shared secrets only his cat Ollie knows in the new issue of PEOPLE.
Boo, an African Savannah cat, will continue living with his family in suburban Delaware.

The exotic pet caused a stir last year when he escaped his home and remained missing for two weeks, according to NBC 10.

While Boo was eventually found and safely returned to his owner of nine years, Richard Todd, the incident caused Todd's neighbors to worry about their safety.
Many know that the Fire Department of New York is considered New York City's bravest, but have you meet New York's furriest? Now you can.

Two different FDNY firehouses have created Instagram accounts for the adorable kitties that keep them company at the station, Gothamist reports.
Meet Pitty and Kitty, the world's sweetest new animal odd couple.


Don't worry – a giant cat isn't going all Godzilla on the world as we know it.

These photos – taken by mother-and-son team Barbara Attwell, an artist, and her Cade Ritter, a student – have gone viral for all the right reasons.

The kitty culprit in the snaps appears to be destroying somebody's fully furnished house, but, thanks to our diligent detective work, we've cracked this case: that's a dollhouse, and that's a kitten. So, take if from us, you're totally safe.
The Web's threshold for angry-looking cats continues to grow, with the arrival of Pompous Albert.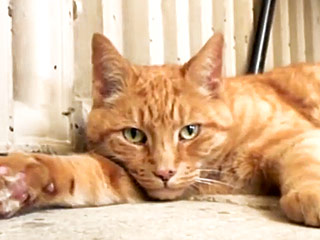 They say all dogs go to heaven – but they have to get past Louis first.

The ginger cat has been accused of three savage dog attacks around Wells Cathedral, near his home in Somerset, England, reports The Telegraph.

This comes as a surprise to many locals, who know Louis as the beloved kitty resident of the Gothic-style church. The feline, who spends his evenings hunting mice in the cathedral's holy halls, even has his own book, Louis the Cathedral Cat, and merchandise at Wells. When the kitty isn't hunting trespassing rodents, he can usually be found snoozing in a basket at the building's gift shop.
Kevin is a man of means, by no means, king of the road – or at least, that is how his owner Cheryl Walls is deciding to look at it.

Over two years ago, the ginger kitty went missing from the backyard of his home in Anderson, South Carolina, reports CBS News. After months of fruitless searching, Walls accepted she would never be reunited with Kevin.
Cats
Get PEOPLE Pets Everywhere
Advertisement
Photo Special
Top Pets Category