Cats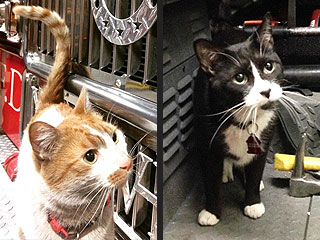 Credit: Carlow/Instagram(2); Boogie
Many know that the Fire Department of New York is considered New York City's bravest, but have you meet New York's furriest? Now you can.

Two different FDNY firehouses have created Instagram accounts for the adorable kitties that keep them company at the station, Gothamist reports.
Meet Pitty and Kitty, the world's sweetest new animal odd couple.


Don't worry – a giant cat isn't going all Godzilla on the world as we know it.

These photos – taken by mother-and-son team Barbara Attwell, an artist, and her Cade Ritter, a student – have gone viral for all the right reasons.

The kitty culprit in the snaps appears to be destroying somebody's fully furnished house, but, thanks to our diligent detective work, we've cracked this case: that's a dollhouse, and that's a kitten. So, take if from us, you're totally safe.
The Web's threshold for angry-looking cats continues to grow, with the arrival of Pompous Albert.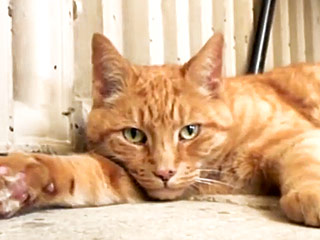 They say all dogs go to heaven – but they have to get past Louis first.

The ginger cat has been accused of three savage dog attacks around Wells Cathedral, near his home in Somerset, England, reports The Telegraph.

This comes as a surprise to many locals, who know Louis as the beloved kitty resident of the Gothic-style church. The feline, who spends his evenings hunting mice in the cathedral's holy halls, even has his own book, Louis the Cathedral Cat, and merchandise at Wells. When the kitty isn't hunting trespassing rodents, he can usually be found snoozing in a basket at the building's gift shop.
Kevin is a man of means, by no means, king of the road – or at least, that is how his owner Cheryl Walls is deciding to look at it.

Over two years ago, the ginger kitty went missing from the backyard of his home in Anderson, South Carolina, reports CBS News. After months of fruitless searching, Walls accepted she would never be reunited with Kevin.
Here's the part of Dr. Dolittle they didn't show you.


We've teamed up with one of our favorite sites, BarkPost, to bring you and your four-legged friends even more adorable pet videos, photos and must-see stories. Check back every week for new furry fun from BarkPost!
Zombie cat has been one-upped. Amigo the kitty not only returned from the dead, he came back to life after being cremated ... or at least that's what his owners thought at first.

According to Metro, John and Margaret Ross's cat named Amigo recently went missing from the couple's home in Hackney, England. Shortly after the pet's disappearance, a cat was run over and killed in the neighborhood. The Rosses were heartbroken to discover the deceased feline looked just like their sweet Amigo.
Cats
Get PEOPLE Pets Everywhere
Advertisement
Photo Special
Top Pets Category