Cats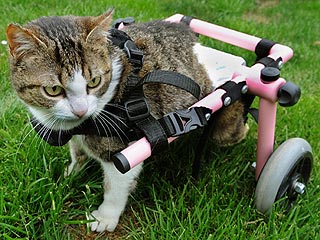 Credit: Holger Hollemann/EPA/Landov
Now, there's a lesson in purr-severance.

Brigitta, a cat who lost use of her hind legs after being shot with an air rifle, has a new lease on life thanks to the help of a wheelchair specially crafted for her. The once-injured kitty was brought to Celle, Germany, from her home in Bulgaria to be fitted with the piece.

And Brigitta's accessory is proving to be as fashionable as it is practical: Just check out that pretty prink paint job! Plus, the rear wheels give her the freedom to explore her grassy green habitat just as well as any other adventurous feline.
Is it time for my ap-paws?

While most celebrities walk the red carpet, Internet sensation Lil Bub took a decidedly simpler approach: taking a seat.

The famous feline was on hand for Thursday's Tribeca Film Festival premiere of the documentary Lil Bub & Friendz, which chronicles the popularity of its titular star and fellow Internet obsessions like Grumpy Cat and Keyboard Cat.
They have their differences, but they snuggle through them.

Meet Douglas, the exotic shorthair cat, and his BFF (best furry friend): a dog named Charlie.

They hang out. They nap. They nap some more. Everything is documented on their Instagram account, which has already garnered more than 2,500 followers.
Ian Somerhalder's latest relationship might not have a happy ending.

"Me and my new love," The Vampire Diaries star, 34, Tweeted alongside a photo of the one and only, and presumably lonely, Grumpy Cat.

As to be expected, however, meeting the hunky animal-loving actor over the weekend during a Mashable interview at Austin's South by Southwest festival was not enough to swipe the disdain off Grumpy Cat's face.
Best known for her role in 2010's The Last Exorcism, actress Ashley Bell, who returns in the movie's sequel The Last Exorcism: Part II, out March 1, is a passionate animal lover who spends her free time fostering animals in need. Right now, her L.A. home is a temporary haven for close to a dozen rescues – and, thankfully, her permanent pal, cat Harrison, doesn't seem to mind the extra roommates.

In her first PEOPLE.com blog, she reflects on how the lovable kitty came into her life, and the work she's done with the Delta Rescue of Acton, Calif.

You can find her on Twitter @OfficialAshBell.

Don't worry. Despite the fact that you saw me smash a cat with a camera in my last film, The Last Exorcism, in real life, I'm an animal lover. Thanks to movie magic, that little guy is alive and well and signing autographs in New Orleans. And this week, my devil-possessed alter ego returns in The Last Exorcism: Part II.

Growing up in Santa Monica, I had eleven brothers and sisters, all spayed and neutered, possessed (he-he) with horrible breath and all of them rescues.
Host Seth MacFarlane's Oscars night performance was met with laughs ... and lengthy, thorough critiques.

But there's someone who thinks the funny man did a perfect job – or should we say purr-fect?

"My cat said the show went well," the Family Guy creator, 39, playfully Tweeted.
Well hello, ol' blue eyes!

Daisy, a tiny tabby kitten, has taken over the Internet after her owner, photographer Ben Torode, began snapping photos of the paw-dorable furball at his Tokyo home.

Torode, a native Australian, took up photography in 2009 as a hobby, and added Daisy to his repertoire of subjects last year.
Some people have skeletons in their closets. Others have preserved cat remains in their attics.

That's just what Robert Gray found at the Cornwall, England, bed and breakfast he owns. After first discovering what appeared to be a stuffed cat in his attic, Gray thought it was a kooky antique of sorts. But an X-ray scan by a veterinarian revealed something even more bizarre: his finding was a 2,000-year-old Egyptian mummy.
Felines have a friend in their corner in James Cromwell.

The actor, who most recently starred as Dr. Arden on American Horror Story: Asylum, was arrested Thursday after he interrupted a University of Wisconsin System Board of Regents meeting to protest the school's experimentation on cats.

Cromwell entered the meeting carrying a large poster of a cat with a metal clamp implanted on its head, and shouted, "As many as 30 cats a year at UW have had holes drilled in their skulls … They are deafened, starved for days at a time and then decapitated. This is not science. This is torture. And it is criminal."
Home. Some pets never have one to call their own. We'd like to help change that by introducing you to an extraordinary adoptable pet every week. Meet Mish Mish, a 3-year-old cat who was given up when a new pet came into the picture.

When a kitten moved into Mish Mish's Salisbury, Md., home, she didn't take it well. She stopped using her litter box – presumably because she was jealous – and things took a turn for the worse. The cat was forced to live in a basement for a while until her owners decided to hand her over to the Humane Society of Wicomico County.

"She's had a hard life," says Angela Bounds, one of the adoption coordinators at the shelter, who adds that Mish Mish was a street cat before she lived in that home. "But she's excellent, she's my favorite cat in the shelter."
Cats
Get PEOPLE Pets Everywhere
Advertisement
Photo Special
Top Pets Category
Photo Special