Cats
Cats and dogs can get along, at least when there is food involved.


It's going down, they're yelling timber!

Christmas isn't here yet, but these cats are ready to take down your tree.

As you can see in this essential video compilation, they'll use any means necessary to break down those branches, rip off the lights, and blast those Christmas balls like a slugger up at bat (Thwap!).

It's not that cats are bah humbug about the holidays – quite the contrary, actually.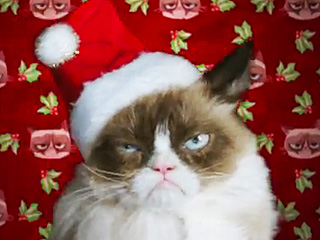 Perhaps you're in luck if you're on Grumpy Cat's Nice List this year. (Side note: That would likely be nobody.)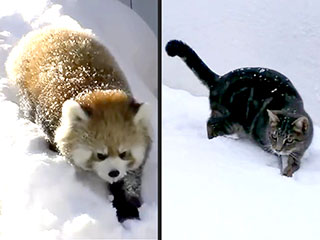 While folks in Buffalo, New York, are asking for an end to the snow already, animals around the world are begging for more of the white, fluffy stuff.


Home. Some pets never have one to call their own. We'd like to help change that by introducing you to an extraordinary adoptable pet every week. Today, meet Logan, a 6- to 8-month-old male smooth collie/border collie mix from the Florida Little Dog Rescue in St. Cloud, Florida.

Logan and his littermates have been through a lot in their short lives. He and his three siblings were found in the woods by a Good Samaritan this Fall, huddled near their deceased mom. If that scenario wasn't sad enough, add to it that the pups were doused in gasoline. Vagrants chased the rescuer out of the woods as she carried the dogs to safety.
Cat videos have taken over the Internet, and now they're working to win the fight against cancer – thanks to a new charity.

Cats vs. Cancer is a non-profit website dedicated to fighting cancer through the magic of cat videos, reports The Daily Dot. Yeah, you heard that right.
Cats aren't normally the ones begging for anything.

On any given day, humans are the eager party begging their feline friends for a snuggle, a pet, or even a glance acknowledging that they exist. And then, of course, there are dogs, who will beg for a dirty shoe to chew on. Gross.

Meet the kitty who breaks the purr-verbial cat mold. This hungry feline is not afraid to shamelessly beg for fish treats by holding her perfect paws together repeatedly for the attention of her owner – while her furpals look on in disgust.
One cat's not feeling the Christmas spirit.


Sometimes life does not suck.

Dave Salmoni (and his muscles) brought a baby leopard to our offices on Monday – and it was un-fur-gettable on all counts!

The Animal Planet host and animal expert, plus his adorable friend Queen Bee, a simply (for lack of a better word) squishy black African leopard, were here to help promote the Give a Bear a Home campaign, which aims to raise funds and awareness for the World Wildlife Fund.
He's kind of a big deal.

Texas, a 26-lb. shelter cat named after the large Lone Star state, is making headlines in the U.K. for his dangerously huge size.

The 8-year-old feline, who was recently taken in by the Battersea Dog and Cat Home in London, England, after presumably being fed too much by his now-deceased owner, is embarking on a strict diet and exercise plan to lose weight (safely) during the holidays and beyond.

"For Texas this really is a very serious health issue he's battling," SuiLi Weight, a team leader at the shelter, told the Daily Mail. "At Battersea we take in around 3,000 cats every year, so we see cats of all shapes and sizes, but Texas is by far the biggest cat we've ever seen."
Cats
Get PEOPLE Pets Everywhere
Advertisement
Photo Special
Top Pets Category