Cats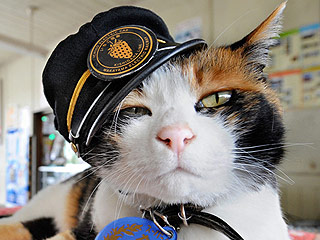 Credit: Toru Yamanaka/AFP/Getty
Tama the cat, who helped to save a failing Japanese train station, has died of acute heart failure at the age of 16, reports NPR.

The calico kitty was an honorary stationmaster at the Kishi train station near Wakayama City. Tama was given the role in 2007 after she started hanging around the stop. Workers dressed the feline in a tailor-made collar and stationmaster hat and even gave the cat her own office – a converted ticket booth.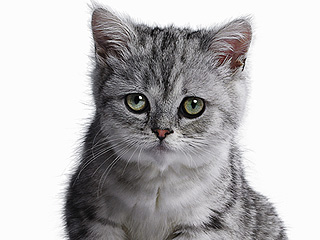 Yoo-hoo, Luhu, why the long face? You're a celebrity.
This gray tabby is quickly
gaining Instagram followers
for her drooping brows that give her a look so achingly sad and sweet it is capable of melting the hearts of even the most hardened feline defectors.
I mean, come on. Look at that face!
Move over, guard dogs; guard cats are moving in on your turf.

On Tuesday, we were in awe of a cat who shooed away a mountain lion while sipping her morning coffee. Today, Nani the cat shows felines the world over how to send a black bear back where he came from (while safely protected by a glass door).

In a YouTube video posted by Eagle River, Alaska, resident Darlis Elliott, the 2-year-old Savannah cat watches silently inside as the sizable bear sniffs around outside on the porch.


Take that, you big bully!

This brave feline sweetly meows as it stares into the eyes of a ferocious mountain lion – with just a glass door separating them – and prompts the large animal to go on his merry way.

The standoff begins with a very shocked owner finding his fluffy cat deeply engrossed in a staring contest with the big guy, who looks to be almost the size of a zoo lion. (Imagine bumping into this guy with your morning coffee, ah!)
Just purrfect: Calvin Harris is cat-sitting for girlfriend Taylor Swift while she's away for her 1989 World Tour.


Moosie is finally among his fellow moose in Alaska after spending two months traveling in a mattress.

In April, the 2-year-old tabby's owners, Kymberly and Jesse Chelf, were packing up to move from El Paso, Texas, to Jesse's new army assignment in Fairbanks, Alaska, when Moosie disappeared, reports the Associated Press.
Turner and Hooch is so 1989. Meet Passarella and kitten. The pair met during a police rescue in Brooklyn, New York, on Friday.

Officer John Passarella was called in to help the NYPD save the baby cat, who was stuck underneath a minivan's engine block, reports ABC News.
Gus Van Sant tried; now cats want a piece of the Psycho canon.

In this shot-for-shot recreation of the thriller's notorious shower scene, the terrified actors are replaced with rowdy kittens.
Cats
Get PEOPLE Pets Everywhere
Photo Special
Top Pets Category