Cats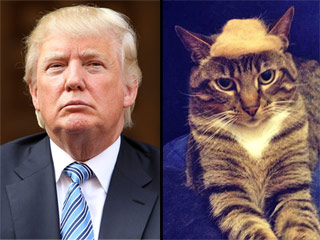 Credit: Paul Morigi/WireImage; Courtesy Claudia Nicolas Pierce
Now we can say we've seen it all.

Thanks to the new hashtag, #TrumpYourCat, felines everywhere are sporting their best Donald Trump dos and sharing them on Instagram, with a little help from their #GlamSquads (a.k.a. their owners).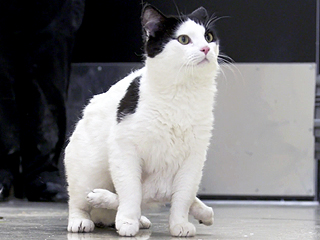 Walking in Pauly the cat's shoes is more unusual than you'd expect.

The stray has six legs, two of which are attached to his sternum and need to be surgically removed.

The cat, reports Canada's Edmonton Journal, was scooped up by some helpful animal lovers in April and taken in by the Little Cats Lost rescue in June when he started having trouble getting around. On Monday, the rescue started an online fundraising campaign to pay for his surgery; the fund has already raised more than $3,400.
How often do you really stop to think before you take out money from the ATM machine?


The fit is so purr-fect, they must be made for cats, right?

That's what cats everywhere are saying about the Duktig bed from Ikea.

The truth is, they're actually made for dolls, but felines have been catching Zzz's in the wooden beds designed by the Swedish furniture maker – and pet owners are posting the resulting (adorable) catnaps on social media.
Pet food company Stella & Chewy's is voluntarily recalling 11 of its products after Listeria monocytogenes was found in one of its dog food products during a routine test.

The Maryland Department of Agriculture ordered that the company stop selling Chicken Freeze-Dried Dinner Patties for dogs on Saturday, after tests revealed the product was contaminated with Listeria, reports NJ.com.
During a routine search for treacherous four-ounce containers and prohibited snow globes on Wednesday, a Transportation Security Administration agent at the Los Angeles International Airport spotted something unusual on the x-ray screen: A cat.


Pickup truck engines aren't cozy.


Let me tell you about my bestie, he is a golden-furred friend who will love me until the end.

That's Koda's jam. The adorable ginger kitten in this video has found a way to become even cuter by befriending a loyal golden retriever named Keelo.
Cats
Get PEOPLE Pets Everywhere
Photo Special
Top Pets Category