Cats
Paperwork – it's a boring job, but somebody has to do it.

We're totally inspired by this fast-working feline who pushes paper with a degree of seriousness that offices haven't seen since Working Girl. Clearly, recruiters everywhere need to tap into this fierce workforce.
What relieves stress better than any massage or muscle relaxer? Kittens, of course.

To prove this point, Tidy Cats and media company SoulPancake created kitten therapy.
The WWE is about to get a little bit grumpy.


Home. Some pets never have one to call their own. We'd like to help change that by introducing you to an extraordinary adoptable pet every week. Today, meet Chardonnay, a 6-month-old Calico kitten living at the Chance at Life Cat Rescue in Hackensack, New Jersey.

This sweet kitty was found living under a shed in nearby Elmwood Park with her four brothers. So far, one of her brothers has been adopted, while the rest of the siblings are still looking for loving homes. Chardonnay is one of the spirited ones in the bunch – she loves to play and when the group is done chasing kitty lasers, all of them will cuddle in a big pile (all together now, "Aww!").
The purr-fect job is now available – no experience necessary.

The Westgate Ark animal shelter in Newcastle, U.K., is searching for "Cat Cuddlers" who can help socialize their young feral cats, reports the U.K.'s Chronicle Live. The cats have been flooding into the shelter in droves since Westgate Ark opened in April.

The job (which is unpaid) sounds like every cat lover's dream. "The most important help we need is people to spend time sitting with our cats and kittens to interact with them and get them used to and confident around people," reads a posting on the shelter's website, marked Cat Cuddlers.

"This process of socialization is of the utmost importance as a lack of ease around people may ruin a kittens chances of getting a happy home for life! Cat cuddling can be done on a regular or irregular basis."
The class of 2014 is impossible to fur-get.

These accomplished graduates reached an important meow-stone Tuesday: their "Kittergarten" graduation, which celebrated their move from the ASPCA's kitten nursery in New York City to the facility's adoption center. From there, they hope to find forever homes.

Similar to traditional graduation ceremonies, the event included a speech – from Gail Buchwald, senior vice president of ASPCA's Adoption Center – a procession of the graduates receiving their "diplomas" while sitting in graduation caps, and plenty of congratulatory chin scratches and cuddles, of course.
Trick or treat? Scary costume or funny outfit? Snickers or Butterfinger? Halloween is full of touch decisions. Don't let all these choices stress you out.

Take a cue from these cool cats, and approach this holiday with a sense of festive calm.
Sure, Internet celebri-cats are cute, but what are they like once the webcam turns off?

Mike's HARDER decided to find out, gathering cyber kitty darlings Waffles, Lil Bub, Venus, Princess Monster Truck, Oskar and Klaus for a special celebrity cat selfie to promote their new Apple Firebomb flavor, which features Waffles on the can. By the end of the furry feat, the group had an adorable photo and a Clickhole video from behind the scenes that will make you meow out loud.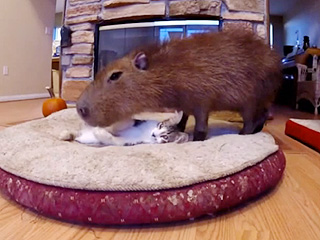 Dog may be man's best friend, but cats are becoming buddies with just about every other creature they can get their paws on.

After befriending donkeys and deer, felines have moved on to making amends with their former nemesis: the rodent.
Sometimes, a stiff drink is the only answer. Even if you're a cat.


Cats
Get PEOPLE Pets Everywhere
Advertisement
Photo Special
Top Pets Category