Cats


Siblings are so complicated. Just ask the Kardashians.

When you begin watching this video, it appears Seamus the cat wants nothing more than to lovingly groom his brother's golden fur – but time tells us something different.

Like a brother scorned, Seamus suddenly turns on Angus and tries to eat his head for breakfast. (Don't worry: despite appearances, Angus's head is still intact.)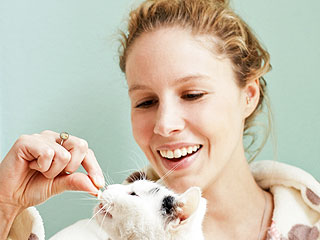 What are tonight's specials? This cat would like to know.


One New Yorker was snapped sitting outside of a restaurant with her cat by local resident Jessie Auritt, who shared it
on Instagram
Tuesday and dubbed it a "romantic dinner date."
DNAinfo
spoke with Auritt, who said she spotted the two at
RedFarm restaurant
and thought it so unusual that she had to share it on social media (as you do).
Home. Some pets never have one to call their own. We'd like to help change that by introducing you to an extraordinary adoptable pet every week. Today, meet Gabby, a beautiful cat who is currently being cared for by Homes for Orphaned Pets Exist (a.k.a. HOPE) in Wilton, New York.

What's special about 2-year-old Gabby? Everything! First of all, she's a fan of dogs, especially her foster buddy Ted, whom she's often found hanging out with. Second, she's a total sweetheart. She enjoys a good scratch and spending time with people, but she's also independent and doesn't need constant attention. At night, she'll seek out snuggles from you and in the morning she'll happily stare you down for a very important gift: treats!
A Chippewa Falls, Wisconsin, cat has all four paws back on the ground after spending five days stuck in a tall tree.

On Friday, Joel and Lori Boutin spotted the ginger tabby sitting 40 feet up a towering pine tree in their heavily wooded backyard, reports WQOW.

The couple attempted to reach the cat with a ladder and coax it down to the ground with food, but the feline wouldn't flinch.
Mikey the cat is finally getting her moment to be a mom.

The 8-month-old feline from Houston, Texas, recently gave birth to three kittens, reports the Huffington Post. Mikey's babies were born premature and weak. The cat's owner, Hillary, tried to help the mom save the trio, but all of the kittens eventually died.

Prepared to be a mother, Mikey obviously appeared heartbroken after losing her babies. Hilary said her pet started acting depressed and would search the house for her kittens. Wanting to help ease Mikey's suffering, Hillary called Dori's Darlings, a local cat rescue organization.
Ring the bell and you'll get a treat – it's not rocket science.

Well, for cats it is! That's why it's amazing that Pecan the cat has figured this scenario out. Based on this video, he plans on ringing his bell for treats indefinitely.
A woman faced with the decision to make a flight to London or keep her cat reportedly chose to leave her feline behind to make her plane.

According to the Norwegian paper Eidsvoll Ullensaker Blad, a woman decided to abandon her cat at the Oslo Airport on Monday, after the pet was turned away at the Norwegian Air ticket counter for not being preregistered.
These meowers are moving on up! The only problem is they all want the same deluxe apartment in the sky – and by apartment we mean shoe organizer.

In this video, all the fluffy tenants initially appear open to sharing the space. But as with any roomie situation, things can get a little hairy.
Sure, your squad is great, but these might be the best friends ever.

Dayo and Pancake are a Rhodesian ridgeback puppy and cheetah cub who spend their days hanging out at the Wildlife Safari in Oregon, reports Dogster.

This fluffy odd couple were set up to keep each other company after they were both born in late February. Dayo is Pancake's permanent companion animal, which is important for a young cheetah working on her social skills.
Cats
Get PEOPLE Pets Everywhere
Advertisement
Photo Special
Top Pets Category