Cats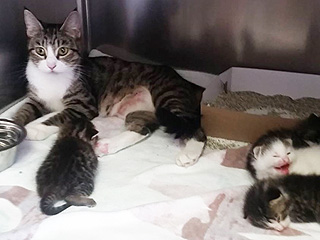 Credit: Ten Lives Club
A mother cat and her five newborn kittens are cooling down after being sealed in a box and abandoned in a hot parking lot.

The helpless felines were – luckily – discovered by Ken Lyons, a volunteer from Ten Lives Club cat rescue in Blasdell, New York, reports WIVB.

Lyons found the box, which was duct-taped shut, in the sunny parking lot without a note. The volunteer immediately freed the cat and her kittens and brought them to Ten Lives Club.
Warning: scrolling here will cause a major decline in your productivity at work.

Jenny Pogue's foster cat had a litter of kittens recently, and the busy mother is accepting help from two unlikely nannies: dogs Lady and Louis.

The nurturing dalmatians from Washington state offer cuddles to the kitties for about an hour a day – and the cuteness has reached painfully high levels.
On Thursday, the Australian Federal Government announced a very new kind of war – one against cats.


A British feline has eight lives left after a group of office workers saved her from the ledge of a busy bridge in London – and the daring rescue was caught on video.


Now we can say we've seen it all.

Thanks to the new hashtag, #TrumpYourCat, felines everywhere are sporting their best Donald Trump dos and sharing them on Instagram, with a little help from their #GlamSquads (a.k.a. their owners).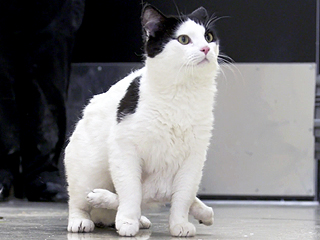 Walking in Pauly the cat's shoes is more unusual than you'd expect.

The stray has six legs, two of which are attached to his sternum and need to be surgically removed.

The cat, reports Canada's Edmonton Journal, was scooped up by some helpful animal lovers in April and taken in by the Little Cats Lost rescue in June when he started having trouble getting around. On Monday, the rescue started an online fundraising campaign to pay for his surgery; the fund has already raised more than $3,400.
How often do you really stop to think before you take out money from the ATM machine?


The fit is so purr-fect, they must be made for cats, right?

That's what cats everywhere are saying about the Duktig bed from Ikea.

The truth is, they're actually made for dolls, but felines have been catching Zzz's in the wooden beds designed by the Swedish furniture maker – and pet owners are posting the resulting (adorable) catnaps on social media.
Pet food company Stella & Chewy's is voluntarily recalling 11 of its products after Listeria monocytogenes was found in one of its dog food products during a routine test.

The Maryland Department of Agriculture ordered that the company stop selling Chicken Freeze-Dried Dinner Patties for dogs on Saturday, after tests revealed the product was contaminated with Listeria, reports NJ.com.
Cats
Get PEOPLE Pets Everywhere
Photo Special
Top Pets Category