Cats
Bart the cat found out the hard way that there can be a little bit of lag time between your nine lives.

Several days ago, the black and white feline was hit by a car and pronounced dead shortly after. But he didn't stay deceased for long, reports Fox13. Five days after burying Bart, the cat's owner found him pawing around a neighbor's yard.
Home. Some pets never have one to call their own. We'd like to help change that by introducing you to an extraordinary adoptable pet every week. Today, meet Buckets, a 3-year-old tabby available for adoption at Adopt & Shop in Culver City, California.

When you meet this pretty girl, you should sit down and get ready – because Buckets wants to pour herself into any available lap. This affectionate kitty loves adults and kids alike, the attention from people around her is what she craves most.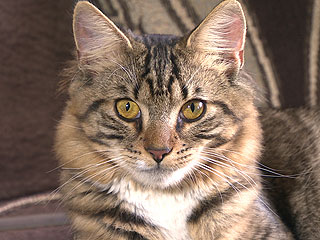 When Colleen Clarke-Murphy's vet told her the news, she said: "Did I just hear you right?"

After an exam of her cat Mittens in October, it was determined that the feline had both female and male genitalia. The vet recommended that Mittens be assigned a male sex.

If shock was Clarke-Murphy's first feeling, compassion was a close second. Clarke-Murphy told Canada's CBC News that she plans do whatever it takes to ensure the cat is healthy, since the feline currently has bowel issues and problems urinating as a result of having both male and female sex organs.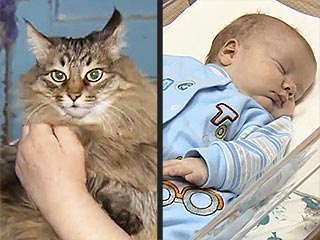 Who says cats are self-absorbed?

A long-haired cat from Obninsk, Russia, came to the aid of an abandoned baby recently and is being called a hero. The furry feline kept the baby boy warm and even meowed to get the attention of passersby, the New York Post reports.
How does your cat feel about olives?

You may or may not investigate this matter depending on your reaction to the above video, which features a Russian cat that has a profound reaction to a can of olives. Without even touching the actual olives, the cat seems to become overwhelmed with … something. Euphoria? Disgust? It's hard to read the kitty mind.

What is certain, however, is that plenty of other cat owners have experienced this unusual, catnip-esque behavior and then posted online inquiring if anyone else knows what's up.
Meet the bearded ladies who lunch.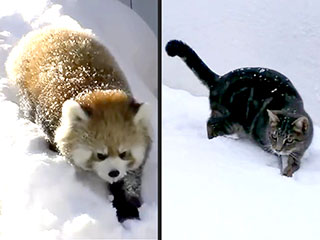 While folks in Buffalo, New York, are asking for an end to the snow already, animals around the world are begging for more.


When an Oregon man sold his girlfriend's mattress set for $100 because she was moving in with him, little did he realize her cat was hiding inside.

While his girlfriend was at work, Roy Dufek helped strap the mattress and box spring to the top of the buyer's car. When he went back inside his girlfriend's suburban Portland home, Camo the cat was nowhere to be found.

Dufek said it was impossible for the cat to slip outside undetected because there are three sets of doors in the apartment complex.
[BRIGHTCOVE "3973766759001" "" "" "auto"]
For Taylor Swift, it's all about the cats.


Cats
Get PEOPLE Pets Everywhere
Advertisement
Photo Special
Top Pets Category