Cats
One cat's not feeling the Christmas spirit.


Sometimes life does not suck.

Dave Salmoni (and his muscles) brought a baby leopard to our offices on Monday – and it was un-fur-gettable on all counts!

The Animal Planet host and animal expert, plus his adorable friend Queen Bee, a simply (for lack of a better word) squishy black African leopard, were here to help promote the Give a Bear a Home campaign, which aims to raise funds and awareness for the World Wildlife Fund.
He's kind of a big deal.

Texas, a 26-lb. shelter cat named after the large Lone Star state, is making headlines in the U.K. for his dangerously huge size.

The 8-year-old feline, who was recently taken in by the Battersea Dog and Cat Home in London, England, after presumably being fed too much by his now-deceased owner, is embarking on a strict diet and exercise plan to lose weight (safely) during the holidays and beyond.

"For Texas this really is a very serious health issue he's battling," SuiLi Weight, a team leader at the shelter, told the Daily Mail. "At Battersea we take in around 3,000 cats every year, so we see cats of all shapes and sizes, but Texas is by far the biggest cat we've ever seen."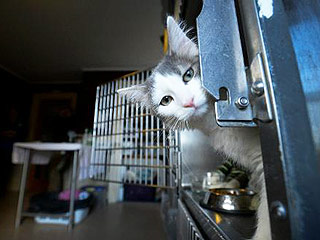 A New Mexico woman's missing kitten has been located in Maine, although exactly how the feline made the 2,300-mile trip remains a mystery.

The female kitten, named Spice, was turned in to the Animal Refuge League in Westbrook earlier this month by a man who found her inside a duffel bag outside a Portland thrift store.

Spice's owner was tracked though an implanted microchip to Albuquerque, New Mexico.

Jennifer Brown of the Animal Refuge League tells the Portland Press Herald she talked to the owner, who said Spice bolted on Halloween when she opened her door for trick-or-treaters.
Paperwork – it's a boring job, but somebody has to do it.

We're totally inspired by this fast-working feline who pushes paper with a degree of seriousness that offices haven't seen since Working Girl. Clearly, recruiters everywhere need to tap into this fierce workforce.
What relieves stress better than any massage or muscle relaxer? Kittens, of course.

To prove this point, Tidy Cats and media company SoulPancake created kitten therapy.
The WWE is about to get a little bit grumpy.


Home. Some pets never have one to call their own. We'd like to help change that by introducing you to an extraordinary adoptable pet every week. Today, meet Chardonnay, a 6-month-old Calico kitten living at the Chance at Life Cat Rescue in Hackensack, New Jersey.

This sweet kitty was found living under a shed in nearby Elmwood Park with her four brothers. So far, one of her brothers has been adopted, while the rest of the siblings are still looking for loving homes. Chardonnay is one of the spirited ones in the bunch – she loves to play and when the group is done chasing kitty lasers, all of them will cuddle in a big pile (all together now, "Aww!").
The purr-fect job is now available – no experience necessary.

The Westgate Ark animal shelter in Newcastle, U.K., is searching for "Cat Cuddlers" who can help socialize their young feral cats, reports the U.K.'s Chronicle Live. The cats have been flooding into the shelter in droves since Westgate Ark opened in April.

The job (which is unpaid) sounds like every cat lover's dream. "The most important help we need is people to spend time sitting with our cats and kittens to interact with them and get them used to and confident around people," reads a posting on the shelter's website, marked Cat Cuddlers.

"This process of socialization is of the utmost importance as a lack of ease around people may ruin a kittens chances of getting a happy home for life! Cat cuddling can be done on a regular or irregular basis."
The class of 2014 is impossible to fur-get.

These accomplished graduates reached an important meow-stone Tuesday: their "Kittergarten" graduation, which celebrated their move from the ASPCA's kitten nursery in New York City to the facility's adoption center. From there, they hope to find forever homes.

Similar to traditional graduation ceremonies, the event included a speech – from Gail Buchwald, senior vice president of ASPCA's Adoption Center – a procession of the graduates receiving their "diplomas" while sitting in graduation caps, and plenty of congratulatory chin scratches and cuddles, of course.
Cats
Get PEOPLE Pets Everywhere
Advertisement
Photo Special
Top Pets Category