Cats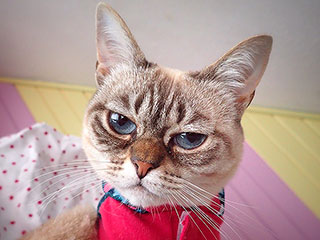 Credit: Courtesy Amy Bender
This kitty is a true sour puss.


A kitty in Helena, Montana, had a pretty crummy Valentine's Day, spending the weekend stuck in a tough spot.

Sometime on Friday, Ryilee Stratton's feline scurried up a local transmission pole and then refused to come down, reports KXLH.

Locals believe the gray and white kitty may have sought out the high spot to escape a group of neighborhood dogs.
You've seen videos of dogs weeping, whimpering and emotionally breaking down when their masters return home from a tour of duty. In fact, some reunions can instantly make you bawl and retreat home to watch Marley & Me on Netflix for the 17th time.

Watching cats welcome their masters home from war has a drastically different effect, though: they'll make you laugh – really, really hard.
If you'll be celebrating this Valentine's Day with a furry friend by your side, just like Amanda Seyfried, you should know this: You are 30 percent less likely to visit a doctor.

Huh?

Allow us to explain. According to these very important statistics in an infographic created by the Humane Society Silicon Valley, there are tons of great health benefits to loving a pet on Valentine's Day.

If you're a cat owner, apparently there's a very good reason that your cat likes to listen to your heart. Cat people are 40 percent less likely to experience a heart attack (See, all those cuddle sessions really do pay off!)
Despite everything he's been through, Olaf the cat is just as cheery as his namesake.

The 2-year-old feline was found by two construction workers frozen to the side of a building in Burlington, Ontario, last Friday and is now recovering at a clinic associated with the Burlington Humane Society. It is believed the cat was seeking warmth from the bone-chilling temperatures (about 25 degrees Fahrenheit) when the good Samaritans discovered him.

"The vet said that because he was so hypothermic and dehydrated, if he wasn't found within that time period he wouldn't have made it," shelter manager Adrienne Maranduik tells PEOPLE.
Cats: They're playful, precious, curious and sweet – but sometimes they can just be total buttheads.


Jim Morrison, Jimi Hendrix, Janis Joplin – they all passed away at age 27. Tiffany is bound to outlive them.

Though she's a cat, not a singer, Tiffany is a superstar in her own right: Guinness World Records named the 26-year-old black-and-orange tortoiseshell feline the world's Oldest Living Cat on Feb. 6 – and on March 13 she's turning the ripe old age of 27.


It's being called a Valentine gone wrong.

An unidentified man swiped a 3-month-old kitten from a Minneapolis PetSmart on Friday, and returned it the next day with a note that said he was sorry for what he had done but that he couldn't afford to buy the kitty.

It all began when the man walked into the Roseville, Minnesota, PetSmart (where animals from the Ruff Start Rescue are up for adoption) in search of a furry friend. Ruff Start cat intake coordinator Abbey Lynn tells KSTP news that the man asked to look at cats and a manager assisted him.

Later, another employee saw the man outside of the cat room holding an adult feline. When she took the cat from him and took it back to its cage, she noticed another cage's door had been cut with a bolt cutter.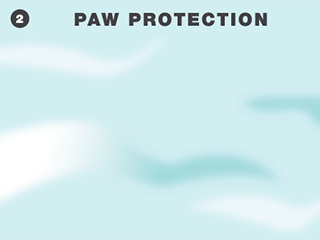 You heard Punxsutawney Phil: We have six more weeks of winter weather ahead of us.

As you bundle up against February's brutal mix of ice, wind and snow, it's important to think about keeping your pets protected as well. Just like us, dogs, cats and other critters need a little help to stay warm and safe during harsh weather conditions.
They get a bad rap for being lazy, but clearly cats are working on that – one paw at a time.

When Rudiger the kitty is faced with a 4-ft. wall of snow outside his front door, he doesn't retreat to his donut bed in the living room for a cat nap, he puts his paws up and starts digging through the white stuff – with no kitten mittens! That's akin to a boxer facing a fierce opponent without any boxing gloves.
Cats
Get PEOPLE Pets Everywhere
Advertisement
Photo Special
Top Pets Category