Cats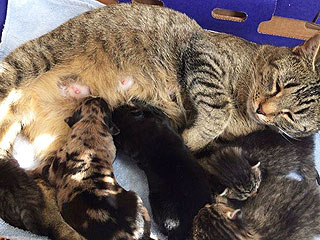 Credit: Humane Society of Iredell/Facebook
Say hello to Super Mom.




A warning to firefighter A.J. Johnson: If we should ever cross paths, you're getting a humongous bear hug from us.

In this video uploaded to YouTube by Kentucky.com, the diligent rescue worker is seen administering oxygen to a cat that escaped a house fire (watch until the very end, when Johnson comforts the kitty with gentle strokes to the head).
This one's for all the cat ladies out there: Call your travel agent now, because I have a fun and furry vacation idea for you.

Book a ticket to Aoshima Island. This tiny Japanese isle is a magical, meowy place where squads of feral cats rule the streets, and just about everything else, according to NBC News.

Also known as Cat Island, Aoshima is a pet dander paradise where felines outnumber humans six to one.


This cat was having a purr-fect day – you know, the kind filled with lots of catnip and tuna. Then, all of a sudden she realized she was being filmed without her consent.

On the unsuspecting day in question, the kitty, who belongs to YouTube user 1313EbutUoy, is busy grooming her fur toy near a window in her home. What she doesn't know is that her owner is capturing it for all posterity (a.k.a. the Internet).
Tiffany Two, there may be a cat older than you.

A 29-year-old feline from Karlskoga, Sweden, is vying for the title of the world's oldest living cat, which would bump 26-year-old Tiffany Two from her feline throne.

According to FOX 8 news, Asa Wickberg, the owner of a 29-year-old cat named Missan, says she adopted her feline in 1985. Recently, Wickberg spotted an article about Tiffany Two being named the world's Oldest Living Cat by Guinness World Records and realized that her kitty was older (wiser? That is still unclear).


It's so cold outside across most of the country right now that even cats are sharing screen grabs of the bone-chilling temperatures on their iPhones.

The kitty in this video is well aware of the deep-freeze and it appears he isn't moving from his current position in front of this gloriously radiating space heater until spring.

When another feline walks toward the heater – much like a innocent Forrest Gump walking on the bus on the first day of school – the feline in the seated position looks at him in disgust and says, "Seat's taken." (As you can see, we speak cat, which comes in really handy at work).
This kitty is a true sour puss.


A kitty in Helena, Montana, had a pretty crummy Valentine's Day, spending the weekend stuck in a tough spot.

Sometime on Friday, Ryilee Stratton's feline scurried up a local transmission pole and then refused to come down, reports KXLH.

Locals believe the gray and white kitty may have sought out the high spot to escape a group of neighborhood dogs.
You've seen videos of dogs weeping, whimpering and emotionally breaking down when their masters return home from a tour of duty. In fact, some reunions can instantly make you bawl and retreat home to watch Marley & Me on Netflix for the 17th time.

Watching cats welcome their masters home from war has a drastically different effect, though: they'll make you laugh – really, really hard.
If you'll be celebrating this Valentine's Day with a furry friend by your side, just like Amanda Seyfried, you should know this: You are 30 percent less likely to visit a doctor.

Huh?

Allow us to explain. According to these very important statistics in an infographic created by the Humane Society Silicon Valley, there are tons of great health benefits to loving a pet on Valentine's Day.

If you're a cat owner, apparently there's a very good reason that your cat likes to listen to your heart. Cat people are 40 percent less likely to experience a heart attack (See, all those cuddle sessions really do pay off!)
Cats
Get PEOPLE Pets Everywhere
Advertisement
Photo Special
Top Pets Category