Cats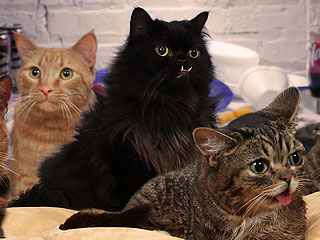 Credit: MSL Group
Sure, Internet celebri-cats are cute, but what are they like once the webcam turns off?

Mike's HARDER decided to find out, gathering cyber kitty darlings Waffles, Lil Bub, Venus, Princess Monster Truck, Oskar and Klaus for a special celebrity cat selfie to promote their new Apple Firebomb flavor, which features Waffles on the can. By the end of the furry feat, the group had an adorable photo and a Clickhole video from behind the scenes that will make you meow out loud.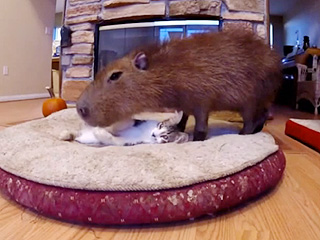 Dog may be man's best friend, but cats are becoming buddies with just about every other creature they can get their paws on.

After befriending donkeys and deer, felines have moved on to making amends with their former nemesis: the rodent.
Sometimes, a stiff drink is the only answer. Even if you're a cat.




Few things tug at the heartstrings more than a happy ending, and the story of Madison the missing cat is one of the furriest and sweetest on the Web right now.

Two months ago, 13-year-old Madison slipped out of her home and couldn't be found, reports AOL. The cat's disappearance hit the family's two boys – ages 9 and 11 – especially hard, because they've known Madison their entire lives.


Let's face it, your life is not a cat-astrophe.
When you're done aimlessly dissecting Taylor Swift's latest hit for hints about her exes – pro tip: You're better off focusing on the confession she rearranged her furniture for a dance party – redirect your attention to the true loves of her life.


It's Adopt-a-Shelter Dog Month and we'll be introducing you to extraordinary canines who need homes throughout October. Today, meet Ricky, a 10-month-old Chihuahua/Dachshund mix from the Helen Woodward Animal Center in Rancho Santa Fe, California.

This adorable pup is the unofficial chairman of the center's welcome committee. A staff favorite, Ricky sits in the laps of every volunteer and visitor, and befriends every new canine roommate with affection or a tail wag.

Happy, playful and cuddly are some of the best ways to describe Ricky – so why hasn't he found his forever yet? Nobody knows.

"This is one of those question marks we see from time to time," says adoption services manager Adele Murillo. "Every now and again we'll get a wonderful dog who doesn't whine or bark for attention but just kind of waits his turn. It's almost as though his sweet personality gets him overlooked. He's really a love and he's going to make someone a very happy adopter."
If home is where your heart is, then Cleo the cat definitely belongs with her owner Nancy Cowen.

Several weeks ago, the fluffy feline was separated from Cowen when the elderly woman was moved from her home in Westcott, England, into the Bramley House Residential Home in the same town.

Somehow the cat, who was left in the care of a neighbor, found her way to the nursing home – where she had never been before – presumably in an attempt to find her beloved owner.

Bramley House employee Laura Costello told the Dorking and Leatherhead Advertiser, which first reported the sweet story, "About two weeks after Nancy moved in, this cat just started turning up and sleeping on the benches outside the home. It was very strange."
A New York boy and his cat, a principal and her dog – and lasers.

They all came together in teenager Draven Rodriguez's senior portrait, which ended up with him holding his cat, Mr. Bigglesworth, and Schenectady High School principal Diane Wilkinson holding her Chihuahua, Vivienne.

The 16-year-old had originally wanted his senior yearbook portrait to show him holding his cat, with lasers in the background. He posted the photo on the Internet, and it went viral.
Cats
Get PEOPLE Pets Everywhere
Advertisement
Photo Special
Top Pets Category