Cute Pets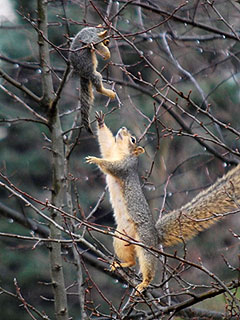 Credit: Carla Brandon/Solent News/REX USA
It's a bird. It's a plane – actually, it's a squirrel!

After her baby became stuck in a Pittsburgh, Pa., tree, a mama squirrel sprung into action to rescue her little one.

The youngster, thought to be about 8 weeks old, fell about 20 feet from a woodpecker's nest it had been snoozing in, according to photographer Carla Brandon. Before the baby could fall 25 more feet to the ground, its mother saved its fall, plucking the little ball of fur by the tail.

With Mother's Day right around the corner, we think it's safe to say she's more than deserving of a nice gift.
Let's play a quick game of word association. When we say "princess," what do you think of? Pink, pretty ... Kate Middleton? And when we say "monster," does your mind immediately go to darkness, terror and growling?

Put those two words together, and you have Princess Monster Truck, the latest Instagram cat celebrity we're purring over.

Her N.Y.C.-based owners, Tracy Timmons and Joseph Bryce, tell BuzzFeed this ball of black fluff "came tumbling out of a bush when we were walking home one night from dinner. Her hair was totally matted, she was really thin and obviously hungry." It was dark outside, so they didn't notice what was so special about her right way.
We've watched many beautiful friendships blossom over the years – Thelma & Louise, George Clooney and Brad Pitt – but we're not sure if we've ever seen a companionship this cute. (No offense, George and Brad).

Vali the 16-month-old chimp and Bam Bam the 5-month-old grizzly bear made fast friends at Myrtle Beach Safari park, where they put their differences aside to play, cuddle, and more or less, melt our hearts.

The pair were introduced after the South Carolina's park staff realized they were about the same size. "We got them out there playing on a sunny day, and they went on and on for hours," said Park owner Bhagavan Antle. "Neither of them wanted to quit."
In the world of small, furry animals, we weren't sure it got better than gerbils competing in a pageant. We were wrong.

Japan-based designer Maki Yamada creates specialty guinea pig attire, turning these otherwise adorable rodents into runway-worthy, four-legged fashionistas. Hats? Check. Wedding dresses? You got it.

"Pet fashion is very popular in Japan. Hundreds and thousands of dog clothes exist," he told the U.K.'s Metro. "But I had never encountered guinea pig clothes."
They don't agree on everything, and it's not always easy finding time in their busy schedules to hang out. They can't even, like, share the same clothes.

But someway, somehow, this baby monkey, tiger and lion have secured BFF – best friends fur-ever! – status in Shenyang, China, where they met in a zoo's kindergarten class.

Sure, they have their differences. But they snuggle through them. Brunch recipes, workout tips, crushes – we bet these buddies talk about it all. And, to top it all off, they don't even get jealous of each other's cuteness.
What could be better than a border collie puppy? Six of them!

This sextet of siblings, born on The BIG Sheep farm in Bideford, England, was wrangled together by photographer Richard Austin for a family portrait on Sunday.

The puppies are all looking for a home to call their own, so their caretakers believed a group photo would be the best way to show off the pooches' adorable faces – and we couldn't agree more!
The words "cute," or if we're being punny, paw-dorable come to mind when we think of our pets.

But not for Jimmy Fallon.

"Gary likes to eat her bed," the soon-to-be Tonight Show host wrote on Instagram.
They have their differences, but they snuggle through them.

Meet Douglas, the exotic shorthair cat, and his BFF (best furry friend): a dog named Charlie.

They hang out. They nap. They nap some more. Everything is documented on their Instagram account, which has already garnered more than 2,500 followers.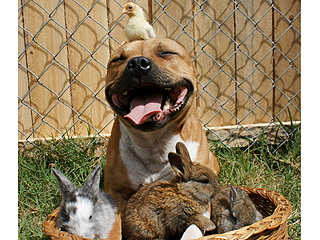 Not naming names, but somebunny's excited for Easter.

Okay, okay – we'll call this dog out. Meet Boom: a 26 lb. Staffordshire Bull Terrier who's probably hoping to eat his weight in chocolate eggs come Sunday.

Not only is he paw-pular on Facebook (his page has more than 1,000 Likes!), but chicks dig him – judging by this picture, that is.
Khloé Kardashian Odom and husband Lamar Odom have welcomed a new addition – a puppy, that is.

"Look what Lammy got us!" Kardashian wrote on Instagram, sharing a sweet snapshot of their pooch. "Our baby boxer."

Just last week, the reality star, 28, blogged about hitting up a pet store with stepdad Bruce Jenner. "I couldn't resist saying hi to the puppies," she wrote. "They were SO cute!" (Kardashian didn't specify where her adorable gift came from.)
Cute Pets
Get PEOPLE Pets Everywhere
Advertisement
Photo Special
Top Pets Category
Photo Special