Cute Pets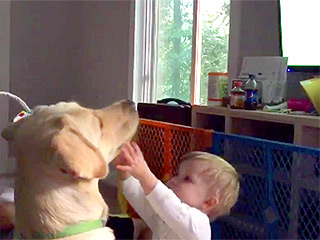 Credit: Courtesy Jessica Babcock/Twitter
Beyoncé wasn't the only one riveted by the Women's World Cup final – it also captured the undivided attention of canines.

This video of Deuce the dog watching intently as the U.S. women crush Japan has gone viral … oh, and did we mention there's an adorable baby in it? You've gotta love it when there's something for everyone!
"Is that what you want? You want to wear that toilet paper all day long?" 


"Get back on your side of the car. MOOOOMMMMM!"

These twin goats belong to Hope Hall, of the Sunflower Farm Creamery in Cumberland, Maine. Their names are Charlotte and Harper, and Charlotte is the one patiently dealing with her sister's out-of-this-world irritation skills. We're getting flashbacks to every road trip we ever took as a child.
Maybe he's got it; maybe it's that adorable fluffy muzzle – either way, RJ the St. Bernard puppy is meant to be a star.


Let me tell you about my bestie, he is a golden-furred friend who will love me until the end.

That's Koda's jam. The adorable ginger kitten in this video has found a way to become even cuter by befriending a loyal golden retriever named Keelo.
Last year, a blind golden retriever named Kanga was found abandoned in a field.


This stray kitten has a big ambition: to assist one of the world's most prominent wildlife photographers, Mitsuaki Iwago.


Cute Pets
Get PEOPLE Pets Everywhere
Photo Special
Top Pets Category