Cute Pets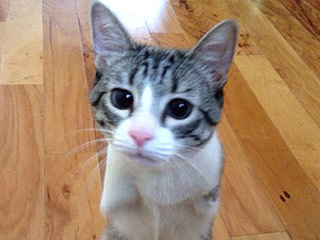 Credit: Courtesy Roux
If you need some-bunny new to love on Instagram, then let us introduce you to Roux the cat.

The 1-year-old feline – who has more than 50,000 followers already – was born without front legs, but it doesn't hold her back one bit because she gets around by hopping like a bunny.

In an interview with Meowbox.com, the cat's owner Jackie Deak Akey says she rescued the cat last October after someone surrendered her to an animal shelter in New Orleans.
Glaucoma may have stolen Kiaya's eyesight, but Cass and Keller have helped give the dog her life back.

When the akita lost her eyes to the condition, her doggy siblings, also rescued akitas, stepped up to help in the sweetest way possible. They're always by her side and help her get where she wants to go.

"They were kind of bookends to her," owner Jessica VanHusen, of Waterford, Michigan, told ABC News. "They're not fiercely protective but they're always touching her. They're really respectful of her."

The veterinary ophthalmologist who removed both of Kiaya's eyes says watching the trio in action warms the heart.
There aren't many things on this planet we value more than a really, really good burrito.


What more could you possibly need in a headline than that?


There's a foxy lady burning up the Internet, and (surprise!) her last name isn't Kardashian.

Rylai, a pet white marble red fox, is fanning a viral forest fire with her cuteness – clocking more than 63,000 followers on Instagram so far.

The young pet – whose name is pronounced Rye-Lie – comes from generations of pet lines, according to her Facebook page, and would never survive in the wild. Her account includes adorable images of her yawns, cuddly naps and yummy meals, but as she grows, she will be more difficult to keep as an indoor pet and may require an outdoor enclosure.
Cinco de Mayo, a Mexican holiday that lands on, as its name suggests, May 5th, commemorates the 1862 Battle of Puebla, in which the Mexican army fought back against French interventionists – and won.


As we wait for the royal baby's arrival, we've found another British cutie to fawn over incessantly – a fluffy, pocket-sized dog who has absolutely no intention of growing up.


There's a new cure for hiccups: Bark 'em down!

Or at least that is what puppy Buck is trying out.
We've teamed up with one of our favorite sites, BarkPost, to bring you and your four-legged friends even more adorable pet videos, photos and must-see stories. Check back every week for new furry fun from BarkPost!
Cute Pets
Get PEOPLE Pets Everywhere
Advertisement
Photo Special
Top Pets Category