Cute Pets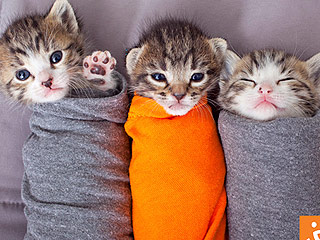 Credit: Best Friends Animal Society
There aren't many things on this planet we value more than a really, really good burrito.


What more could you possibly need in a headline than that?


There's a foxy lady burning up the Internet, and (surprise!) her last name isn't Kardashian.

Rylai, a pet white marble red fox, is fanning a viral forest fire with her cuteness – clocking more than 63,000 followers on Instagram so far.

The young pet – whose name is pronounced Rye-Lie – comes from generations of pet lines, according to her Facebook page, and would never survive in the wild. Her account includes adorable images of her yawns, cuddly naps and yummy meals, but as she grows, she will be more difficult to keep as an indoor pet and may require an outdoor enclosure.
Cinco de Mayo, a Mexican holiday that lands on, as its name suggests, May 5th, commemorates the 1862 Battle of Puebla, in which the Mexican army fought back against French interventionists – and won.


As we wait for the royal baby's arrival, we've found another British cutie to fawn over incessantly – a fluffy, pocket-sized dog who has absolutely no intention of growing up.


There's a new cure for hiccups: Bark 'em down!

Or at least that is what puppy Buck is trying out.
We've teamed up with one of our favorite sites, BarkPost, to bring you and your four-legged friends even more adorable pet videos, photos and must-see stories. Check back every week for new furry fun from BarkPost!
These meowers are moving on up! The only problem is they all want the same deluxe apartment in the sky – and by apartment we mean shoe organizer.

In this video, all the fluffy tenants initially appear open to sharing the space. But as with any roomie situation, things can get a little hairy.
Sure, your squad is great, but these might be the best friends ever.

Dayo and Pancake are a Rhodesian ridgeback puppy and cheetah cub who spend their days hanging out at the Wildlife Safari in Oregon, reports Dogster.

This fluffy odd couple were set up to keep each other company after they were both born in late February. Dayo is Pancake's permanent companion animal, which is important for a young cheetah working on her social skills.
Your sister will always be there for you – these are words that Kanji and Sushii live by.

The kitty siblings both gave birth to kittens recently and have been helping each other raise their babies.

The cats – who are currently being fostered through the Vancouver Orphan Kitten Rescue Association (VOKRA) – have twelve kittens between them and are sharing the mother lode of a responsibility together.
Cute Pets
Get PEOPLE Pets Everywhere
Advertisement
Photo Special
Top Pets Category