Cute Pets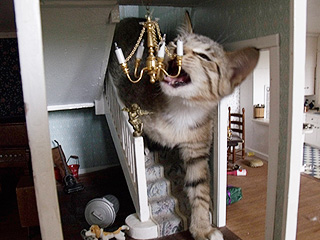 Credit: Courtesy Barbara Attwell
Don't worry – a giant cat isn't going all Godzilla on the world as we know it.

These photos – taken by mother-and-son team Barbara Attwell, an artist, and her Cade Ritter, a student – have gone viral for all the right reasons.

The kitty culprit in the snaps appears to be destroying somebody's fully furnished house, but, thanks to our diligent detective work, we've cracked this case: that's a dollhouse, and that's a kitten. So, take if from us, you're totally safe.
We've teamed up with one of our favorite sites, BarkPost, to bring you and your four-legged friends even more adorable pet videos, photos and must-see stories. Check back every week for new furry fun from BarkPost!
Atchoum the cat now has tens of thousands of Instagram followers, and his owner, Nathalie Côté, had a feeling he'd be an Internet sensation.

Atchoum's rise to fame began with a dare from Côté's kids to post a photo of the unusually hairy Persian kitty on Facebook. The kids thought that no more than 100 people would like the snap, but mom knew he would make a splash.

"Atchoum was so cute!" Côté tells PEOPLE. She received the feline as a gift last July from a coworker at the Quebec veterinary hospital where she works as a groomer. "Differences are beautiful in living things."

Atchoum, who was born with hypertrichosis (a rare condition that causes excess hair), is otherwise healthy, says Côté – but he requires a lot of care, including regular brushing to prevent matting of his hirsute coat.
Everyone, meet Charlotte. Charlotte is a baby flying fox from Brisbane, Australia.

Recently, heavy rains in Brisbane have damaged the local flying fox population, with casualties including Charlotte's parents. Fortunately, there are people like Denise Wade, a videographer who takes in orphans like Charlotte and cares for them until they're strong enough to return to the wild.

Wade's clearly going above and beyond for her charges: Look at the TLC Charlotte is receiving in this clip.
Bambi is a new dog ready to learn new tricks.


As true Harry Potter fans know, Luna Lovegood's protective patronus – the spirit animal of the Wizarding World – is a rabbit. Now the actress who played Luna in the films, Evanna Lynch, is showing bunnies in the Muggle World some love.

Lynch, 23, is raising awareness for End the Cage Age, an animal-rights campaign organized by the French branch of Compassion in World Farming, a worldwide farm animal welfare group.
Long hair, don't care! That should be this trending fluffball's motto.

Atchoum, which means sneezy in French, is a furry feline (and potentially part Muppet) from Quebec, Canada, who is quickly earning fans online, according to Mashable.

The 9-month-old cat has a condition called hypertrichosis, which occurs in humans and animals. Hypertrichosis causes excessive hair growth. Most of Atchoum's extra fur sprouts out of his face, giving him a unique appearance that his owners have kindly chosen to capture on Facebook and Instagram.
This little guy is ready for some football.

On Super Bowl Sunday, Arizona, the Clydesdale horse, was welcomed into the world just minutes before Budweiser's "Lost Dog" commercial aired, reports KSDK.

Arizona was born at Budweiser's state-of-the-art breeding facility, Warm Springs Ranch, in Boonville, Missouri. The 340-acre farm is where the beer company raises and cares for its signature horses.
Memory the dog was determined to be a mom.


No new friends! That's this kitten's motto now.


Cute Pets
Get PEOPLE Pets Everywhere
Advertisement
Photo Special
Top Pets Category