Cute Pets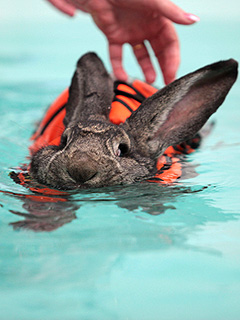 Credit: REX USA
Swim with the fishes? Not quite.

In Hampshire, England, a 4-year-old continental giant rabbit named Heidi has taken to hydrotherapy to ease her arthritic pain, which she suffers from in her hips and knees. The treatment is more commonly prescribed for horses and dogs, but Heidi's veterinarian believes the rabbit could benefit from the twice-weekly sessions, as well.

With a lifejacket fitted to her for buoyancy and her ears pinned back, the brown-haired furbaby makes her way around a heated pool for seven minutes at a time.
Well hello, ol' blue eyes!

Daisy, a tiny tabby kitten, has taken over the Internet after her owner, photographer Ben Torode, began snapping photos of the paw-dorable furball at his Tokyo home.

Torode, a native Australian, took up photography in 2009 as a hobby, and added Daisy to his repertoire of subjects last year.
LeBron James, Kobe Bryant and Kevin Durant, you've been warned! Our new favorite basketball M.V.P. blows the competition out of the water – literally.

Meet Eddie, a 15-year-old sea otter living at the Oregon Zoo with major hoop dreams.

He mastered the sport last year to combat his elbow arthritis, according to the Today show. (Watch him in action below.) Within the first week of training, he started making baskets.

"He's definitely got game," said Jenny DeGroot, the zoo's lead sea otter keeper. "Sea otters have incredible dexterity, so it makes sense Eddie would have this hidden talent. They're famous for using rocks as tools to crack open clams."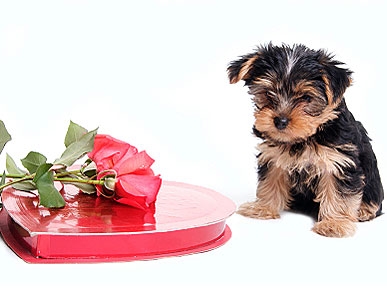 Sure, heart-shaped candy and candlelit dinners are nice, but when it comes to Valentine's Day, we just want to spend time with the ones we love – namely, our pets.

This year, we asked you to tell us about your furry Valentine on Twitter and just why they have a hold on your heart fur-ever. Here's what you told us:
Rooting for the Baltimore Ravens? Hoping the San Francisco 49ers win big?

Well, here's something we can all root for: puppies. Puppies chasing balls. Puppies chasing each other. Puppies captured chasing balls and each other in slow-motion. (Okay, enough said.)

If it's not the biggest game of the day, the Puppy Bowl IX, paws down, is certainly the most fur-ocious. But it gets even sweeter: The pigskin-loving pooches are all rescues.

In case you (and your four-legged friends) missed all the paw-dorable action, we're bringing you the view from the field. (Desktop users can scroll through the photos at the top.)
Oh, baby: The Oregon Zoo's newest addition is one big bundle of cute – literally.

Weighing in at 300 lbs., the zoo's newborn female elephant is healthy and currently nursing, reports The Oregonian (which also shared this sweet shot).

Resident elephant Rose-Tu, 18, delivered the calf at 2:17 a.m. Friday after a little more than two hours of labor. During a veterinary check, zoo staff weighed her three times because they were so surprised by the Asian elephant's girth. (These elephants normally lose some weight during their first week before gaining an average of 2 lbs. a day.)
When it comes to working it for the camera, Miley Cyrus clearly has her dogs well-trained.

"The definition of a Kodak moment," she Tweeted on Wednesday, sharing a sweet shot of the family shepherd Mate and the newest addition to the Cyrus canine clan, 2-month-old Penny Lane.

In an almost unbelievable photo, Mate towers over the pint-sized (and sweater-rocking!) pup, whom Cyrus's sister Noah, 12, adopted from Los Angeles's Saving Spot! Dog Rescue.
What does a polar bear want for her birthday? Ten tons of snow would be nice!

That's what the polar bear ordered, and that's what she got. Piké, who turned 30 years old last week, enjoyed a whole lot of fresh powder at the San Francisco Zoo, which hauled in the snow to celebrate Piké and her polar bear pal Ulu, who turned 32.

Piké and Ulu are two of the oldest bears in accredited zoos in the U.S.; clearly, they've earned their day in the snow.
What do you give a dog who has everything? (Well, if everything is nearly 6 million Facebook fans.)

You might think that Santa Claus had a tall order to fill when he got a visit from Boo, the World's Cutest Dog. Dressed in his spirited holiday finest, the adorable Pomeranian sat on Santa's lap and communicated a few of the item's on his Christmas wish list.

What does little Boo want this year? A bone, a bear – even an iPad. The big-ticket item on that list, a candy-red toy Mercedes Benz, came early with a little help from Santa and his elves, and Boo (along with his brother, Buddy), got to take a holiday joy ride to kick off the season.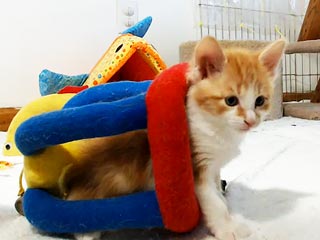 Nothing good on TV? Here's the purrfect solution: Kitten Cam.


Cute Pets
Get PEOPLE Pets Everywhere
Advertisement
Photo Special
Top Pets Category
Photo Special