Cute Pets
<
We've teamed up with one of our favorite sites, BarkPost, to bring you and your four-legged friends even more adorable pet videos, photos and must-see stories. Check back every week for new furry fun from BarkPost!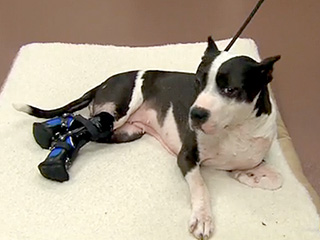 Ever since an abusive owner amputated a pit bull named Goody's hind legs, she's made her way around by pulling herself with her front paws.


Calling all ye underbited, all ye crooked-faced, all ye bulgy-eyed – your time to shine has come.


Back in the day, Mary Kate and Ashley Olsen hosted some wickedly sweet slumber parties full of pizza and smiles.

Now, the twins are more concerned with managing their fashion empire (rude) than inviting buddies over to eat Easy Cheese and watch VHS tapes.

Don't worry, sleepover warriors, salvation has come in the form of baby goats. The adorable farm twosome in the above video are here to showcase the splendor slumber parties can still provide, for young and old.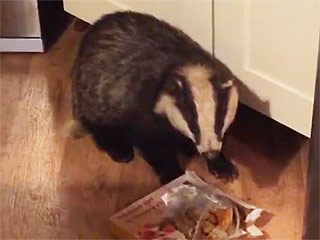 We've all been there – famished in the middle of the night, frantically making our way toward the fridge to scavenge for a snack.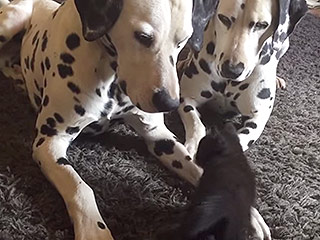 Source: Adorable foster kitten plays with two Dalmatians by Dalmatians on Rumble
Uno is a five-week-old, black-and-white foster kitten
living with two full-grown dalmatians.
Benny is one of two rescue dogs owned by John O'Kelly (who, somewhat confusingly, goes by the name Mike Patton – but never mind that). Forget all your own shameful deeds and pay attention for one minute to Benny the Dog's mug. With nary a bark, this fido's face speaks a thousand words.


If you need some-bunny new to love on Instagram, then let us introduce you to Roux the cat.

The 1-year-old feline – who has more than 50,000 followers already – was born without front legs, but it doesn't hold her back one bit because she gets around by hopping like a bunny.

In an interview with Meowbox.com, the cat's owner Jackie Deak Akey says she rescued the cat last October after someone surrendered her to an animal shelter in New Orleans.
Glaucoma may have stolen Kiaya's eyesight, but Cass and Keller have helped give the dog her life back.

When the akita lost her eyes to the condition, her doggy siblings, also rescued akitas, stepped up to help in the sweetest way possible. They're always by her side and help her get where she wants to go.

"They were kind of bookends to her," owner Jessica VanHusen, of Waterford, Michigan, told ABC News. "They're not fiercely protective but they're always touching her. They're really respectful of her."

The veterinary ophthalmologist who removed both of Kiaya's eyes says watching the trio in action warms the heart.
Cute Pets
Get PEOPLE Pets Everywhere
Photo Special
Top Pets Category