Cute Pets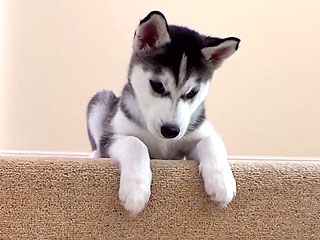 Paul Mather's husky puppy is not a fan of stairs.

The Bournemouth, U.K.-based dog (and her owner) first started tackling stairs in March 2014. Dakota, the puppy in the video, is not amused.


Some friendships are fleeting.

That person you bonded with in the never-ending post office line, that guy you shared a knowing glance with on an overcrowded train – those friendships are there when you need them then gone tomorrow, but you're a slightly different person because of them.

One day, an adorable rescued fawn and a neighborhood kitten struck up such a friendship, and it was all captured in a YouTube video by TheLightHouseLady.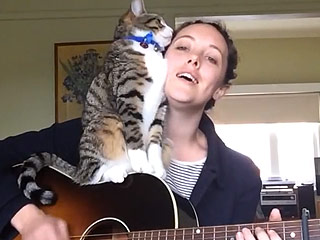 We wonder what his percentage is.

Ayleen O'Hanlon is a singer-songwriter from Victoria, Australia. George is her cat. O'Hanlon says that George "gets a little needy" from time to time, which may explain why he's "helping" her perform her tune "Loverless" by perching on her guitar, shoving his posterior in her face and batting at her guitar strings.
Everyone's favorite feathered grandnephews – Huey, Dewey and Louie – are back, and they're more precious than ever.


Winter is coming! No really, here she is.

In this case Winter isn't a ominous Game of Thrones weather forecast, but an adorable little lamb. Shannen of Victoria, Australia, recently found the tiny farm animal abandoned at only a day old.

The woman took the wooly baby back to her house to keep an eye on, and quickly bonded with the lamb. Shannen decided to name her new pet Winter. The animal must approve of her new title, because any time Shannen shouts "Winter," the cutie comes running.
As far as pooches go, he's about as close to perfect (ahem, paw-fect) as one can get.

But that's not why Jiff has landed a spot in the latest Guinness World Records book, which they're calling the most comprehensive collection of facts, feats and achievements ever compiled. (It's also Guinness World Records's 60th anniversary.)

The L.A.-based Pomeranian is actually the fastest dog on two paws, having reached 10 meters on his hind legs in 6.56 seconds and 5 meters on his front paws in 7.76 seconds. See him in action below!

When editors of the book first set eyes on the fluffy pup, they did a double take.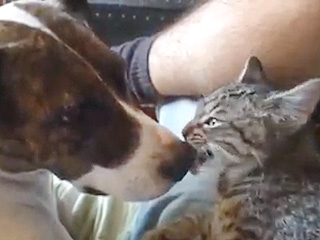 Blind dates are always nerve-wracking, even for animals. Carla Zanoni of New York City was worried that her four-year-old pit bull terrier, Getrude, would reject her newly adopted kitten named Earnestine.

Instead, the pets surprised Zanoni by quickly becoming enamored with one another. The video above shows the adorable behavior that has become normal for this animal odd couple. Apparently, Earnestine and Gertrude often spend their days cuddling together and exchanging sweet, interspecies kisses.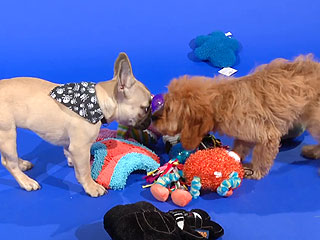 We've said it before and we'll say it again: We love our jobs.

But in order to keep them, we have to bring you things like this video of adorable puppies playing with toys in the PEOPLE studio.

The only reason we're still employed is because there is actually a reason for all this cuteness: Animal Planet's Emmy-nominated series, Too Cute, has somehow managed to get even cuter in its second season, with Too Cute! Pint-Sized, a 12-episode, half-hour series that begins Aug. 16 at 8 p.m. ET/PT (two back-to-back episodes air each week).
If there's one thing you remember from today, it should be this: there is nothing cuter than a set of panda triplets.

There is also nothing more rare. Born on July 29 at Guangzhou's Chimelong Safari Park in China, these 16-day-old siblings are the world's first surviving panda triplets, according to The Guardian.

The birth of the panda babies – who are being cared for by their mother Juxiao and a round-the-clock team of zoo nannies – is extra-special since the animals have such a low reproductive rate.
Cute Pets
Get PEOPLE Pets Everywhere
Advertisement
Photo Special
Top Pets Category