Cute Pets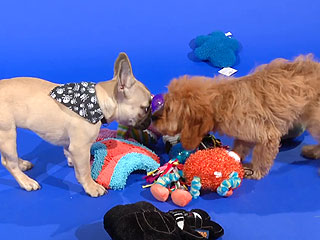 We've said it before and we'll say it again: We love our jobs.

But in order to keep them, we have to bring you things like this video of adorable puppies playing with toys in the PEOPLE studio.

The only reason we're still employed is because there is actually a reason for all this cuteness: Animal Planet's Emmy-nominated series, Too Cute, has somehow managed to get even cuter in its second season, with Too Cute! Pint-Sized, a 12-episode, half-hour series that begins Aug. 16 at 8 p.m. ET/PT (two back-to-back episodes air each week).
If there's one thing you remember from today, it should be this: there is nothing cuter than a set of panda triplets.

There is also nothing more rare. Born on July 29 at Guangzhou's Chimelong Safari Park in China, these 16-day-old siblings are the world's first surviving panda triplets, according to The Guardian.

The birth of the panda babies – who are being cared for by their mother Juxiao and a round-the-clock team of zoo nannies – is extra-special since the animals have such a low reproductive rate.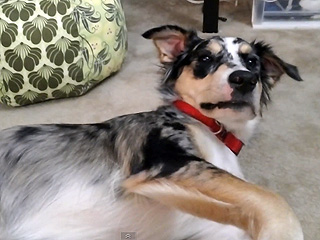 This introduction is perhaps more thematically appropriate for a Monday, but meet Freya the dog.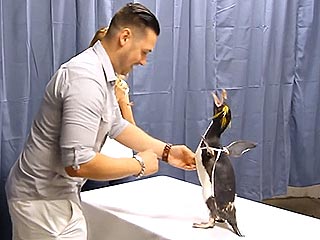 If only this were narrated by Morgan Freeman.


We love babies. We love puppies. Put the two together, and we're talking about a level of perfection we once reserved solely for conversations about Ryan Gosling and well-dressed kangaroos.


It's time to meet your new spirit animal: Anderson Pooper.


Because Anastasia Steele and Christian Grey can't have all the fun.

When you're done watching the freshly released Fifty Shades of Grey trailer for, you know, the 500th time, you'll want to see these bulldog puppies in action (check it out below).
Allowing consumers to make bold new fashion statements such as "I was mauled by a wild tiger," the Kamine Zoo in Hitachi City, Japan, has elected to raise money by auctioning off Zoo Jeans, which have been stylishly ripped by its own four-legged residents.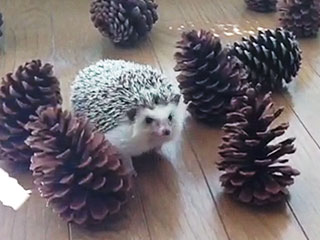 In case you ever felt like your life would be more complete with a hedgehog-starring riff on Are You My Mother?, we've got a Vine you need to see.


When it comes to pack leaders, size doesn't always matter. That's the lesson imparted to us by this video, in which a small Bichon Frisé breaks up a fight between two other members of his pack.


Cute Pets
Get PEOPLE Pets Everywhere
Advertisement
Photo Special
Top Pets Category