Pet Style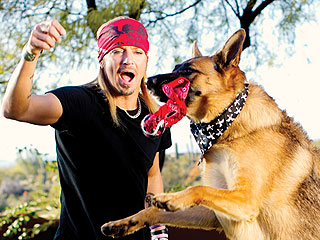 Credit: Carrie Reiser
Bret Michaels wanted a dog bed with metal studs.

"I wanted them," he tells PEOPLE, "but realized very quickly, not very safe, so got rid of them."

The rocker-by-day is speaking as a designer of pet accessories. It's an endeavor he took on with PetSmart this year, and one that's resulted in the firstPets Rock Collection, a line of toys, apparel and beds that are exactly what you might expect from Michaels.
British interior designer Abigail Ahern has it a picture-perfect home, impeccable taste – and now, you can have a piece of it, too.

The London-based Ahern is hopping across the Pond later this summer for a design workshop at New York City's Ace Hotel.

"There's so much stuff I hate, and I just wasn't finding anything I like," Ahern told PEOPLE about her famous lamps, crafted in animal forms.

Get Ahern's insider tips on design and style by attending one of her Design School classes, happening at Manhattan's Ace Hotel on August 4. Click here to learn more and RSVP for a session.
Incorporating your favorite dog into your home design just got a lot easier!

C. Wonder's playful decorative plates – served up with sweet portraits of poodles, beagles, boxers and more – are perfect for canines lovers with style.

PEOPLE is giving away 80 of these pretty porcelain accent pieces (retail price of $38) and all you have to do to win is shoot an e-mail editors@peoplepets.com with the correct answer to the following question:
Hello, gorgeous!

That's what all the dogs – and their owners – will be saying when they see your sharply-dressed pooch strutting by in her new houndstooth coat or vintage-inspired sweater from Martha Stewart Pets for PetSmart. Who doesn't need a perfect new look for the holidays? We loved both looks on our office dog Ethel, and they are both as comfortable as they are stylish.
Miss Piggy's closet just got a lot more enviable.

The Muppet is back – and armed with a brand-new, custom wardrobe thanks to designers like Prabal Gurung, who created the white silk number Miss Piggy models in the November issue of InStyle.

"Simply beautiful, yet deliciously exotic and enticingly romantic," Miss Piggy says. "Yes, I'm talking about myself – as well as this fabulous frock designed by my new BFF Prabal Gurung."
To mark the company's 100th year of making small leather goods, Louis Vuitton decided to do something truly one-of-a-kind. The fashion house enlisted English artist Billie Achilleos to create 29 animal-inspired sculptures out of its wallets, coin purses, belts and hardware.

"It sounds really silly, but a lot of the products to me look like elements of an animal," Achilleos told Women's Wear Daily on Oct. 3, when the collection was put on display at Parisian taxidermy shop Deyrolle.
Here's a small dog owner problem: You can't always take them everywhere, but you secretly wish you could. Like when you're going down to the laundry room with a basket full of clothes, and the dog is staring at you woefully with its sweet little eyes. Wouldn't it be nice if you could have two hands free but carry the dog with you somehow?

Designer Shannon Beach feels your pain. Beach, who is also a professional dancer for Britney Spears and Taylor Swift, has created the Puppoose, a crocheted sling that allows dog owners to give their pets a lift without the bulkiness of a carrier.
Toto isn't in Kansas anymore – he's living in a new era.

A century after The Wizard of Oz first hit Broadway, Andrew Lloyd Webber has adapted the American classic for a production at London's Palladium. And he's giving special attention to one of the story's most important characters: Toto!

Online retailer UrbanPup.com has partnered with the legendary composer to design an Emerald Green crystal collar and lead set for Razzle, Dazzle and Topper, the three West Highland terriers who play Dorothy's loyal canine companion. And your little sidekick can look like a million bucks, too: The set is available for $53.84 on UrbanPup.com.
Can you imagine putting clothes on a cat? It sounds impossible (and dangerous!), but cat couturier Takako Iwasa has mastered the art.

For years, Iwasa (known to her fans as Cat Prin, Tailor of a Cat), has shown off and sold her unique feline fashions online. Now, with the help of Vice Books, Iwasa's work has been immortalized in book form in the just-released Fashion Cats.
Mwah? When a kiss comes from a dog, it sounds more like, Slurrrrptttt!

We love this new dog toy (available in the U.K.), whose cheeky humor takes the slobber out of a pooch smooch.
Pet Style
Get PEOPLE Pets Everywhere
Photo Special
Top Pets Category