Pet Style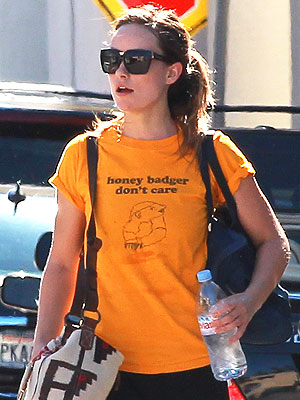 Credit: Pacific Coast News
Hey, Hollywood – Olivia Wilde is talking to you.

After a workout in Studio City, Calif., on Tuesday, the Cowboys & Aliens actress stepped out sporting an orange t-shirt emblazoned with the words, "honey badger don't care," a reference to the popular viral nature video, in which a snarky narrator voices over footage of a honey badger hunting its prey.
Tom Cruise may have turned 49 on July 3, but he's still as young at heart as ever.

The actor celebrated his birthday with a party at the Soho Beach House Hotel in Miami, Fla., where he lounged by the pool – and got his face painted!
Katy Perry has often said she wants to make cat ladies cool, and the pop star is steadily gaining ground.

From her frequent Tweets about her cats – Kitty Purry, Morrissey and Krusty – to the her new perfume, Purr, whose bottle is modeled after Kitty Purry, the pop star has been throwing her weight behind all things feline.
Don't be fooled by your cat's cool as a cucumber demeanor – he's a really busy guy. He's got to eat at least twice a day, bathe himself, and block out enough time for a solid afternoon nap. We, as pet parents, owe it to our cat to help him stay on a schedule.

Moleskine's new Cat Journals are here to get your cat organized. The covers of the new line of notebooks ($19.95), which launched in March, are imprinted with sleek silhouettes of different cat breeds while the inside is a treasure trove of kitty structure (and information, like what various tail positions mean!).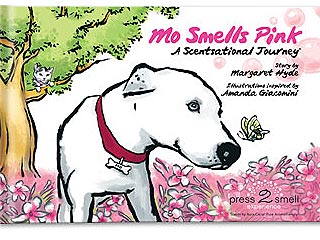 Summer is here, and with it comes the not-so-sweet aroma of wet dogs – drenched from the beach, the sprinkler, or the pool.

Thankfully, Mo Smells Pink ($17.95), the sixth installment in the award-winning series of Mo's Nose books, is here to mask the smell. The new children's book chronicles the latest adventures of Mo, the rescue dog who discovers sweet-smelling scents with his curious black nose.


Do you wear your pet love on your sleeve?

And by that we mean, literally – is there pet hair on your sleeve? It's a small price to pay for having pets we adore, but stars like Ashley Greene, Taylor Swift and Mickey Rourke are inspiring us to show our animal love more creatively!
Your cat is a lot like Oprah Winfrey. A smart, sophisticated, larger-than-life personality who loves the finer things. June is Adopt-A-Cat month, and we've pulled together our favorite things for your fierce feline – from hysteria-inducing toys to sleek cat trees, these are items that your cat needs to live her best life.
At any other event, it would be rude to call a bride mousy. But not at designer Ada Nieves's fashion show, where a team of rodent models showed off her froufrou creations for rat enthusiasts.

A demure rat named Lily (above) donned a couture wedding dress, while others wore frilly concoctions tailor-made for their tiny frames.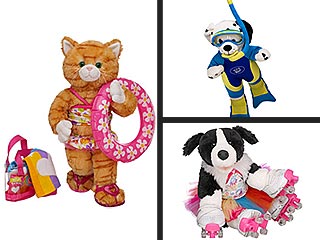 our kids may have had big laughs last summer dressing the dog in a bikini or putting a lei around your cat's neck – and we can bet your furry pal wasn't impressed.

This summer, there's a way to play dress up with nary a bark or hiss from the cat or dog: Build-A-Bear's Cool Cats & Hot Dogs collection, a new line of stuffed animals that are all adorably accessorized for the dog days of summer.
What happens when the singing and dancing seniors of East High graduate? For the diva-licious Sharpay Evans, the answer is one word: Broadway.

In the High School Musical spin-off Sharpay's Fabulous Adventure, the ambitious blonde played by Ashley Tisdale sets her sights on the big city and heads to New York – but not without a few suitcases and, of course, her Yorkshire terrier, Boi. The glamorous pooch steps into the spotlight wearing an all-pink, all-sparkle, custom-made dog coat that matches Sharpay's bright pink trench.
Pet Style
Get PEOPLE Pets Everywhere
Photo Special
Top Pets Category