Funny Pets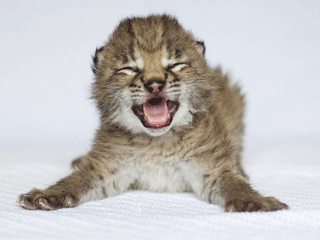 Credit: HotSpot /Landov
Dancing with the Stars may have just wrapped its 16th season, but the competition is just getting started: Are you ready for Dancing with the Lynx?

Our fantasy ballroom series would actually just feature this lynx showing off her Jagger-worthy moves to the tune of our enamored squees. (Can you hear us awww-ing from here?)
We thought we had seen it all when it comes to displeased, unsatisfied and generally non-smiley animals after we came face to face with Grumpy Cat.

But then we saw this cow.

We don't know why this Highland cow calf, Snowy (who we will affectionately call Grumpy Cow), is so angry. Born to two brown Highland cattle, Snowy's rare coat of fluffy white fur is something to smile about in itself. Perhaps the grass tasted a little bitter this particular day, or maybe Snowy's just a little bit upset about the demise of Robsten. (True love exists, we promise!)
Say cheese – or bananas?

A pair of sisters visiting a Melbourne, Australia, zoo left with the ultimate souvenir: a one-of-a-kind snapshot with a very photogenic gorilla.

Standing behind the enclosure's glass, Motaba, a 29-year-old resident of the Werribee Open Range Zoo, photobombs 6-year-old Ella O'Brien and 4-year-old Bridget in a picture that could put a camera-ready stingray to shame.
Grumpy Cat's off-put expression is known far and wide – even The Vampire Diaries star Ian Somerhalder is a fan – but owner Tabatha Bundesen says the cat is quite the opposite in person.

"She's a normal cat. She's really sweet," Bundesen tells PEOPLE. "She sleeps like 18 hours a day."

Real name Tardar Sauce, Grumpy Cat became a phenomenon when Bundesen's brother Bryan posted a photo of her on Reddit.


The biggest duet partner for music's biggest stars right now? A goat.

We're not kidding.

If your coworker bleating with joy, he or she has probably stumbled upon a new meme, which mashes up pop hits with an old clip of a goat screaming as if it were a human. (Some might argue that the goat improves the songs, but we'll leave that discussion to the comments section.) So far, Taylor Swift's "I Knew You Were Trouble," Justin Bieber's "Baby" and Katy Perry's "Firework" have all gotten the wooly treatment.

Put on your headphones (our goat pal is loud), throw your hooves in the air, and wave them like you just don't care to some of our favorites – before this goat gets a record deal!
Does that facial expression look familiar to you?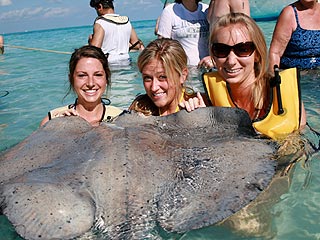 It started innocently enough, but it usually does.

Sorority sisters Sarah Bourland, Natalie Zaysoff and Kendall Harlan were on a spring break cruise in their sophomore year at Texas Christian University in 2008 when they stopped at the Stingray Island attraction in the Cayman Islands.

A souvenir photographer stopped the group to take their picture with one of the stingrays, and the women smiled as the animal floated nearby. As they started to move away, a tour guide suddenly threw the stingray up into the air, and as it landed with a thud on their backs, Bourland, Zaysoff and Harlan grimaced – and the photographer pushed down on the shutter just in time to capture their expressions.

"We had no idea that was happening," Harlan tells PEOPLE. "Those are genuinely frightened faces."
Maybe they went on vacation to soak up some rays.

In that case, these three ladies got their money's worth.

In a photo posted Wednesday that has since gone viral on Reddit, a stingray steals the spotlight (with the apparent help of one strong man holding him up). We're guessing they didn't need to purchase a postcard after this extra-special (but perhaps a little reluctant) close encounter.
No two ways about it: Spangles the cat is cross-eyed.

A lot of eyeballs are getting entertained by the quirky 3-year-old's Facebook page, especially his modeling portfolio, which includes shots of him dressed as a reindeer, unicorn and pirate.

His anonymous owner says the feline – who was born with one cross-eye and has perfect vision – adores mugging for the camera.
Pascale Lemire was sitting in bed with her fiancé Mike LeBlanc last week when she heard what sounded like chewing. Her dachshund Beau was under the bed, apparently snacking.

His chow of choice: LeBlanc's grey Hanes boxers.

This was all rather funny (and rather worrisome, too, although the pup didn't get sick). So they snapped a shot of their dog with a piece of paper that read, all-caps, "I am an underwear eating jerk!" Lemire posted it to her personal Tumblr, and what began as a joke spun into an online sensation comically calling out canines around the world for their most indecent (and repeated) indiscretions.

Since its inception a week ago by Tumblr editorial director Chris Mohney – who has since passed the blog over to original poster Lemire – Dogshaming has gone viral as a platform for dog owners to spill their canine companions' dirtiest little secrets. When Rover wakes you up in the middle of the night, for instance, you write down the deed and take a photo (erm, mug shot) of the offender with the confession.
Funny Pets
Get PEOPLE Pets Everywhere
Advertisement
Photo Special
Top Pets Category
Photo Special