Funny Pets
Diesel the dog isn't about to let these last days of summer slip away without showing off his new trick.


Here's what "working like a dog" really looks like.

A tiny cigarette store in Japan is receiving international attention thanks to one panting, four-pawed staff member. The owners of Musashi-Koganei, a hole-in-the-wall tobacco shop, have "employed" a Shiba Inu to work the front of the house.


They've probably never seen a diamond in the flesh, and they prefer to cut their teeth on, uh, grass. As for their address, they call the Klingenberg Farms home – how's that for postcode envy?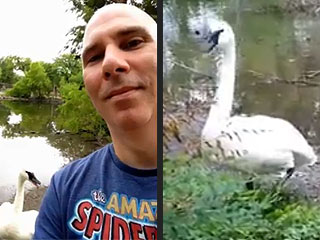 This is one swan lake you don't want to get too close to.


It's time to meet your new spirit animal: Anderson Pooper.


Allowing consumers to make bold new fashion statements such as "I was mauled by a wild tiger," the Kamine Zoo in Hitachi City, Japan, has elected to raise money by auctioning off Zoo Jeans, which have been stylishly ripped by its own four-legged residents.


All it took was a little purrseverance.


We'll have what this cat is having.

It's the middle of the week, and this kitty could not care less. Instead of fretting over World Cup brackets, unanswered emails and Supreme Court decisions, this feline is content just sitting in a chair and straight chilling.

The video above is brought to us by calm cat connoisseur and YouTube user shironekoshiro, the same feline whisperer who impressed the Internet with Basket Cat and Stacking Cat. This leads us to wonder, how does shironekoshiro keep their kitties so relaxed? Catnip hypnosis? Reggae music? Aromatherapy? Whatever it is, it would be nice if they shared.


It's baby versus bulldog – and it's unclear who the real winner is.

Is someone upset because the dog took her spot on the couch? Is her diaper dirty? Or is she simply informing him about the latest viral cat video?
Funny Pets
Get PEOPLE Pets Everywhere
Advertisement
Photo Special
Top Pets Category