Funny Pets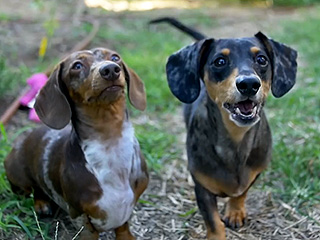 Helicopter and Bazooka are two long-bodied, low-to-the-ground, toy-chewing wiener dogs you do not want to mess with.


Just call her chef mama bear! While searching for food for her cubs, a mother bear found just what she was looking for in an outdoor patio refrigerator: Frank's RedHot Sauce.

The bear was caught on a cell phone video rummaging for a treat while her two cubs patiently looked on at a family's backyard in Kinnelon, New Jersey. When the mama bear was content with her find, she carried the hot sauce in her mouth and left for the nearby woods with the two youngsters – perhaps looking to add a little spice to her latest kill!
Last week, a semi truck carrying 2,200 piglets crashed on US-35 West outside of Dayton, Ohio. Sadly, up to 1,100 of the piglets were killed, and though over 1,000 were recovered and taken to local fairgrounds, a few remain out in the wild, much to the consternation of Greene County Sheriff's Office Major Rick Bowman.


Is this burning an eternal flame? A great mind other than the collective spirit of the Bangles wants to know.


There is something about an unlikely pair of pals that makes us feel all warm and fuzzy inside.

These two playmates, Brutus the dog and a neighborhood Bambi look-alike, are seen playing an intense game of tag in Brutus' backyard, as his human films the whole thing.
Around 1:30 a.m. on Wednesday, a Connecticut resident was too terrified to enter his own home. There hadn't been a break-in, no – his 8-lb. cat, evidently having a rough go of it, was holding the house hostage, just a few hours after giving birth.


We've teamed up with one of our favorite sites, BarkPost, to bring you and your four-legged friends even more adorable pet videos, photos and must-see stories. Check back every week for new furry fun from BarkPost!
Back in the day, Mary Kate and Ashley Olsen hosted some wickedly sweet slumber parties full of pizza and smiles.

Now, the twins are more concerned with managing their fashion empire (rude) than inviting buddies over to eat Easy Cheese and watch VHS tapes.

Don't worry, sleepover warriors, salvation has come in the form of baby goats. The adorable farm twosome in the above video are here to showcase the splendor slumber parties can still provide, for young and old.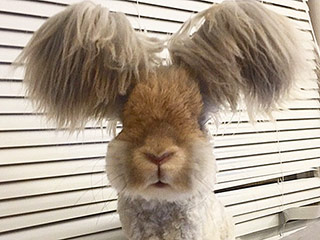 Have you ever seen a rabbit with pigtails?

Well, meet Wally. This English Angora rabbit is so hot right now on Instagram, he has over 35,000 followers keeping track of his every hop.
Funny Pets
Get PEOPLE Pets Everywhere
Photo Special
Top Pets Category