Funny Pets
[YOUTUBE "rh87_hrVP5c"]
We'd like to introduce you to the canine Simon Cowell.


Oskar the cat has more Christmas spirit than the holidays can handle.


Christmas lights, chestnuts roasting on an open fire, Instagram photos of dogs in sweaters: You know, it truly is the most wonderful time of the year.


We'd say our pets are just like humans, but honestly, we know they'd take offense. (You know the drill: It's our dogs' world, and we're just living in it.)


If we had to guess what our dogs dream about, we'd say either Ryan Gosling or opening up our refrigerators and consuming everything inside.

The latter is most certainly true for Allie, a 12-year-old yellow Labrador retriever who was busted by her family for raiding the kitchen when they're not home.

San Luis Obispo, California, radio personality Adam Montiel said he noticed his dog was getting into the fridge and freezer. "We couldn't figure out how she was doing it, so I hooked up a GoPro to find out," he writes on YouTube.
The top comment on this video's YouTube page pretty much sums it up: "Dogs > people."


Personally, we'd go with his version of "My December," but there's no accounting for taste.


You know what to do with that big fat shell.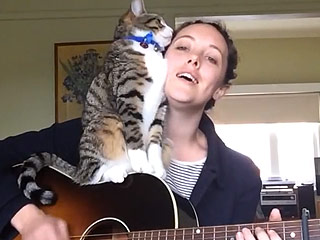 We wonder what his percentage is.

Ayleen O'Hanlon is a singer-songwriter from Victoria, Australia. George is her cat. O'Hanlon says that George "gets a little needy" from time to time, which may explain why he's "helping" her perform her tune "Loverless" by perching on her guitar, shoving his posterior in her face and batting at her guitar strings.
Funny Pets
Get PEOPLE Pets Everywhere
Advertisement
Photo Special
Top Pets Category