Funny Pets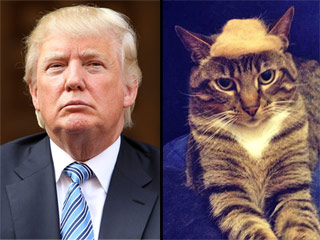 Credit: Paul Morigi/WireImage; Courtesy Claudia Nicolas Pierce
Now we can say we've seen it all.

Thanks to the new hashtag, #TrumpYourCat, felines everywhere are sporting their best Donald Trump dos and sharing them on Instagram, with a little help from their #GlamSquads (a.k.a. their owners).
How often do you really stop to think before you take out money from the ATM machine?


The fit is so purr-fect, they must be made for cats, right?

That's what cats everywhere are saying about the Duktig bed from Ikea.

The truth is, they're actually made for dolls, but felines have been catching Zzz's in the wooden beds designed by the Swedish furniture maker – and pet owners are posting the resulting (adorable) catnaps on social media.
The TV networks needn't look any further for the premise of their next iconic television show.

The world's most fascinating Friends are on Instagram – and they're capturing hearts everywhere.

Despite his name, Bob the golden retriever is the Jennifer Aniston of the group – with great hair! – and is best buddies with eight birds and one hamster.
"Is that what you want? You want to wear that toilet paper all day long?" 


"Get back on your side of the car. MOOOOMMMMM!"

These twin goats belong to Hope Hall, of the Sunflower Farm Creamery in Cumberland, Maine. Their names are Charlotte and Harper, and Charlotte is the one patiently dealing with her sister's out-of-this-world irritation skills. We're getting flashbacks to every road trip we ever took as a child.
Maybe he's got it; maybe it's that adorable fluffy muzzle – either way, RJ the St. Bernard puppy is meant to be a star.


Funny Pets
Get PEOPLE Pets Everywhere
Photo Special
Top Pets Category