Funny Pets


Kristin Cavallari is a pregnant lady who's having to deal with some serious flatulence.

The reality star – and mom-to-be – has been holding her nose lately thanks to her dog Brando.

"This little, innocent face farts worse than a bulldog," Cavallari wrote on her WhoSay page. "He's a little stink bomb."
What a novel idea!

When a wiley lemur at England's Dudley Zoological Gardens got caught under a downpour, the small primate looked to the crowds and saw a solution to its problems.

The black-and-white ruffed lemur "spied an opportunity for fun, grabbed an umbrella from a visitor and made a dash for it," said zoo spokesperson Jill Hitchman. "He carried it around for a while but abandoned the brolly when a gust of wind almost blew him over."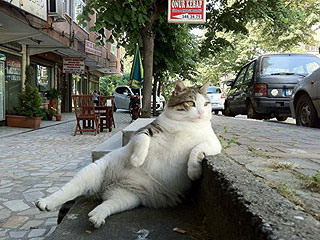 Someone's about to make an offer you can't refuse.

A comfortable-looking street cat settled into a spot on an Istanbul sidewalk, and a photo of the lounging feline made its way onto Reddit, where it assumed the identity of a purring Don Corleone, the patriarch and title character of The Godfather.

Istanbul is informally known as the street cat capital of the world, and residents of the Turkish metropolis, which does not euthanize strays, often provide regular feedings for roving animals.
Has Hugh Jackman's dog gotten lost in the weed?

"Poor dali got his head stuck!!!! such a pot head!!!!" Jackman Tweeted on Wednesday. "Dont worry there was a hole in the bottom."

The actor's 1-year-old French bulldog, Dali, got into some mischief with a planter, but given his namesake, it's no surprise the little pooch has a taste for the surreal.

"My son, [Oscar], is an artist, and his favorite artist is Salvador Dalí," Jackman's wife, Deborra-Lee Furness, told PEOPLE last year. "Because of the way [the dog's] mouth curls, he looks like [surrealist artist] Salvador Dalí with a mustache."
Do ducks need to wear dresses?

The answer was a resounding yes for the organizers of the Family Show in Sydney, Australia, who put on a fashion show of the feathered variety when they staged a runway presentation featuring duck models.

The birds, outfitted in frilly creations that looked almost Victorian, waddled down the grassy quack-walk in their own footwear: their webbed feet.
Ever seen a bear falling out of a tree?

Neither had Andy Duann, who captured this shot of a tranquilized male floating down from a tree branch at the University of Colorado Boulder. Duann, a senior and photographer for student newspaper CU Independent, got a call Thursday morning from a friend who told him that the animal had been spotted near a cluster of residence halls.

"Without brushing my teeth, I pulled my pants on and ran all the way down five floors and across the school," he tells PEOPLE.
What if the characters of Downton Abbey were played by dogs?

The fur is always flying on the British period drama, which has crossed the Atlantic to become an American favorite, so it was only a matter of time before that fur took a literal turn. Besides, hasn't Mr. Bates always looked like a basset hound to you?

Thanks to the folks at Dogster, Downton fans have a treat to tide them over until the series returns for a third season.
He's just a few months old, but Moose has achieved a level of Internet fame known only by a select few.

All it took was a smile.

Moose's owner, a young man named Gunar, first posted a funny photo of his Shar Pei on Twitter.
This photo has already been captioned. It reads, "His face every time I catch a fish."


Outta my shot, birdies!

Actually, it's the seal that's in the way, but the extra-large animal was pretty hard to avoid. Photographer Michel Watson captured this funny photobombing attempt while visiting a colony of penguins at St. Andrews Bay in South Georgia.
Funny Pets
Get PEOPLE Pets Everywhere
Advertisement
Photo Special
Top Pets Category
Photo Special