Funny Pets
There's nothing more embarrassing than when you are in line at the grocery store, and your mom starts licking behind your ears.


Need a quick break from the monotony of work, the grind of school or simply the crushing boredom of non-Internet life? Welcome to Vine Time, where we take a look at three Vines that for a brief, shining moment (six seconds, to be exact) make us smile, laugh or say, "What did we just watch?"


You better watch your back, cats. Goats are taking over the adorable animal video scene, and their tolerance for costumes is much higher than yours.
Ladies first. Respect your elders. Blah, blah, blah!

These societal courtesies are nice and all, but manners are moot when water slides are involved.

Even man's best friend ditches his loyal nature when confronted with the inviting, wet plastic of an inflatable slide.
Puppies, they grow up so fast.


If Destiny's Child was actually a girl group made up of goats who live in northern Maine, it would look a little something like this.

Known for their bold fashion choices, adorable goats are back again to prove human clothes look better on hooves. Today, we have triplets who are modeling the latest in chunky knit sweaters.
We've teamed up with one of our favorite sites, BarkPost, to bring you and your four-legged friends even more adorable pet videos, photos and must-see stories. Check back every week for new furry fun from BarkPost!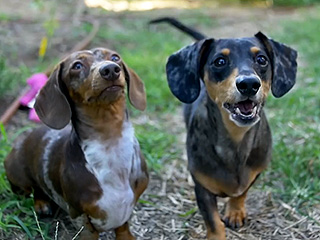 Helicopter and Bazooka are two long-bodied, low-to-the-ground, toy-chewing wiener dogs you do not want to mess with.


Just call her chef mama bear! While searching for food for her cubs, a mother bear found just what she was looking for in an outdoor patio refrigerator: Frank's RedHot Sauce.

The bear was caught on a cell phone video rummaging for a treat while her two cubs patiently looked on at a family's backyard in Kinnelon, New Jersey. When the mama bear was content with her find, she carried the hot sauce in her mouth and left for the nearby woods with the two youngsters – perhaps looking to add a little spice to her latest kill!
Funny Pets
Get PEOPLE Pets Everywhere
Photo Special
Top Pets Category