Funny Pets
The top comment on this video's YouTube page pretty much sums it up: "Dogs > people."


Personally, we'd go with his version of "My December," but there's no accounting for taste.


You know what to do with that big fat shell.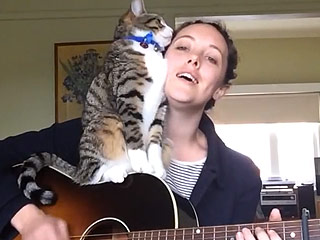 We wonder what his percentage is.

Ayleen O'Hanlon is a singer-songwriter from Victoria, Australia. George is her cat. O'Hanlon says that George "gets a little needy" from time to time, which may explain why he's "helping" her perform her tune "Loverless" by perching on her guitar, shoving his posterior in her face and batting at her guitar strings.
First bears on the green, now cats! Pretty soon the Masters will have an animal category.

YouTube user TheEpicKid99 recently shared a video of a meower that decided to interrupt a mini golf match. But instead of joining in on the putting fun, the cat acted as a particularly tricky hazard.
Everyone's favorite feathered grandnephews – Huey, Dewey and Louie – are back, and they're more precious than ever.


Cockatoos are among the most affectionate of all birds, but few of them have ever gone above and beyond in the service to their brother animals as Spike the cockatoo.

As seen in this video, Spike does a lunchtime solid for a pair of Great Danes, using his avian wits to reach into a box of Milk Bones and get some dog treats, which he then throws down on the floor for the hungry hounds.
Diesel the dog isn't about to let these last days of summer slip away without showing off his new trick.


Here's what "working like a dog" really looks like.

A tiny cigarette store in Japan is receiving international attention thanks to one panting, four-pawed staff member. The owners of Musashi-Koganei, a hole-in-the-wall tobacco shop, have "employed" a Shiba Inu to work the front of the house.


Funny Pets
Get PEOPLE Pets Everywhere
Advertisement
Photo Special
Top Pets Category