Baby Animals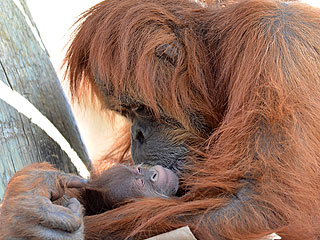 Credit: Dean Hanson/Albuquerque Journal/Zuma
A happy Mother's Day, indeed.

A week after giving birth, Sumatran orangutan Sarah was snapped giving her newborn a sweet peck inside their enclosure at the ABQ BioPark Zoo in Albuquerque, N.M. Just like a human mother, she gingerly cradled her little one before leaning in – and judging from that smile on her face, the babe's already lapping up the attention!

The pair were fêted with a Saturday baby shower – just in time for Mother's Day. During the festivities, the park revealed that the tyke is a female.
We've all been there.

Your mom's nagging you to hop into the tub and clean up, but what do you really want to do? Make a mess – and that's exactly what this 18-month-old elephant did.

A resident of the ZSL Whipsnade Zoo in England, Asian elephant Scott promptly returned to his enclosure's sand pit after being hosed down. The mischievous pachyderm rolled around in the pit, covering his entire body in sand, before taking it one step further and splattering sand all over himself with his trunk.

Though we're sure his keepers were none too pleased, we have to admit: how could something that makes someone look so happy be wrong?
The bigger you are, the harder you fall!

An adorable 32-day-old lion club learned that the hard way on Friday while enjoying playtime with a mini-marsupial at China's Guaipo Manchurian Tiger Park. Though the monkey, only 16-days-old, might be much smaller in stature than his big cat companion, that hasn't stopped the two from becoming fast friends.

Both baby beasts share a need to be fed by a keeper after their mothers were unable to breastfeed them – and isn't that the secret to friendship? This calls for a dinner date with your BFF.
Now that's shear brilliance!

To keep lambs warm during the unseasonably cold weather in Langley, England, farmers have been covering the furry animals in orange plastic cut to resemble a jacket.

While we think there's no better complement to a coat of fur than a bright accessory, this critter's facial expression seems to suggest otherwise. Maybe it's the color palette?
You're probably already hard at work catching up on all those nitty-gritty things you didn't do over the weekend.

But if you have a minute, this rare Sumatran tiger cub would love to play with you.

The San Francisco Zoo's 2-month-old unnamed addition is a bundle of fun – and quite a paw-ful for her mom, a tiger named Leanne, now that she's allowed out of her cage.
What could be better than a border collie puppy? Six of them!

This sextet of siblings, born on The BIG Sheep farm in Bideford, England, was wrangled together by photographer Richard Austin for a family portrait on Sunday.

The puppies are all looking for a home to call their own, so their caretakers believed a group photo would be the best way to show off the pooches' adorable faces – and we couldn't agree more!
We love puppies. And kittens. And micro-pigs. After all, it's a universal rule that the baby version of any adorable adult is always cuter – or is it?

In a photo taken at Prague's Zoo Praha, bird curator Antonin Vaidl gingerly feeds a 3-day-old Edward's Fig parrot with a spoon.

While we admit it's pretty precious to see the bird peck ever so slightly at the tip of the spoon, its feather-less appearance is ruffling our own feathers, especially considering what the species looks like as an adult. Parrot babies are rarely seen, says zoo representative Michal Stastny, but we have to ask: Is that a good thing?
Big Bad Wolf, you've been warned.

It seems to be one for all and all for one among these boar piglets, born two weeks ago at the Buschmann and Winkelmann Asparagus Farm in Klaistow, Germany.

While getting accustomed to their new surroundings, the trio stays within arm's reach during their trek around the farm's wildlife park.
What's in a name?

Great significance for the rare baby Rothschild giraffe that was born to the Leo Zoological Conservation Center in Connecticut last month.

After a public appeal that elicited nearly 7,000 entries, the center has chosen Sandy Hope, a reference to the December shooting that occurred at Newtown, Conn., elementary school Sandy Hook.
Yes, family matters – even if you're a yellow mongoose.

A British couple recently set out to capture the love between mothers and their offspring in the African animal kingdom, where they spotted plenty of family bonding between these mongooses.

The series of photographs, documented all across the continent, also depicts the special – and often adorable – connection mamas of all species have with their young ones.
Baby Animals
Get PEOPLE Pets Everywhere
Advertisement
Photo Special
Top Pets Category
Photo Special