Baby Animals
Makaia doesn't know it, but he's a walking, er, hopping history maker.

The kangaroo is the first of his kind to be raised by a surrogate wallaby, according to Australia's Adelaide Zoo.

At just five weeks old, the Goodfellow's tree kangaroo's mother died suddenly when she was crushed by a falling branch at the zoo.

"Acting on pure adrenaline," according to the zoo's website, zookeepers decided to try something that had never been done with a tree kangaroo before: cross-fostering. The staff placed the joey (who was too young to hand raise) with a surrogate wallaby mother.

"We've had great success over the years' cross-fostering between wallaby species, but the specialized breeding technique has never been used on a tree kangaroo," said Adelaide Zoo veterinarian, Dr. David McLelland. "We had no idea if the yellow-foot would accept the tree kangaroo joey, but if we wanted to save the joey we had to try our luck."
[YOUTUBE "a-vbFA-s1vs"]
He's not even a month old yet, but he's already getting his first swimming lesson.


Good things come in small packages, and this deer fawn proves that cuteness absolutely thrives in miniature form.


One of childhood's simple joys is falling asleep on the couch at night and woozily waking up hours later to find one of your parents carrying you to bed. It just feels so safe.

A young moose recently got to experience something close to this blissful rite of passage while wandering around Anchorage, Alaska.
There's no "I" in team or in elephant. Coincidence? I think not.

In this video, a herd of elephants shows its deep connection to community by stopping to help a calf who has collapsed in the middle of the road within Kruger National Park in South Africa.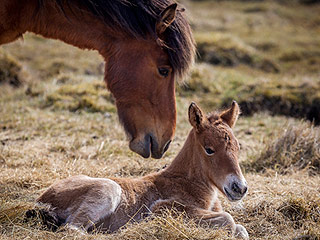 Lilly was heartbroken.
She'd given birth to a beautiful foal, only to say goodbye to it 24 hours later. Sadly, the horse's baby had to be put to sleep following complications after birth.
Lilly's owner, breeder
Polly Jackson
of Nottingham, England, took to social media to help her grieving animal in the best way she knew how.
Here's the story of a cat named Henry, who is bringing up six very lovely kittens.

Jan, Marcia, Cindy, Greg, Peter and Bobby have been adopted by an 8-month-old male cat in the southeast Alaska community of Ketchikan, the Associated Press reports.
A stranded sea lion pup has been spotted wandering a San Francisco sidewalk in a scene that marine rescuers warn could become commonplace as the ocean heats up.

Video from the Marine Mammal Center in nearby Sausalito shows the male sea lion nicknamed Rubbish hiding under a car Thursday and waddling away from rescuers. They eventually got a net around the pup, moved it into a crate and took it to the center.
Your sister will always be there for you – these are words that Kanji and Sushii live by.

The kitty siblings both gave birth to kittens recently and have been helping each other raise their babies.

The cats – who are currently being fostered through the Vancouver Orphan Kitten Rescue Association (VOKRA) – have twelve kittens between them and are sharing the mother lode of a responsibility together.
Baby Animals
Get PEOPLE Pets Everywhere
Photo Special
Top Pets Category