Baby Animals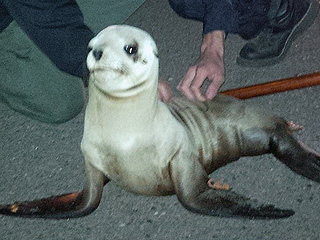 Credit: Mendocino County Sheriff/AP
A stranded sea lion pup has been spotted wandering a San Francisco sidewalk in a scene that marine rescuers warn could become commonplace as the ocean heats up.

Video from the Marine Mammal Center in nearby Sausalito shows the male sea lion nicknamed Rubbish hiding under a car Thursday and waddling away from rescuers. They eventually got a net around the pup, moved it into a crate and took it to the center.
Your sister will always be there for you – these are words that Kanji and Sushii live by.

The kitty siblings both gave birth to kittens recently and have been helping each other raise their babies.

The cats – who are currently being fostered through the Vancouver Orphan Kitten Rescue Association (VOKRA) – have twelve kittens between them and are sharing the mother lode of a responsibility together.
They have an official name: Puppy Predictors. And the next time we have an existential question that nobody can answer, we're totally tossing it to them.

On Tuesday's Tonight Show, Jimmy Fallon asked seven of these furry professionals to predict the team that will win the NCAA Championship on Monday by placing four bowls of kibble before them and inviting them to eat. The team with the most noms is expected to win the big game (the remaining four teams will be reduced to two after Saturday night's games).

"When it comes to predicting things, we have a secret weapon, and it's puppies," Fallon said, before three adorable Labradors charged a certain team's bowl.


Three panda cubs at China's Chimelong Safari Park, in Guangzhou, are the only surviving panda triplets on Earth, and they are definitely the cutest pandas, period.

A recent video shows the three kids – two boys, one girl – together with their mom, Ju Xiao.


She was a mom on a mission.

When fire tore through a forest in Chile over the weekend, this devoted dog mama dug a hole for her newborn babies to hide in.

According to 9News, the hero dog, who has been named Blacky, created a makeshift shelter for the pups with her paws under a metal container. As firefighters worked to extinguish the fire, residents said they saw a dog leading puppies away from the blaze and then burying them in the dirt.
If pandas are anything like humans, Bao Bao will soon ask for the keys to the car.

For more than six months, zookeepers at the Smithsonian's National Zoo in Washington, D.C., have been working toward weaning the giant panda from her mother Mei Xiang, just as she would in the wild, and now, well, the 18-month-old is basically like your typical American teenager: taking lots of time apart from her parent.
He looks like a too-perfect special effects creation for a movie, but nope, he's real. Behold the pygmy hippo born to England's Whipsnade Zoo on December 26.


Sew, here's the deal: Project Pouch needs you!

Koalas aren't the only animals affected by the bushfires in Australia. Orphaned or injured possums, kangaroos, and wallabies need to be kept warm in a pouch-like environment. To help, Project Pouch, a new campaign created by the International Fund for Animal Welfare, is asking for handmade "pouch liner" donations to comfort the traumatized animal babies, nine of which are being cared for by the Adelaide Zoo.


A video of The National Zoo's panda cub playing in the cold snow for the first time is melting hearts around the globe.

The Washington, D.C., zoo released video of Bao Bao the panda cub rolling downhill in the snow as she played with a block of wood Tuesday – and not surprisingly, the clip immediately went viral.

After her moment of bliss, Bao Bao does a backward somersault and later pounces on her mother, Mei Xiang (seriously, you have to watch this).
Baby Animals
Get PEOPLE Pets Everywhere
Photo Special
Top Pets Category