Baby Animals
He looks like a too-perfect special effects creation for a movie, but nope, he's real. Behold the pygmy hippo born to England's Whipsnade Zoo on December 26.


Sew, here's the deal: Project Pouch needs you!

Koalas aren't the only animals affected by the bushfires in Australia. Orphaned or injured possums, kangaroos, and wallabies need to be kept warm in a pouch-like environment. To help, Project Pouch, a new campaign created by the International Fund for Animal Welfare, is asking for handmade "pouch liner" donations to comfort the traumatized animal babies, nine of which are being cared for by the Adelaide Zoo.


A video of The National Zoo's panda cub playing in the cold snow for the first time is melting hearts around the globe.

The Washington, D.C., zoo released video of Bao Bao the panda cub rolling downhill in the snow as she played with a block of wood Tuesday – and not surprisingly, the clip immediately went viral.

After her moment of bliss, Bao Bao does a backward somersault and later pounces on her mother, Mei Xiang (seriously, you have to watch this).
Things can get pretty wild at the PEOPLE offices.


Sometimes life does not suck.

Dave Salmoni (and his muscles) brought a baby leopard to our offices on Monday – and it was un-fur-gettable on all counts!

The Animal Planet host and animal expert, plus his adorable friend Queen Bee, a simply (for lack of a better word) squishy black African leopard, were here to help promote the Give a Bear a Home campaign, which aims to raise funds and awareness for the World Wildlife Fund.
Kitties aren't the only curious creatures, polar bears like to nose around too.

One wildlife photographer found two especially eager polar bear cubs on a recent trip. In this video, the two furry kids spot the camera and begin swimming toward the lens.


681 is a very lucky number.

A week-old otter pup, dubbed 681, was found abandoned at night on a California beach and taken by experts to the Monterey Bay Aquarium where they determined she needed some critical care, according to the Washington Post.

It took four weeks for staff there to fatten up the 2-lb. pup, who has since been transferred to the Shedd Aquarium in Chicago for an otter boot camp of sorts, because most otters don't separate from their mothers until about 8 months old.

The Post reports that instead of joining the other young otters there, pup 681, who is now a healthy 6 lbs., will stay behind the scenes and learn the ins and outs of otter life, including grooming, swimming and feeding on her own (shrimp and clams anyone?).
The world's only surviving giant panda triplets were doing well as they turned 100 days old on Wednesday.

Each weighs more than 5 kilograms (11 lbs.), up from just over 100 grams (3½ oz.) at birth. They started teething at around 80 days old and have two small teeth each.

The cubs were born on July 29 within four hours, the female cub first and then her brothers.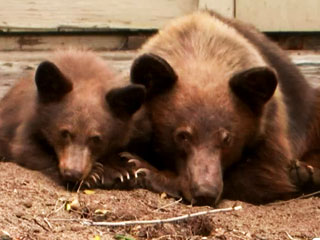 Forget playdates. For a mother bear and her cub, Pasadena, California, became a playground on Thursday.

News helicopters captured their city adventure, which began when the two California black bears were spotted hanging near a dumpster in a busy business district. The mother stood on a ledge as her baby struggled to get out of the receptacle.

"They bring their cubs to an area where there's a decent amount of food, decent amount of water, and there's no threat," California Department of Fish and Wildlife game warden J.C. Healy explained to NBC Los Angeles.


Some friendships are fleeting.

That person you bonded with in the never-ending post office line, that guy you shared a knowing glance with on an overcrowded train – those friendships are there when you need them then gone tomorrow, but you're a slightly different person because of them.

One day, an adorable rescued fawn and a neighborhood kitten struck up such a friendship, and it was all captured in a YouTube video by TheLightHouseLady.
Baby Animals
Get PEOPLE Pets Everywhere
Advertisement
Photo Special
Top Pets Category