Baby Animals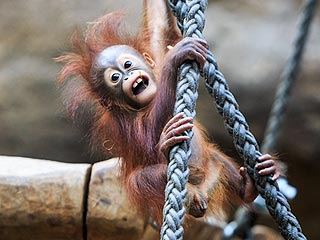 Credit: Zuma
With New Year's Eve just a day away, you've probably got your evening ensemble and countdown cupcake ready to go.

Unless you're this orangutan.

And judging by the look on his face, you can tell being unprepared is starting to weigh on him. In addition to what to wear and what to serve, there's also decorating to be done. Plus, and we don't want to rub salt into the wound, but someone's going to need to find time to head to the salon.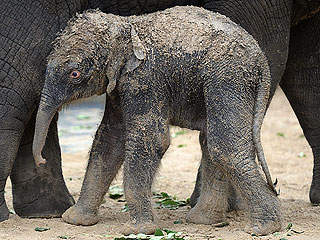 He's a pachyderm with a purpose: to cheer people up!

This happy and healthy male elephant was born when the staff of the Melbourne Zoo really needed a pick-me-up, arriving just days after an 11-month-old elephant died at the zoo in a freak accident.
So, a lion, a tiger and two leopards walk into a New York City office building ...

Okay, it didn't quite go down like that – there were cat carriers, baby bottles full of milk and several animal wranglers involved when four spirited big cats came to the PEOPLE studios last week in honor of Big Cat Week on Nat Geo WILD (running through Dec. 6).

After cat wrangler Boone Smith gave us the lowdown on these amazing felines, including a rare white tiger and African lion cub, we thought: Wouldn't it be fun if we got the 3-month-old African leopards to play with Christmas ornaments? Well, it turns out Ogre and Betty had other ideas. Click play above to watch what happens when you try and choreograph wild animals in a big fancy studio space.
Lions roam the lush landscape of the Serengeti, while their domestic counterparts roam the dusty crawl space under your bed. But we've got video evidence that proves that these felines have more in common than you think, even if only one of them will reach a weight of 400 lbs. in their lifetime.

Our friends at Nat Geo WILD brought three different types of big kittens – a baby tiger, a lion and two leopards cubs – to our New York City offices to promote their fourth annual Big Cat Week (running through Dec. 6). We are pleased to bestow the following morsels of knowledge upon those who are just as fascinated by felines as we are: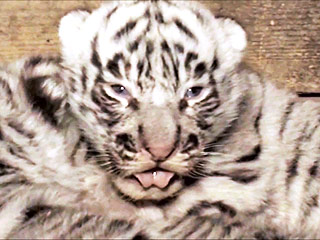 Talk about sibling revelry!

Three newborn tiger cubs born earlier this month at Georgia's Tbilisi Zoo look to be getting along swimmingly.

The trio, born Nov. 7, can be seen in this aww-dorable footage huddled together in a corner of their enclosure – while Mom watches over them from nearby.

Names for the cubs have not yet been released, but if we had to guess, we'd definitely go with Cute, Cuter and Cutest.

Also: When can we expect a playdate with the white tiger cubs from Japan's Tobu Zoo Park?
If you learn just one thing today, it should be this: howling is an art.

As demonstrated in this new compilation we found on YouTube, it requires practice, patience and persistence. It is, indeed, a learned skill (taught often by silly humans who think they're good at it).

There are high-pitched howls, more baritone ones, howls that sounds like a 2-month-old screaming, others that sounds like an impression of Daffy Duck and – the most rare form – howls that sounds like a sweet singing bird.
Well that's awkward. Who's going to break the bad news to Kali?

The newest Sumatran tiger cub to be born at the Point Defiance Zoo & Aquarium thought she'd made a new friend when 2-year-old Marshall stopped by to visit earlier this year. But, little did she know, things are not always what they seem.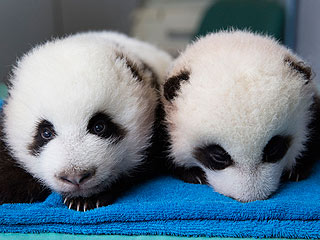 They're Cub A and Cub B no more!

Meet Mei Lun and Mei Huan, twin male giant pandas born at Zoo Atlanta in July, who, as part of Chinese tradition, finally received their official names on Wednesday, their 100th day of life. The names – pronounced May Loon and May Hwaan – were chosen after an online vote, and couldn't be more fitting. They translate to: "indescribably beautiful and magnificent."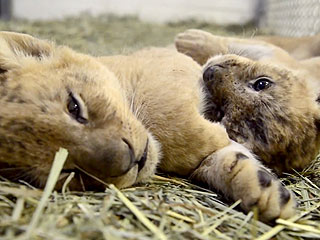 Play nice, girls!

Five weeks after their arrival, the Oregon Zoo's lion cubs are starting to form sisterly bonds, enjoying some requisite roughhousing and palling around. But there's another milestone the trio is also about to hit: being named.
If you're still going through panda cam withdrawal in the wake of the government shutdown, here's something to take the edge off: The twin giant panda cubs at Zoo Atlanta need names – and you can help!

The male cubs, born to mom Lun Lun, are now 87-days-old and the zoo intends to name them on their 100th day in accordance with a Chinese tradition that is said to bring about good luck. The two are currently referred to as "Cub A" and "Cub B."

In keeping with the pandas's Chinese heritage, possible names were derived from ancient Chinese idioms and provided to the zoo by the Chengdu Research Base of Giant Panda Breeding. Voting ends Oct. 21 at noon via GoodMorningAmerica.com.
Baby Animals
Get PEOPLE Pets Everywhere
Advertisement
Photo Special
Top Pets Category