The Latest
No new friends! That's this kitten's motto now.


Alessandro Gonzales's quick thinking saved himself and his Shih Tzu miniature poodle mix from a deadly fire in San Francisco on Wednesday.

According to the San Francisco Chronicle, Gonzales, 13, was inside a three-story commercial building when it went up in flames. The blaze quickly tore through the structure killing one, injuring six and leaving 54 people without homes.
Eyewear designer Karen Walker needed a face for her Summer 2015 campaign, and only one would do – one without teeth and a giant protruding tongue, that is.


When a beloved pet goes missing, fellow pet lovers can relate.

That's why stars like Hilary Duff, George Lopez and Lance Bass are doing what they can to help a friend who says her dog was stolen in Beverly Hills.

"PLEASE HELP US FIND CHARLIE!!!! He is missing. Last seen being picked up by a pregnant woman and her son. White Maltese. Red collar. Please call!! (310) 860-1650!" reads an Instagram post by Duff, with a picture of the adorable dog.
Home. Some pets never have one to call their own. We'd like to help change that by introducing you to an extraordinary adoptable pet every week. Today, meet Cricket, a 3-year-old pit bull mix found wandering the streets of south L.A. six months ago.

Cricket was in bad shape, when she was discovered darting across a busy intersection by a good Samaritan. According to West Hollywood's Wags and Walks rescue, she was emaciated, covered in fleas and shaking with fear. Cricket still remains a sweet, gentle dog despite having to fight to survive on the streets for an unknown amount of time.
Slow motion is often reserved for heightening the cool factor of a moment. When the aloof action hero strolls away from an explosion, you use slo-mo.


We've teamed up with one of our favorite sites, BarkPost, to bring you and your four-legged friends even more adorable pet videos, photos and must-see stories. Check back every week for new furry fun from BarkPost!

Soldiers know, the only thing that could make coming home from a long deployment better is coming home to your dog.
Fishermen in the Philippines happened across a shocking discovery on Wednesday: a rare megamouth shark was found floating in the water near the beach, reports Business Insider.

The creature, which was found dead, was brought to the shore to be examined. This marks the 60th sighting of the species. At 15 feet, this specimen is larger than most estimates for male megamouths. Researchers also counted 50 sets of tiny teeth on the shark
Memory the dog was determined to be a mom.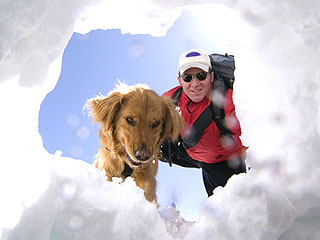 Students at the University of Colorado Boulder are putting their computer science skills to good use for animals and pet owners, creating a website that will help reunite missing pets, often lost in natural disasters, with their owners.

The site, emergencypetmatcher.com, will launch officially after the next future natural disaster, USA Today reported of the effort, which the creators hope will become a "one-stop" place online to reconnect upset families with their lost furry friends.
The Latest
Get PEOPLE Pets Everywhere
Advertisement
Photo Special
Top Pets Category