The Latest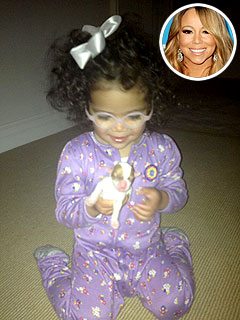 Credit: Courtesy Mariah Carey. Inset: Kevin Winter/Getty
Mariah Carey's family has once again expanded – and she wants your help.

Nope, not a babysitter: Now raising three puppies – in addition to 2-year-old twins Monroe and Moroccan – the American Idol judge, 43, is asking her fans to suggest names for the new additions.

"Help name dem puppies!!" she Tweeted of the two males and one female dog, the offspring of her pooch Squeak E. Beans. (She also has four other Jack Russell terriers: Cha Cha, Jackie Lambchops, Jill E. Beans and JJ.)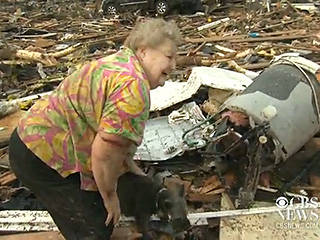 Amid all the rubble and wreckage caused by the Oklahoma tornado, Barbara Garcia stumbled upon a ray of hope.

"I was sitting on the stool, holding my dog – this was the game plan through the years, to go in that little bathroom," she told CBS News reporter Anna Werner while surveying the damage done to her home. "The electric went off in the bathroom, and about the same time, I felt the stool come up out of the floor … I never lost consciousness and I hollered for my little dog and he didn't answer or didn't come, so I know he's in here somewhere."

As she continued to survey the situation with Werner – "This is life in the big city," Garcia said – a member of the interview crew caught sight of the dog struggling to force its way out from beneath the rubble.
Clearly, Lauren Conrad's dog prefers to cap off a ruff day at the office the same way you do: with a nice, relaxing bubble bath.

The fashion expert's most recent canine addition, Fitz – whom she adopted last year – gets the spa treatment in a photo she shared on her blog.

But the bath isn't just for Fitz's enjoyment, explained the mom-of-two dogs, 27.


The only thing better than the beach might be this cat.
If you cross Taylor Swift, you can pretty much expect to get a CD's worth of heart-wrenching songs, a sneaky diss at the Grammys and, to top it all off, the wrath of her army of Twitter-savvy fans.

So it should come as a relief to the most famous goat on the Internet that he has the singer's approval. In fact, when the video of the farm animal singing (er, screaming?) along to her single "I Knew You Were Trouble" went viral in February, she was feeling the bleat.

"I thought the goat video for 'I Knew You Were Trouble' was brilliant," Swift, 23, tells Billboard. "I showed it to everyone on my tour."
Tally-ho!

A census has begun to determine how many breeding pairs of puffins live in the Farne Islands off the coast of Northumberland, England.

This is no fly-by-night operation – the survey, done every five years, takes National Trust rangers three months to complete, as they diligently check every spot the black-and-white seabirds may nest.


And he even sticks the dismount.
"Pomp and Circumstance" – or pup and circumstance?

Recent University of Illinois at Urbana-Champaign graduate Bridget Evans marked the milestone with a very special classmate by her side: her service dog, aptly named Hero.

"He's been with me through all my classes," the Master's degree recipient, 24, who was born with spina bifida (a birth defect hindering mobility), tells Today. "He deserved a cap and gown as much as I did."
Home. Some pets never have one to call their own. We'd like to help change that by introducing you to extraordinary adoptable pets every week. Say hello to Oreo, Sunshine and Stripes – three adorable 8-week-old kittens who love causing trouble.

It's kitten season, so sweet faces like these are a dime a dozen at shelters across the country. Oreo, a black-and-white male, Sunshine, an orange female, and Stripes, a tabby male, recently came in as strays to the SPCA of Westchester in Briarcliff Manor, N.Y., and have been causing quite the fuzz – er, fuss – ever since.


It may look like your standard piece of fruit, but Suspicious Cat knows the truth ... or maybe he's just really hungry.
The Latest
Get PEOPLE Pets Everywhere
Advertisement
Photo Special
Top Pets Category
Photo Special