The Latest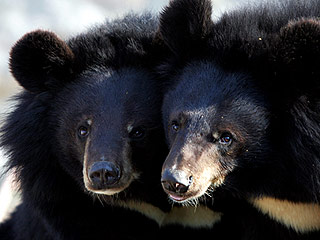 Credit: Claro Cortes IV/Reuters/Landov
Wang Kaiyu is experiencing a bizarre case of mistaken identity.

The animal lover from China's Yunnan Province recently discovered the two large dogs he had been raising for the past two years are actually Asian black bears, reports Yahoo U.K.

Kaiyu bought the pair of "puppies" as cubs in Vietnam from a vendor who said the animals would grow into lively, friendly dogs with big appetites. The babies certainly grew to be larger, livelier and hungrier, though they also started exhibiting considerably stranger behaviors.
During a routine search for treacherous four-ounce containers and prohibited snow globes on Wednesday, a Transportation Security Administration agent at the Los Angeles International Airport spotted something unusual on the x-ray screen: A cat.


Pickup truck engines aren't cozy.


Dog owners always want to include their pets in the festivities, but the Fourth of July is a holiday your pup might want to sit out.


Maybe he's got it, maybe it's that adorable fluffy muzzle – either way RJ the St. Bernard puppy is meant to be a star.


How does an elephant party hard? With cake, of course.

Raju the Asian elephant, who was rescued last July by Wildlife SOS after 50 years of submission and exploitation in India, celebrated his first full year of happiness at The Wildlife SOS Elephant Conservation and Care Center in India on Wednesday, and PEOPLE has the exclusive video of his delicious celebration!
Pecs and paws – that's what the soon-to-be released Charleston Firefighter Calendar is serving up for 2016.

One of the paw-some stars of the latest edition, which benefits abused animals, is Caitlyn, the South Carolina dog who made headlines in May when she was found with her muzzle taped shut.

As these photos show, this courageous pooch has clearly bounced back from the brink – a surgery to reconstruct her lips, cheeks and tongue was successful – and, more than a month after her story came to light, she has moved in with a medical foster family, where a veterinary employee is currently caring for her, ABC News 13 reports.
Let me tell you about my bestie, he is a golden-furred friend who will love me until the end.

That's Koda's jam. The adorable ginger kitten in this video has found a way to become even cuter by befriending a loyal golden retriever named Keelo.
The Latest
Get PEOPLE Pets Everywhere
Photo Special
Top Pets Category