The Latest
How often do you really stop to think before you take out money from the ATM machine?


The fit is so purr-fect, they must be made for cats, right?

That's what cats everywhere are saying about the Duktig bed from Ikea.

The truth is, they're actually made for dolls, but felines have been catching Zzz's in the wooden beds designed by the Swedish furniture maker – and pet owners are posting the resulting (adorable) catnaps on social media.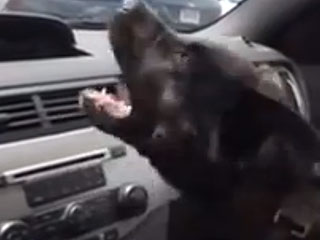 It's a shame that every summer brings a new slew of "people rescuing dogs trapped in hot cars" stories. (Though one recent one has a nice coda – a Georgia woman dropped charges against the Desert Storm veteran who broke her car window to get her dog out of the car on an 80-degree day.)


Beyoncé wasn't the only one riveted by the Women's World Cup final – it also captured the undivided attention of canines.

This video of Deuce the dog watching intently as the U.S. women crush Japan has gone viral … oh, and did we mention there's an adorable baby in it? You've gotta love it when there's something for everyone!
The TV networks needn't look any further for the premise of their next iconic television show.

The world's most fascinating Friends are on Instagram – and they're capturing hearts everywhere.

Despite his name, Bob the golden retriever is the Jennifer Aniston of the group – with great hair! – and is best buddies with eight birds and one hamster.
"Is that what you want? You want to wear that toilet paper all day long?" 


The bird in this pic is either extremely brave, or a few crows short of a murder.


On a recent trip to Namibia, Angelina Jolie Pitt secured the sweetest gift for her daughter Shiloh.

The actress, 40, visited the country's Naankuse Foundation, a nonprofit dedicated to protecting native wildlife and stopping human-animal conflict in Africa.

The foundation has a special relationship with the Jolie-Pitt family. In 2010, four years after Shiloh was born in Namibia, mom and dad created the Shiloh Jolie-Pitt Foundation to help the Naankuse Wildlife Sanctuary with its efforts.
Pet food company Stella & Chewy's is voluntarily recalling 11 of its products after Listeria monocytogenes was found in one of its dog food products during a routine test.

The Maryland Department of Agriculture ordered that the company stop selling Chicken Freeze-Dried Dinner Patties for dogs on Saturday, after tests revealed the product was contaminated with Listeria, reports NJ.com.
The Latest
Get PEOPLE Pets Everywhere
Photo Special
Top Pets Category