The Latest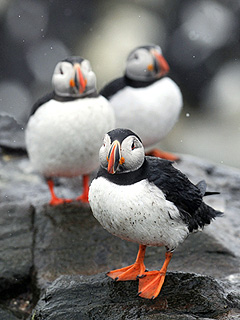 Credit: Anna Gowthorpe/Landov
Tally-ho!

A census has begun to determine how many breeding pairs of puffins live in the Farne Islands off the coast of Northumberland, England.

This is no fly-by-night operation – the survey, done every five years, takes National Trust rangers three months to complete, as they diligently check every spot the black-and-white seabirds may nest.


And he even sticks the dismount.
"Pomp and Circumstance" – or pup and circumstance?

Recent University of Illinois at Urbana-Champaign graduate Bridget Evans marked the milestone with a very special classmate by her side: her service dog, aptly named Hero.

"He's been with me through all my classes," the Master's degree recipient, 24, who was born with spina bifida (a birth defect hindering mobility), tells Today. "He deserved a cap and gown as much as I did."
Home. Some pets never have one to call their own. We'd like to help change that by introducing you to extraordinary adoptable pets every week. Say hello to Oreo, Sunshine and Stripes – three adorable 8-week-old kittens who love causing trouble.

It's kitten season, so sweet faces like these are a dime a dozen at shelters across the country. Oreo, a black-and-white male, Sunshine, an orange female, and Stripes, a tabby male, recently came in as strays to the SPCA of Westchester in Briarcliff Manor, N.Y., and have been causing quite the fuzz – er, fuss – ever since.


It may look like your standard piece of fruit, but Suspicious Cat knows the truth ... or maybe he's just really hungry.
Well, now, this is awkward.

We're not sure if we're the right ones to say it, but, um, Finn Seyfried, it seems like you got a little something on your nose.

Or perhaps the Australian shepherd, who calls Les Misérables star Amanda Seyfried Mom, likes it that way?


That time your dog learned the meaning of the "Circle of Life."
If you cross Taylor Swift, you can pretty much expect to get a CD's worth of heart-wrenching songs, a sneaky diss at the Grammys and, to top it all off, the wrath of her army of Twitter-savvy fans.

So it should come as a relief to the most famous goat on the Internet that he has the singer's approval. In fact, when the video of the farm animal singing (er, screaming?) along to her single "I Knew You Were Trouble" went viral in February, she was feeling the bleat.

"I thought the goat video for 'I Knew You Were Trouble' was brilliant," Swift, 23, tells Billboard. "I showed it to everyone on my tour."
She's beautiful, stylish and fun, but when Lauren Conrad throws a party, it's actually her rescue dogs, Chloe and Fitz, who end up stealing the scene.

"They get thrilled when I have people over because they get so much attention," the fashion expert, 27, told PEOPLE at a launch event for Malibu Island Spiced Rum in New York on May 7. "They're the belles of the ball," she said, before humorously wondering about new addition Fitz, "What's a boy belle of the ball?"

But while she described her pooches as "sweet," not everything is perfect at Casa Conrad since the arrival of Fitz, whom the former MTV star dogshamed in November for chewing on one of her shoes.
We've committed a great deal of time and energy to envying Blake Lively. Those legs. That wardrobe. Her man.

Yes, she's the girl who won Ryan Reynolds's heart, getting the best of our jealous hearts and marrying him last September.

But we're going to let her off the hook for a minute because there's a new subject deserving of our green streak: We're looking at you, Baxter.
The Latest
Get PEOPLE Pets Everywhere
Advertisement
Photo Special
Top Pets Category
Photo Special