The Latest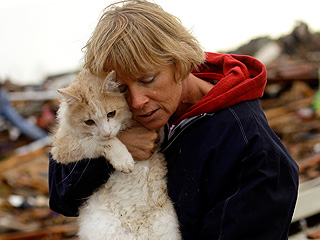 Credit: Joshua Lott/AFP/Getty
Amid the death and destruction facing families left displaced by the tornado that struck several suburbs of Oklahoma on Monday, a handful of residents have been fortunate to return to the sites of their homes and come face-to-face with their furry friends.

Earlier in the week, Barbara Garcia was reunited with her missing dog during an on-camera interview, in which a member of the CBS News crew spotted her pup struggling to escape the debris.

Garcia's story is just one of many touching reunions, such as that of June Simson (above). Upon returning to the remains of her home, she discovered her cat, Sammi, covered in dirt but alive, standing atop the rubble.


Go home, puppy, you're drunk.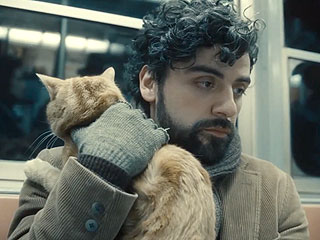 Hollywood's finest and most familiar faces – from Jessica Chastain to Jessica Biel – have flocked to the South of France for the Cannes Film Festival. (Did we mention Jennifer Lawrence, Leonardo DiCaprio and Emma Watson, too?)

But the true stars of the festival have yet to show up.

Meet the ginger-colored cats who steal scenes from Oscar Isaac, Carey Mulligan and Justin Timberlake in the Coen brothers' latest film, Inside Llewyn Davis. (Fun fact: It took six felines to fill the role of the cat who follows Isaac around 1961 New York in the film.)
We thought we had seen it all when it comes to displeased, unsatisfied and generally non-smiley animals after we came face to face with Grumpy Cat.

But then we saw this cow.

We don't know why this Highland cow calf, Snowy (who we will affectionately call Grumpy Cow), is so angry. Born to two brown Highland cattle, Snowy's rare coat of fluffy white fur is something to smile about in itself. Perhaps the grass tasted a little bitter this particular day, or maybe Snowy's just a little bit upset about the demise of Robsten. (True love exists, we promise!)
At 32, newly single reality star Jenna Morasca knows what she wants in a future mate. Following her breakup from fellow Survivor winner Ethan Zohn after 10 years of dating, Morasca has decided that she wants to find a guy who'll love her and her dog Bobbi – unconditionally. In her third blog for People.com, she discusses how she came to that realization.

I am a single parent – a newly single parent, that is. Loving and parenting a dog as a single parent can create all sorts of new and unusual problems, but also new sources of joy. When I adopted 5-year-old Bobbi, I was in a relationship, and we mutually agreed it was time to expand the family – well, it was more like I wore him down, convincing him it was time to adopt a dog.
Mariah Carey's family has once again expanded – and she wants your help.

Nope, not a babysitter: Now raising three puppies – in addition to 2-year-old twins Monroe and Moroccan – the American Idol judge, 43, is asking her fans to suggest names for the new additions.

"Help name dem puppies!!" she Tweeted of the two males and one female dog, the offspring of her pooch Squeak E. Beans. (She also has four other Jack Russell terriers: Cha Cha, Jackie Lambchops, Jill E. Beans and JJ.)


It's just like The Great Gatsby, but less parties and more catnaps.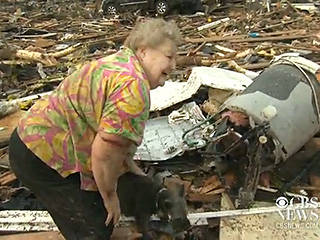 Amid all the rubble and wreckage caused by the Oklahoma tornado, Barbara Garcia stumbled upon a ray of hope.

"I was sitting on the stool, holding my dog – this was the game plan through the years, to go in that little bathroom," she told CBS News reporter Anna Werner while surveying the damage done to her home. "The electric went off in the bathroom, and about the same time, I felt the stool come up out of the floor … I never lost consciousness and I hollered for my little dog and he didn't answer or didn't come, so I know he's in here somewhere."

As she continued to survey the situation with Werner – "This is life in the big city," Garcia said – a member of the interview crew caught sight of the dog struggling to force its way out from beneath the rubble.
Clearly, Lauren Conrad's dog prefers to cap off a ruff day at the office the same way you do: with a nice, relaxing bubble bath.

The fashion expert's most recent canine addition, Fitz – whom she adopted last year – gets the spa treatment in a photo she shared on her blog.

But the bath isn't just for Fitz's enjoyment, explained the mom-of-two dogs, 27.


The only thing better than the beach might be this cat.
The Latest
Get PEOPLE Pets Everywhere
Advertisement
Photo Special
Top Pets Category
Photo Special