The Latest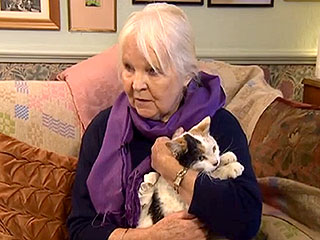 Santa may have figured out how to shimmy down the chimney, but Chloe the cat is still out of practice.

The feline from Wareham, England, cashed in one of her nine lives after she got stuck in a chimney while her family was on Christmas vacation, reports the Daily Echo.
Bulldogs are a gift to humanity that never stops giving.

From their amazing underbites to their roly-poly gaits, we believe them to be the cure for the common cold – or, at the very least, a bad day.
Police are on the hunt for two cold-hearted men who left a dog tied up behind a Roseville, Michigan, Walmart in freezing weather.

Courtney the 2-year-old mixed breed pooch was found abandoned by a Walmart employee on Sunday, reports USA Today. Frightened by her time alone outside, the dog also chewed off one of her paws in an effort to escape her restraints.

After being discovered, the authorities were called and Courtney was rushed to Hopeful Heart Rescue. At the shelter, doctors examined the dog's wound and determined she most likely chewed off and consumed her paw while she was outside, with her tight leash acting as a tourniquet.
Seals are the dogs of the sea, so it makes sense these flippered cuties would want to meet their four-legged land counterparts.

Instead of waiting for a canine to doggie paddle out to the ocean, one friendly seal in southwestern France bellied up to the beach and went searching for a puppy pal.
We've teamed up with one of our favorite sites, BarkPost, to bring you and your four-legged friends even more adorable pet videos, photos and must-see stories. Check back every week for new furry fun from BarkPost!

"Hey hooman, you can sweet talk me all you want, but you ain't gettin' your grubby paws on my teddy buddy. So there!"
Home. Some pets never have one to call their own. We'd like to help change that by introducing you to an extraordinary adoptable pet every week. Today, meet Buckets, a 3-year-old tabby available for adoption at Adopt & Shop in Culver City, California.

When you meet this pretty girl, you should sit down and get ready – because Buckets wants to pour herself into any available lap. This affectionate kitty loves adults and kids alike, the attention from people around her is what she craves most.
A six-year-old Australian shepherd named Sausage is being credited for saving the life of three puppies that were discovered inside a garbage bag in Pleasant Hill, California.

"It is one of the feel good stories of the year," Rick Golphin, deputy director of Contra Costa County Animal Services, tells PEOPLE.
Abandoned on one of the coldest days of the year, Scout the puppy is now safe in a warm bed.

The 2-week-old dog was saved from a short life thanks to a sharp-eyed Good Samaritan, reports ABC 7. While driving down Tryon Road in Wake County, North Carolina, a commuter spotted Scout being thrown out the window of a moving vehicle. The animal lover immediately pulled over to help and found the tiny pooch in a frozen ditch.

Scout was rushed from the side of the road to the SPCA of Wake County for treatment.
Forget the Puppy Bowl on Feb. 1!

Okay, don't forget the Puppy Bowl (what are you, a monster?), but at least click away for a few minutes because Super Bowl XLIX will feature the triumphant return of the precious Budweiser puppy in the ad "Lost Dog."
What do chimpanzees talk about when they talk about love? (Or anything else, really?)

Scientists are finally getting to the root of that question. A new study published in Animal Behaviour details the efforts of scientists who studied chimpanzees in the Ivory Coast's Taï Forest for over 750 hours.
The Latest
Get PEOPLE Pets Everywhere
Advertisement
Photo Special
Top Pets Category