The Latest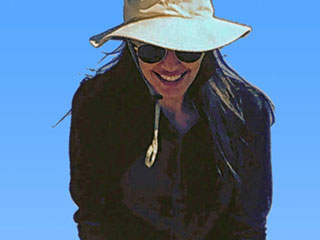 Credit: Naankuse
On a recent trip to Namibia, Angelina Jolie Pitt secured the sweetest gift for her daughter Shiloh.

The actress, 40, visited the country's Naankuse Foundation, a non-profit dedicated to protecting native wildlife and stopping human-animal conflict in Africa.

The foundation has a special relationship with the Jolie-Pitt family. In 2010, four years after Shiloh was born in Namibia, mom and dad created the Shiloh Jolie-Pitt Foundation to help the Naankuse Wildlife Sanctuary with its efforts.
Pet food company Stella & Chewy's is voluntarily recalling 11 of its products after Listeria monocytogenes was found in one of its dog food products during a routine test.

The Maryland Department of Agriculture ordered that the company stop selling Chicken Freeze-Dried Dinner Patties for dogs on Saturday, after tests revealed the product was contaminated with Listeria, reports NJ.com.
"Get back on your side of the car. MOOOOMMMMM!"

These twin goats belong to Hope Hall, of the Sunflower Farm Creamery in Cumberland, Maine. Their names are Charlotte and Harper, and Charlotte is the one patiently dealing with her sister's out-of-this-world irritation skills. We're getting flashbacks to every road trip we ever took as a child.
Home. Some pets never have one to call their own. We'd like to help change that by introducing you to an extraordinary adoptable pet every week. Today, meet Reggie, a puppy currently being fostered through Pet Connect Rescue of Potomac, Maryland.

This 10-week-old lab/border collie mix is safe now, but just a few weeks ago he was trying to survive on his own. This adorable boy was found by the Pickens County Animal Control on the streets of South Carolina and was plucked from a local shelter by two rescuers. When he was old enough, he was transferred to Pet Connect Rescue, where foster mom Catherine Edwards kept up with his round-the-clock feedings.
Wang Kaiyu is experiencing a bizarre case of mistaken identity.

The animal lover from China's Yunnan Province recently discovered the two large dogs he had been raising for the past two years are actually Asian black bears, reports Yahoo! U.K.

Kaiyu bought the pair of "puppies" as cubs in Vietnam from a vendor who said the animals would grow into lively, friendly dogs with big appetites. The babies certainly grew to be larger, livelier and hungrier, though they also started exhibiting considerably stranger behaviors.
During a routine search for treacherous four-ounce containers and prohibited snow globes on Wednesday, a Transportation Security Administration agent at the Los Angeles International Airport spotted something unusual on the x-ray screen: A cat.


Pickup truck engines aren't cozy.


Dog owners always want to include their pets in the festivities, but the Fourth of July is a holiday your pup might want to sit out.


The Latest
Get PEOPLE Pets Everywhere
Photo Special
Top Pets Category