The Latest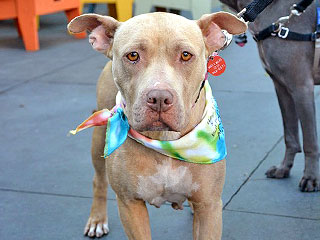 Credit: Courtesy Wags and Walks
Home. Some pets never have one to call their own. We'd like to help change that by introducing you to an extraordinary adoptable pet every week. Today, meet Cricket, a 3-year-old pit bull mix found wandering the streets of south L.A. six months ago.

Cricket was in bad shape, when she was discovered darting across a busy intersection by a good Samaritan. According to West Hollywood's Wags and Walks rescue, she was emaciated, covered in fleas and shaking with fear. Cricket still remains a sweet, gentle dog despite having to fight to survive on the streets for an unknown amount of time.
Slow motion is often reserved for heightening the cool factor of a moment. When the aloof action hero strolls away from an explosion, you use slo-mo.


Fishermen in the Philippines happened across a shocking discovery on Wednesday: a rare megamouth shark was found floating in the water near the beach, reports Business Insider.

The creature, which was found dead, was brought to the shore to be examined. This marks the 60th sighting of the species. At 15 feet, this specimen is larger than most estimates for male megamouths. Researchers also counted 50 sets of tiny teeth on the shark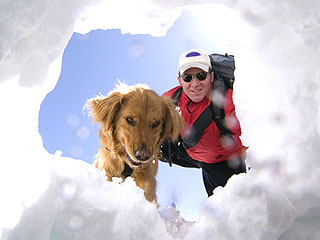 Students at the University of Colorado Boulder are putting their computer science skills to good use for animals and pet owners, creating a website that will help reunite missing pets, often lost in natural disasters, with their owners.

The site, emergencypetmatcher.com, will launch officially after the next future natural disaster, USA Today reported of the effort, which the creators hope will become a "one-stop" place online to reconnect upset families with their lost furry friends.
There's FOMO, and then there's the feeling we get when we are sitting at our desks while other people are playing with puppies in their offices.


He was one of PEOPLE's Ones to Watch last year, and right now, we're watching Jon Bernthal.

In a new public service announcement for the Animal Farm Foundation, the Fury actor stars alongside his dogs Boss and Venice, and his 2-year-old son Billy, to bring attention to pit bulls and the owners who love them.
Paula Deen's heart has gone to the dogs – again.

So much so that she's added a new Goldendoodle pup to join current Deen family dog Gus.

"I just love my Goldendoodle Gus so much, I had to have another one!" Deen, 68, enthused on her Facebook page where she shared heart-melting pictures of her latest sweet addition. "He just joined our family so I need y'all's help to name him!"
Release the puppy!

Sure, it was fun to speculate about what might happen in Budweiser's Super Bowl ad "Lost Dog," but now fans of cuteness everywhere can enjoy the real thing.
After an outcry from the animal-loving community, GoDaddy has pulled a controversial Super Bowl ad featuring a puppy being sold online.

And, as it turns out, the adorable golden retriever that starred in the ad got a happy ending of his own.

In a statement from the company's chief executive officer, Blake Irving, he says the dog, Buddy, was adopted by an employee.
This is the ultimate Super Bowl rabbit trick: With one command, this long-eared little guy pushes a tiny cart into the room bearing a fresh beer.

It also might be the ultimate rabbit trick for any occasion, and possibly the only trick you've ever seen a rabbit perform. Whatever the case, the bond between the video's creator and his girlfriend's rabbit, Wallace, is a special one.
The Latest
Get PEOPLE Pets Everywhere
Advertisement
Photo Special
Top Pets Category