The Latest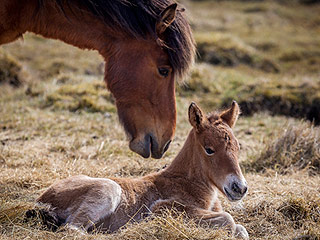 Lilly was heartbroken.
She'd given birth to a beautiful foal, only to say goodbye to it 24 hours later. Sadly, the horse's baby had to be put to sleep following complications after birth.
Lilly's owner, breeder
Polly Jackson
of Nottingham, England, took to social media to help her grieving animal in the best way she knew how.
Jack McBrayer, who played Kenneth on the NBC sitcom, is teaming up with everyone's favorite feline, Lil Bub, to host a talk show at this year's CatCon – billed as the Comic Con for cat people.

Lil Bub's Big Show Live is set to be the makeshift cat equivalent to a late night talk show, although we're guessing McBrayer will be doing most of the talking for his perma-kitten guest star.
We've teamed up with one of our favorite sites, BarkPost, to bring you and your four-legged friends even more adorable pet videos, photos and must-see stories. Check back every week for new furry fun from BarkPost!
There aren't many things on this planet we value more than a really, really good burrito.


What more could you possibly need in a headline than that?


Are you a resident of the Los Angeles area with a pool and a deep love for dogs? If so, you could make one senior canine's summer.


When an EF-3 tornado ripped through Van, Texas, and flipped Andy and Brandi Bouchillon's truck, they assumed they'd never see their beloved dog, Tater, again. While they were rushed to the hospital with their baby, who was also in the truck during the debilitating crash, Tater ran off. (Luckily the family was not injured.)


Thanks to 9-year-old Alana Thogerson, many sea lion babies have full bellies right now.

The plucky Virginia girl has raised more than $1,600 to feed thousands of starving and stranded sea lions who've been popping up along beaches in Southern California.
Here's the story of a cat named Henry, who is bringing up six very lovely kittens.

Jan, Marcia, Cindy, Greg, Peter and Bobby have been adopted by an 8-month-old male cat in the southeast Alaska community of Ketchikan, the Associated Press reports.
The Latest
Get PEOPLE Pets Everywhere
Advertisement
Photo Special
Top Pets Category