The Latest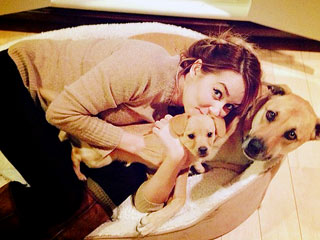 Credit: Courtesy Lauren Conrad
She's beautiful, stylish and fun, but when Lauren Conrad throws a party, it's actually her rescue dogs, Chloe and Fitz, who end up stealing the scene.

"They get thrilled when I have people over because they get so much attention," the fashion expert, 27, told PEOPLE at a launch event for Malibu Island Spiced Rum in New York on May 7. "They're the belles of the ball," she said, before humorously wondering about new addition Fitz, "What's a boy belle of the ball?"

But while she described her pooches as "sweet," not everything is perfect at Casa Conrad since the arrival of Fitz, whom the former MTV star dogshamed in November for chewing on one of her shoes.
We've committed a great deal of time and energy to envying Blake Lively. Those legs. That wardrobe. Her man.

Yes, she's the girl who won Ryan Reynolds's heart, getting the best of our jealous hearts and marrying him last September.

But we're going to let her off the hook for a minute because there's a new subject deserving of our green streak: We're looking at you, Baxter.


This hamster is just a furry version of that kid who never gave you any of his fruit snacks in the cafeteria.
Well, someone's ready for swimsuit season!

Months after taking on a Biggest Loser-style fitness challenge in September, Obie the dachshund is showing off his weight loss one step at a time. Literally.

The pooch, who weighed in at 77 lbs. at his heaviest, flaunted his 40 lbs.-slimmer physique during a Mother's Day hike documented on his Facebook page by his foster mom-turned-owner, Nora Vanatta.


When it comes down to it, you just have to keep your eyes on the prize.
A happy Mother's Day, indeed.

A week after giving birth, Sumatran orangutan Sarah was snapped giving her newborn a sweet peck inside their enclosure at the ABQ BioPark Zoo in Albuquerque, N.M. Just like a human mother, she gingerly cradled her little one before leaning in – and judging from that smile on her face, the babe's already lapping up the attention!

The pair were fêted with a Saturday baby shower – just in time for Mother's Day. During the festivities, the park revealed that the tyke is a female.


We'll say this for the Eminem-loving pup: He follows directions well.
It's a bird. It's a plane – actually, it's a squirrel!

After her baby became stuck in a Pittsburgh, Pa., tree, a mama squirrel sprung into action to rescue her little one.

The youngster, thought to be about 8 weeks old, fell about 20 feet from a woodpecker's nest it had been snoozing in, according to photographer Carla Brandon. Before the baby could fall 25 more feet to the ground, its mother saved its fall, plucking the little ball of fur by the tail.

With Mother's Day right around the corner, we think it's safe to say she's more than deserving of a nice gift.


Human, we wouldn't do that if we were you.
Home. Some pets never have one to call their own. We'd like to help change that by introducing you to an extraordinary adoptable pet every week. Meet Swayze, a boxer/mastiff mix who adores people.

This dog is the quintessential family companion. The 1-year-old, who was recently surrendered to the Jefferson Parish Animal Shelter West Bank in Marrero, La., is playful, loyal and adorably loving.
The Latest
Get PEOPLE Pets Everywhere
Advertisement
Photo Special
Top Pets Category
Photo Special