The Latest
We hope you can swim – because soon you'll be sitting in a pool of your own tears.

Kleenex's new ad featuring a man and his dog is designed to make you cry like a baby, and we think you'll agree that they've succeeded.

Chance and his owner Mike Williams have a lot in common, and the first thing is obvious: they both get around in wheelchairs.
Last year, a blind golden retriever named Kanga was found abandoned in a field.


This stray kitten has a big ambition: to assist one of the world's most prominent wildlife photographers, Mitsuaki Iwago.


Betty White has combined two of her passions – acting and animal advocacy – in her latest project, and it's basically the cutest thing you'll see this week.

In a clip for Discovery Family's upcoming "Pawgust" campaign, White plays with a gaggle of pooches and makes paw puns (see: "paw-some," "paws-itively paw-dorable," "raise the woof").
A dog allegedly stolen from her owner at a New York park has been found dead.

The beloved cocker spaniel was stolen right before owner Lora Panossian's eyes at Crocheron park in Queens on Sunday, after two men allegedly punched her in the stomach.

The New York Daily News, who first identified the woman as 29-year-old Lora Panossian, said the thieves stopped her on a walk around 10 p.m. to talk with her about the dog.
Please consider this my official motion to make tiger cub pictures a mandatory part of everyone's Tuesday.

The stunners above are Sumatran tiger triplets Dari, Indah and Kirana with their mom Jaya, making their debut at the Point Defiance Zoo's new "waterfall exhibit."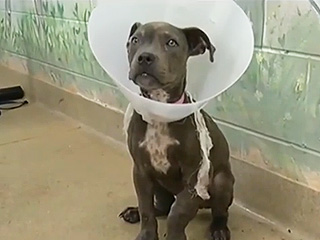 Someone deserves a hefty tip!

A pizza delivery man in Orlando, Florida, went beyond the call of duty this weekend when he helped an injured puppy he saw while delivering a pie.

WKMG News 6 reports that Central Florida authorities were notified on Sunday about the injured pooch, who apparently resided at the home where the man made a delivery.

When Animal Services responded to the call, the owner surrendered the puppy to them. The owner claimed that his dog had sustained the wound on her left front leg from another dog in the neighborhood. An investigation is pending, the report said.
Some moms fear an empty nest; other mothers patiently tick off the days until they can get a little alone time.

This raccoon matriarch appears to be of the latter sect. Now that her baby is getting bigger, she is eager to get him out of her mouth and on to the trees. Lugging a furry bandit around between your teeth all day is hard work – and doesn't do the breath any favors – so it's climbing time.
Lupita Nyong'o, on a return visit to her native Kenya, announced that she would be partnering with international conservation organization WildAid to advocate for a variety of issues, including elephant conservation and women's issues, as well as acting and the arts in Kenya.


There's nothing more embarrassing than when you are in line at the grocery store, and your mom starts licking behind your ears.


The Latest
Get PEOPLE Pets Everywhere
Photo Special
Top Pets Category