The Latest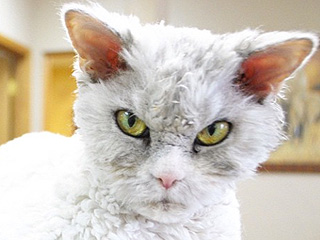 Credit: Courtesy Sagebrush Fine Art
The Web's threshold for angry-looking cats continues to grow, with the arrival of Pompous Albert.


Ariana Grande is spreading her puppy love to her fans.

In a post on Twitter on Friday, the singer wrote that she's working with BarkBox, the doggy goodie subscription service, to help 15 puppies from Badass Brooklyn Animal Rescue find loving homes.

"This weekend at both of my MSG shows, there will be a link up on screen that you can use accompanied by pics of the pups before / in between Cashmere's set, Rixton's set and mine," she writes. "So if any of these babes happen to steal your heart and you are interested in providing a home for any of them, the link will be right there up on screen and all adoption fees will have already been taken care of by me."
Home. Some pets never have one to call their own. We'd like to help change that by introducing you to an extraordinary adoptable pet every week. Today, meet Colonel, a 2-year-old black and brindle Rottweiler mix who was transferred to the SPCA of Texas in Dallas from another shelter on Dec. 9.

Colonel's picture is slightly inaccurate – because this dog always has a ball in his mouth! Playing with a ball is one of his favorite things to do; all he needs is a permanent owner who'll vow to play fetch forever.


She was a mom on a mission.

When fire tore through a forest in Chile over the weekend, this devoted dog mama dug a hole for her newborn babies to hide in.

According to 9News, the hero dog, who has been named Blacky, created a makeshift shelter for the pups with her paws under a metal container. As firefighters worked to extinguish the fire, residents said they saw a dog leading puppies away from the blaze and then burying them in the dirt.
A collective moan of sorrow was heard across the Internet on Tuesday as news of an abandoned dog in Slidell, Louisiana, spread across the nation.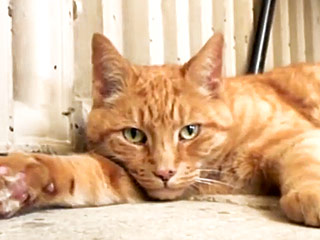 They say all dogs go to heaven – but they have to get past Louis first.

The ginger cat has been accused of three savage dog attacks around Wells Cathedral, near his home in Somerset, England, reports The Telegraph.

This comes as a surprise to many locals, who know Louis as the beloved kitty resident of the Gothic-style church. The feline, who spends his evenings hunting mice in the cathedral's holy halls, even has his own book, Louis the Cathedral Cat, and merchandise at Wells. When the kitty isn't hunting trespassing rodents, he can usually be found snoozing in a basket at the building's gift shop.
Australia is a magical place. A hot, spider-filled, magical place where even the trees explode and you can come across crazy stuff just walking your dogs.

Crazy stuff like two cuddly marsupials holding their own fuzzy Wrestlemania on the ground.


While Kanye West was busy making "Swish" happen on Twitter, this dog went and stole all of his fans.

And if you're not careful, Kanye, you may never get them back.

This Saluki mix named Maggie once had a really ruff life, according to a YouTube video caption written by his owner Dale Roossien. "Now she enjoys a loud life of singing and playing," Roossien shares.
We've teamed up with one of our favorite sites, BarkPost, to bring you and your four-legged friends even more adorable pet videos, photos and must-see stories. Check back every week for new furry fun from BarkPost!
The Latest
Get PEOPLE Pets Everywhere
Advertisement
Photo Special
Top Pets Category