The Latest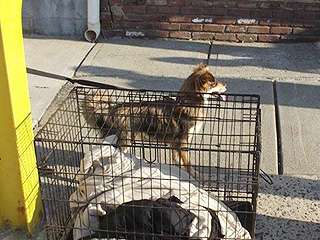 Credit: Associated Humane Societies
Cruelty has no bounds, it seems.


Do you love dogs … but have trouble attracting them when visiting your local dog park? Finally, there's a solution!


We like snow … mainly because it gives us the perfect excuse to wear blankets as clothes.


No matter how many times you press the snooze button, your alarm clock will not love you back.




It's so cold outside across most of the country right now that even cats are sharing screen grabs of the bone-chilling temperatures on their iPhones.

The kitty in this video is well aware of the deep-freeze and it appears he isn't moving from his current position in front of this gloriously radiating space heater until spring.

When another feline walks toward the heater – much like a innocent Forrest Gump walking on the bus on the first day of school – the feline in the seated position looks at him in disgust and says, "Seat's taken." (As you can see, we speak cat, which comes in really handy at work).
This kitty is a true sour puss.


It was a doghouse of horrors.

On Wednesday, an LAPD motor officer discovered an abandoned dog sitting injured and terrified in a disheveled doghouse by the side of the road in south Los Angeles. The house's door had been nailed.

Rescued by volunteers from the Ghetto Rescue FFoundation, the dog – now named Walter Worthy Higgins – is recovering from horribly infected legs, which appear to be the result of severe neglect and abuse, says Tami Baumann, who runs GRFF, the rescue that will take the dog into its care next week.
We've teamed up with one of our favorite sites, BarkPost, to bring you and your four-legged friends even more adorable pet videos, photos and must-see stories. Check back every week for new furry fun from BarkPost!
Room for one more?

A sea lion pup decided to crash the Gist family's Valentine's Day kayak ride by hopping on the boat for a free lift, reports KTLA.

Robert Gist was paddling around the waters of Santa Barbara, California, with his two children, when he felt a light bump on the back of the kayak.
The Latest
Get PEOPLE Pets Everywhere
Advertisement
Photo Special
Top Pets Category