The Latest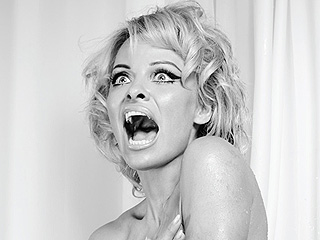 Credit: Courtesy PETA
She's still got it – and she's not afraid to flaunt it for issues she believes in.

In an effort to draw attention to the meat trade's water waste, former Baywatch star Pamela Anderson, 47, has shed her clothing and recreated a scene from the iconic Alfred Hitchcock thriller Psycho in a new ad for People for the Ethical Treatment of Animals (PETA).
Are you the kind of pet owner who thinks your dog would be smart enough to speak English if only you had the time and patience to teach him?


Ryan Reynolds likes to kiss and tell. And this time, he's reflecting on a smooch from a stranger – well, a giraffe – at a wildlife park.


[YOUTUBE "zz13zupz9DA"]
Anthony Kiedis wears bear ears. Moby strums a mournful bear song. Duff McKagan wonders if his bear mask would be a hot new look. And Steve-O just wants to jam with Justin Bieber.


How is the weather where you are? Too windy? Too wet? Too cold? Well, unless you live in Goulburn, a city in New South Wales, Australia, you don't have to deal with the very unusual phenomenon of spider rain.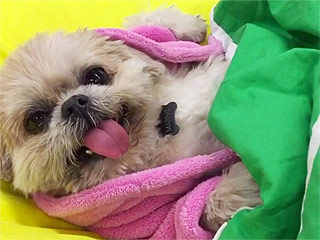 How often do you reward yourself for making it to Friday? Never? That ends today. Surviving the week is a real accomplishment, one that should be celebrated with adorable six-second pet vines that loop and loop and loop and loop until you don't know what's real anymore.


Someone stole Sarah Jessica Parker's look – but we're pretty sure she's not mad about it.

Pet fashion designer Anthony Rubio recently created a Chihuahua-sized version of the actress's daring Met Gala headdress. The over-the-top design features strategically sewn blossoms, Swarovski crystals and glass caviar beads, and we think you'll agree that it's doggone impressive.


Does this parrot have a potty mouth?

A neighbor in Tracy, California, says yes – and she's pretty upset about it. Jennifer Baca told NBC affiliate KCRA that the bird, named Rula, is repeating the Spanish curse word for "prostitute" and that her grandchildren have started using the R-rated phrase.
Emirates Airline has banned the transport of hunting "trophies" from its SkyCargo.

According to National Geographic, the airline will no longer allow passengers to bring lions, tigers elephants, rhinos and other wild animals killed through hunting onto their planes, a spokesperson said.
You know the feeling: All of a sudden, your entire skull is trapped in an icy cocoon of discomfort; it seems like it will never end – and then it does. That's a brain freeze, and apparently cats get them, too.


The Latest
Get PEOPLE Pets Everywhere
Advertisement
Photo Special
Top Pets Category