The Latest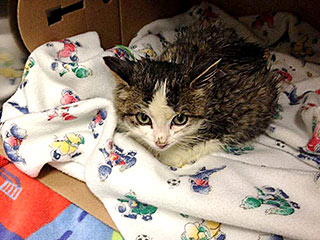 Credit: Courtesy Toronto Humane Society's Photos
It's safe to say that Pedro the kitten is down to eight lives.


What's in a name?

Well, if you're a dog, apparently a lot of pop culture references. Rover.com, the Airbnb for dogs, recently pulled doggie data from 287,412 members to come up with 2014's most popular pooch names.
Man's best friend indeed.

When a fire started brewing in the Indianapolis home of Johnny Walker around midnight on Tuesday, his shih tzu/poodle mix Bogey barked furiously to wake him up – ultimately saving the lives of Walker and several others.

According to New York's Daily News, the pup was the first to notice the fire, which was sparked by two unattended space heaters.
Man's best friend is seen as anything but in Iran, where city workers gun down strays and conservatives view pet dogs as a corrupting Western influence.

Islamic tradition holds cats in high esteem, and in much of the Muslim world people leave food out for feral felines. Stray dogs, on the other hand, are often seen as a public nuisance – overgrown rats with wagging tails.

In Iran's Islamic republic, dog ownership is seen as a pernicious Western import, and conservative lawmakers have called for it to be banned or at least heavily restricted, in line with other regulations governing Western music and fashion.
They requested a catnip cake.


If we had to guess what our dogs dream about, we'd say either Ryan Gosling or opening up our refrigerators and consuming everything inside.

The latter is most certainly true for Allie, a 12-year-old yellow Labrador retriever who was busted by her family for raiding the kitchen when they're not home.

San Luis Obispo, California, radio personality Adam Montiel said he noticed his dog was getting into the fridge and freezer. "We couldn't figure out how she was doing it, so I hooked up a GoPro to find out," he writes on YouTube.
When you give Star Wars fanatics a trailer, amazing things happen.

When the trailer for Star Wars: Episode VII – The Force Awakens hit the Internet on Nov. 28, their fingers clicked with such brute force that, so far, it's been viewed more than 46 million times.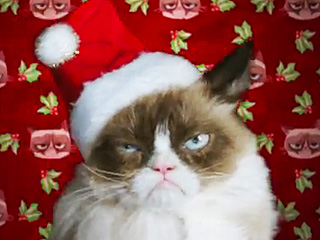 Perhaps you're in luck if you're on Grumpy Cat's Nice List this year. (Side note: That would likely be nobody.)


Like you've never been jealous of a baby before.


What happens when your mom is an animal lover? You'll probably be one too, and little baby Alia is getting started early.

The little girl's best friend isn't a teddy bear or a blanket, it's a sloth! Alia's mother, Julia Heckathorn, brought the 4-month-old animal home two days after Alia was born, and the baby and sloth have been inseparable ever since.
The Latest
Get PEOPLE Pets Everywhere
Advertisement
Photo Special
Top Pets Category