The Latest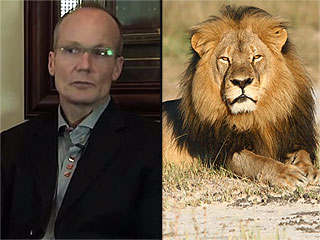 You're looking at one of the most hated people on the Internet right now.

On Tuesday morning, a Minnesota dentist named Walter Palmer woke up a relative unknown – until it came to light that he had killed one of Zimbabwe's most beloved lions, Cecil. The animal was allegedly illegally lured from the Hwange National Park in July and killed by Palmer's gun. (In a statement, Palmer said that to his knowledge, everything about his hunt had been legal.)

Throughout the Twitterverse and beyond, his name evoked wrath – from celebrities to animal lovers and beyond. As the news spread, Palmer, 55, spoke with regret for "my pursuit of an activity I love and practice responsibly and legally resulted in the taking of this lion."

Palmer said he "relied on the expertise of my local professional guides to ensure a legal hunt." The Associated Press reported that two Zimbabweans, Theo Bronkhorst and Honest Trymore Ndlovu, were arrested for illegally hunting a lion and appeared in court on Wednesday.

But who is Walter Palmer? Here's what we know.
Other kitties have tried to challenge Grumpy Cat's reign over the Internet throne of viral displeasure, but this may be the first true dog competition.

Earl is a puggle, a beagle and pug mix, sporting a permanently frowny face. According to Yahoo! U.K., Derek Bloomfield, the owner of the 5-month-old puppy, recently posted photos of Earl's pouting mug online, and the ravenous animal lovers of the Web went wild.
It can be really hard to scold your pet when they look at you all cute and innocent, and for golden doodle Cloey's humans – it's nearly impossible.


Like the most adorable meteor the world has ever seen, a precious baby seal suddenly landed in the middle of a cow pasture in Lincolnshire, U.K.

According to ABC News, a birdwatcher at Frampton Marsh Nature Reserve recently spotted a bewildered seal pup sitting on the ground surrounded by several curious cows. Worried that the tiny animal was in distress, the birdwatcher, Ian Ellis, contacted authorities.
Why did the ducklings cross the road? Because they had an adorable police escort.

In a YouTube video only slightly less exciting than a high-speed car chase – but more than slightly cuter – two St. Andrews police officers protected a rogue family of ducks that somehow found their way into the middle of the road. By slowing down traffic and directing them away from the bizarrely-oriented cars (driving on the left side will never look right to us), the two officers fulfilled their sworn duty to protect and serve adorable ducks.
Cielo's got the mermaid thing down, now if she could just sing.

In this YouTube video, a baby jaguar – just one of the beautiful charges living with Eduardo Serio at the Black Jaguar White Tiger Foundation – dives into a swimming pool with as much grace as we have when we're sliding on a Slip 'N Slide (yeah, we still Slip 'N Slide, so?).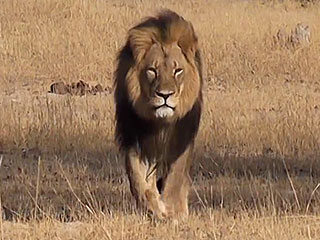 Authorities in Zimbabwe say a dentist from Minnesota paid $55,000 to illegally kill one of the country's most famous lions.
Although initial reports said the killer was a Spaniard,
The Telegraph
named
American dentist
Dr. Walter J. Palmer as the hunter responsible for firing at Cecil with a bow and arrow and then later shooting the animal with a gun. Following this report, Palmer, 55, released a statement on Tuesday afternoon admitting he killed Cecil.
In his statement, the dentist from Eden Prairie, Minnesota, says he regrets killing Cecil, and he blames his hired guides for allowing the death to occur.
"I hired several professional guides, and they secured all proper permits. To my knowledge, everything about this trip was legal and properly handled and conducted," reads the statement.
"I had no idea that the lion I took was a known, local favorite, was collared and part of a study until the end of the hunt. I relied on the expertise of my local professional guides to ensure a legal hunt."
Cecil the lion was part of an Oxford University research project and wore a GPS collar. The 13-year-old animal, a fixture on safaris there, was lured out of the Hwange National Park with food, shot with a crossbow, tracked for 40 hours and finally killed with a gun on July 6, Johnny Rodrigues, head of the Zimbabwe Conservation Task Force,
told CNN
.
When he arrived at the Richardson Animal Shelter in Dallas, Texas, back in 2012, Skinny the cat was so overweight, he could only walk a few feet at a time.

The cat's extra pounds made headlines around the world, and now he's living purr-oof that change is good.
The Latest
Get PEOPLE Pets Everywhere
Photo Special
Top Pets Category