The Latest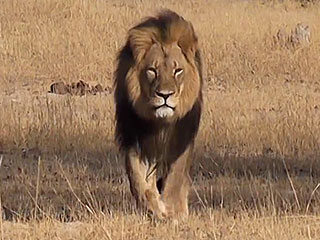 Authorities in Zimbabwe say a dentist from Minnesota paid $55,000 to illegally kill one of the country's most famous lions.
Although initial reports said the killer was a Spaniard,
The Telegraph
named
American dentist
Dr. Walter J. Palmer as the hunter responsible for firing at Cecil with a bow and arrow and then later shooting the animal with a gun. Following this report, Palmer, 55, released a statement on Tuesday afternoon admitting he killed Cecil.
In his statement, the dentist from Eden Prairie, Minnesota, says he regrets killing Cecil, and he blames his hired guides for allowing the death to occur.
"I hired several professional guides, and they secured all proper permits. To my knowledge, everything about this trip was legal and properly handled and conducted," reads the statement.
"I had no idea that the lion I took was a known, local favorite, was collared and part of a study until the end of the hunt. I relied on the expertise of my local professional guides to ensure a legal hunt."
Cecil the lion was part of an Oxford University research project and wore a GPS collar. The 13-year-old animal, a fixture on safaris there, was lured out of the Hwange National Park with food, shot with a crossbow, tracked for 40 hours and finally killed with a gun on July 6, Johnny Rodrigues, head of the Zimbabwe Conservation Task Force,
told CNN
.
When he arrived at the Richardson Animal Shelter in Dallas, Texas, back in 2012, Skinny the cat was so overweight, he could only walk a few feet at a time.

The cat's extra pounds made headlines around the world, and now he's living purr-oof that change is good.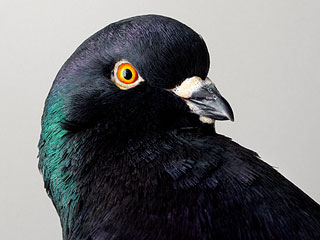 So, it looks like someone might be dyeing pigeons hot pink in Stockport. Really. http://t.co/CPGwQYHmjS pic.twitter.com/pZYMImw5y9

— Manchester News MEN (@MENnewsdesk) July 26, 2015
Words hurt humans and pigeons alike. After years of being called rats with wings, a few pigeons have decided it is time for a shocking change.
According to
Mashable
, these city birds have been popping up around Britain, startling citizens and taking over Twitter.
The
Manchester Evening News
was the first sharp-eyed paper to spot one of the unusual cooers, posting a photo of one of the white and magenta birds outside a Stockport church.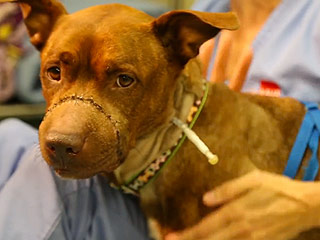 After everything she's been through, Princess should definitely be treated like one.

Authorities tell the Sun Sentinel that the pup was involved in an "extreme act of cruelty" after her muzzle was bound shut for anywhere from four to 14 days.

The horrible act, which nearly killed the dog, is considered a felony in Florida and is punishable by up to five years in prison.
Can kibble be a palate pleaser? That is what Freshpet is trying to find out.

The pet food company recently treated a group of curious eaters to a bountiful plate of burgers, tacos and spaghetti with meatballs. All the chow looks appetizing, but lurking beneath is a secret ingredient: dog food.
Meet Sweet William. Sweet William is a baby skunk who this gentleman, Farmer Bob, found sick and orphaned on the side of the road.


Soapy soapy soapy soapy, soapy chameleon! You pop and go, you pop and go-oooh.

Say hello to Laura. This scaly little dreamer isn't just a Boy George fan – she's setting out to make chameleon history. While she comes from a long line of masters of disguise, including her father, who was named the Most Invisible Lizard of 1998*, Laura wants to stand out. (*= cannot be verified)
Please take a moment to turn on the Hawaii Five-0 theme song, because this is a tropical caper perfectly suited for Danno and the gang.

On Friday, a Siamese cat found in Hawaii was reunited with his family in Detroit, Michigan, reports KHON2.

Over 19 months ago, the family, who were moving from Hawaii to Michigan, lost their beloved feline, Bogie, in the process when he escaped from his kennel on a United Cargo Hold flight.
Stick or no stick, sometimes selfies are just plain unsafe. That is the message the National Park Service is trying to get across to snap-happy visitors who keep trying to pose with wild bison for selfies.

On Wednesday, the NPS released a notice warning visitors to stay away from wildlife, especially for photos, reports The New York Times. This announcement followed an incident at Yellowstone Park in which a woman was flipped by a bison while she was posing for a selfie with the animal. Onlookers said they tried to warn the 43-year-old woman from Missouri that she was too close to the animal, but the buffalo charged at her before she had time to run away.
The Latest
Get PEOPLE Pets Everywhere
Photo Special
Top Pets Category