The Latest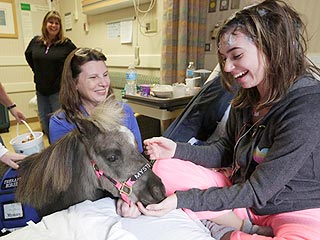 Credit: M. Spencer Green/AP
Though it may sound like one, this is no joke: Two miniature horses trotted into a hospital.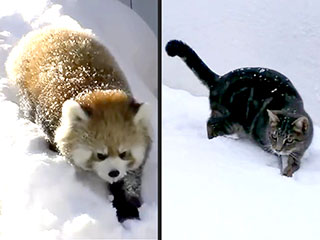 While folks in Buffalo, New York, are asking for an end to the snow already, animals around the world are begging for more of the white, fluffy stuff.


Home. Some pets never have one to call their own. We'd like to help change that by introducing you to an extraordinary adoptable pet every week. Today, meet Logan, a 6- to 8-month-old male smooth collie/border collie mix from the Florida Little Dog Rescue in St. Cloud, Florida.

Logan and his littermates have been through a lot in their short lives. He and his three siblings were found in the woods by a Good Samaritan this Fall, huddled near their deceased mom. If that scenario wasn't sad enough, add to it that the pups were doused in gasoline. Vagrants chased the rescuer out of the woods as she carried the dogs to safety.
Cat videos have taken over the Internet, and now they're working to win the fight against cancer – thanks to a new charity.

Cats vs. Cancer is a non-profit website dedicated to fighting cancer through the magic of cat videos, reports The Daily Dot. Yeah, you heard that right.
Cats aren't normally the ones begging for anything.

On any given day, humans are the eager party begging their feline friends for a snuggle, a pet, or even a glance acknowledging that they exist. And then, of course, there are dogs, who will beg for a dirty shoe to chew on. Gross.

Meet the kitty who breaks the purr-verbial cat mold. This hungry feline is not afraid to shamelessly beg for fish treats by holding her perfect paws together repeatedly for the attention of her owner – while her furpals look on in disgust.
What they lack in coordination, they make up for in cuteness.


When people first laid eyes on Dori the dog, they thought she was dead.

So when SPCA officers responded to a call about a "dead dog" at the home of Ronald and Shelley Breier, they were surprised to learn that Dori was still alive – unable to move in the corner of a basement but still breathing, according to WIVB 4 in Buffalo, New York.
Personally, we'd go with his version of "My December," but there's no accounting for taste.




When it comes to the competitive world of local news, King is the king of Miami.

The friendly 1-year-old pit bull mix interrupted meteorologist Ryan Phillips's post-Thanksgiving weather report and, in our opinion, he rained (get it?) supreme over all the other networks.

The adorable dog – who was on set for a segment about adoptable pets – made himself at home by hopping right on top of Phillips's weather desk and energetically trying to lick the weatherman's face.

"Whoa! Live TV," said Phillips as he tried to dodge kisses from the pup. "How are you buddy? It's not your turn yet. You have to wait one more segment. Okay, just let me do the weather."
Looks like Santa ought to be added to his own naughty list.

On Sunday, a Santa working at The Shops at Mission Viejo in California turned away a girl with autism because she brought along her pit bull service dog, ABC reports.
The Latest
Get PEOPLE Pets Everywhere
Advertisement
Photo Special
Top Pets Category