The Latest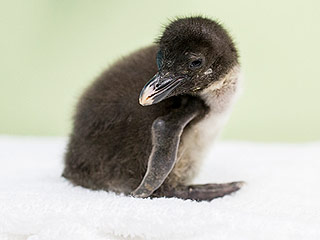 Credit: Brenna Hernandez/Shedd Aquarium
On Tuesday, June 9, a star was born: Chick #23, a teacup-sized rockhopper penguin (Eudyptes chrysocome) who's the fluffiest thing you'll see all week.


Stacked ten high, they span the length of two football fields and outsize Michelangelo's famous Sistine Chapel ceiling paintings. But for Jacksonville, Florida, artist Mark Barone and partner Marina Dervan, the collective masterpiece of thousands of 12x12 portraits dubbed An Act of Dog is more than a work of art – it's a heartfelt call to action.

"A camera can't give an image soul," Barone says in the trailer for the upcoming PBS documentary on the project. "But an artist can."

To that end, Barone set out to paint the soulful faces of 5,500 shelter pets that were euthanized over the past few years – each portrait representing one of the 5,500 dogs lost to America's kill shelter system daily. That's 1.2 million dogs put down each year because shelters are simply out of space and the animals are out of time.
Shabani is a western lowland gorilla raised in Australia. He currently lives at Japan's Higashiyama Zoo and Botanical Gardens, where he has a throng of followers based entirely on his handsome face and propensity for voguing for visitors.


It took two and a half hours to remove a seemingly infinite amount of dirty, matted fur. It was hardened and heavy, weighing five pounds.

But the horrific circumstances of Harry's rescue by a shelter in Kansas City, Missouri, don't end there. The Chow Chow is missing most of his nose and he's partially blind due to scarred corneas from his eyelashes growing into his eyes, reports FOX 4 KC.

Underneath all that fur, staff at the KC Pet Project found a sweet but emaciated dog, who suffered like this for far too long.
You better watch your back, cats. Goats are taking over the adorable animal video scene, and their tolerance for costumes is much higher than yours.
Tama the cat, who helped to save a failing Japanese train station, has died of acute heart failure at the age of 16, reports NPR.

The calico kitty was an honorary stationmaster at the Kishi train station near Wakayama City. Tama was given the role in 2007 after she started hanging around the stop. Workers dressed the feline in a tailor-made collar and stationmaster hat and even gave the cat her own office – a converted ticket booth.
When actress Rachel Brosnahan saw an elderly dog alone and struggling in a Santa Fe, New Mexico, dog park, she knew she had to do something.

The Manhattan and House of Cards star was walking with her own two pups when she spotted the dog who appeared to be dehydrated.

"He kept trying to stand up on his front legs, but his back legs had totally given out, we thought he was injured," Brosnahan, who is filming the second season of Manhattan in Santa Fe, told KRQE News 13. "The poor guy had just been toasting out there I think. We brought him some water and called Animal Services."
In offices around the nation, productivity is plummeting – and not just because it's Friday.


Midpoint in the sorrow following the church shootings last week in Charleston, South Carolina, big slobbery dog kisses helped to spread comfort among the emotionally wounded.

As thousands of people rallied at a park across the bridge from the city on Sunday to honor the victims, Porsha (a St. Bernard) and George (a labradoodle), certified therapy dogs with the nonprofit, all-volunteer HOPE Animal-Assistance Crisis Response, went to work communicating peace and love in their own way.

Handlers Cindy Becker and Julie Scott say that their dogs offer relief to everyone – from first responders to trauma victims, to children who just want a kiss and a wag. "We let people approach us," says Scott told PEOPLE. "Our dogs offer unconditional comfort, even if it's just five minutes with this loving, calming animal."
The Latest
Get PEOPLE Pets Everywhere
Photo Special
Top Pets Category