The Latest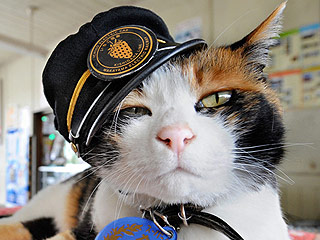 Credit: Toru Yamanaka/AFP/Getty
Tama the cat, who helped to save a failing Japanese train station, has died of acute heart failure at the age of 16, reports NPR.

The calico kitty was an honorary stationmaster at the Kishi train station near Wakayama City. Tama was given the role in 2007 after she started hanging around the stop. Workers dressed the feline in a tailor-made collar and stationmaster hat and even gave the cat her own office – a converted ticket booth.
When actress Rachel Brosnahan saw an elderly dog alone and struggling in a Santa Fe, New Mexico, dog park, she knew she had to do something.

The Manhattan and House of Cards star was walking with her own two pups when she spotted the dog who appeared to be dehydrated.

"He kept trying to stand up on his front legs, but his back legs had totally given out, we thought he was injured," Brosnahan, who is filming the second season of Manhattan in Santa Fe, told KRQE News 13. "The poor guy had just been toasting out there I think. We brought him some water and called Animal Services."
In offices around the nation, productivity is plummeting – and not just because it's Friday.


Midpoint in the sorrow following the church shootings last week in Charleston, South Carolina, big slobbery dog kisses helped to spread comfort among the emotionally wounded.

As thousands of people rallied at a park across the bridge from the city on Sunday to honor the victims, Porsha (a St. Bernard) and George (a labradoodle), certified therapy dogs with the nonprofit, all-volunteer HOPE Animal-Assistance Crisis Response, went to work communicating peace and love in their own way.

Handlers Cindy Becker and Julie Scott say that their dogs offer relief to everyone – from first responders to trauma victims, to children who just want a kiss and a wag. "We let people approach us," says Scott told PEOPLE. "Our dogs offer unconditional comfort, even if it's just five minutes with this loving, calming animal."
Home. Some pets never have one to call their own. We'd like to help change that by introducing you to an extraordinary adoptable pet every week. Today, meet Keena, a pup that was scooped up from the Pine Ridge Indian Reservation in South Dakota, where the tribal council began rounding up stray dogs late last year.

Whether this mutt knows it or not, she is very lucky – many of the strays found roaming the reservation have been killed, according to the Rapid City Journal. She was saved by LightShine Canine and hitched a ride to Sarah's Treasures Rescue in Watertown, South Dakota, in November.
On June 23, PEOPLE reporter Diane Herbst found two dogs locked in a hot car with the windows shut and decided to take action. This is her first-person account of what happened.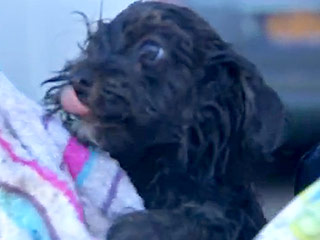 A vent pipe is no place for a tiny teacup terrier.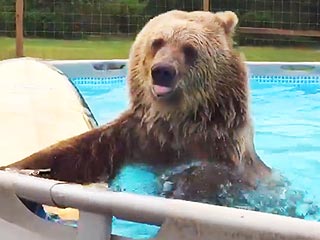 Grizzly bears get hot, too.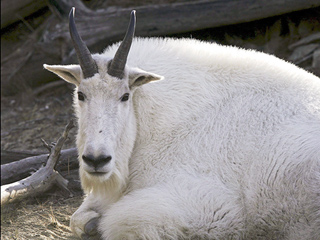 Despite his horns, size and unmistakably goat-shaped body, one Australian goat is pretty certain he's a kangaroo.


The Latest
Get PEOPLE Pets Everywhere
Photo Special
Top Pets Category