The Latest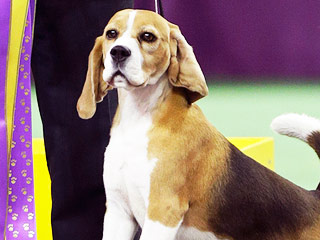 Credit: Frank Franklin II/AP
We thought they were all equally adorable – insert awww – but there could only be one top dog at Westminster.

Congrats, Miss P!

The beagle from the hound group ran off with the prestigious Best in Show title Tuesday at the 139th annual Westminster Kennel Club Dog Show.

Miss P (formal name: Ch Tashtins Lookin For Trouble) beat out six other fierce furballs: the Patty Hearst co-owned Rocket (toy group), Flame (non-sporting group), Swagger (herding group), Liz (sporting group), Matisse (working group) and Charlie (terrier group).
Famed and infamous heiress Patty Hearst was back in the news Monday after a dog she co-owns won its group at the Westminster Kennel Club show.

A shih tzu called Rocket was picked as the top toy dog at New York City's Madison Square Garden.
And we still haven't solved Monday's crossword.

Moritz is a pig who lives in Berlin, Germany. He happens to be very good at solving puzzles. Nicolle von Eberkopf, Moritz's owner, has trained him to perform a variety of tricks, and posts a ton of videos of the pig and her other pets to advocate for animals worldwide.

"Animals are an important part of our society," she writes in one her video posts.

And we're not disagreeing – can we get Moritz's help with our taxes?
Erick Brown is hearing hoofsteps outside his window once more.


A kitty in Helena, Montana, had a pretty crummy Valentine's Day, spending the weekend stuck in a tough spot.

Sometime on Friday, Ryilee Stratton's feline scurried up a local transmission pole and then refused to come down, reports KXLH.

Locals believe the gray and white kitty may have sought out the high spot to escape a group of neighborhood dogs.
From Bo and Sunny to Millie and Checkers, meet the furry residents who've called the White House home
Mary Morgan grew up a dog lover, her family breeding boxers from the time she was small. But when she was 7, Morgan was savagely attacked in her yard by a neighbor's Rottweiler, who nearly tore her right arm off.


You've seen videos of dogs weeping, whimpering and emotionally breaking down when their masters return home from a tour of duty. In fact, some reunions can instantly make you bawl and retreat home to watch Marley & Me on Netflix for the 17th time.

Watching cats welcome their masters home from war has a drastically different effect, though: they'll make you laugh – really, really hard.
Clearly, Sissy had somewhere she needed to be.

So, she bolted out of her yard at 1:30 a.m. on Saturday and traveled 20 blocks to the Iowa hospital where her owner Nancy Franck was recovering from surgery for cancer, the New York Daily News reports.

Surveillance footage shows the dog arriving at the Cedar Rapids' Mercy Medical Center in Iowa early on Saturday morning, and running around the halls – apparently in search of someone very special to her. Franck had been there for the past two weeks following chemotherapy for uterine cancer.
The Latest
Get PEOPLE Pets Everywhere
Advertisement
Photo Special
Top Pets Category