The Latest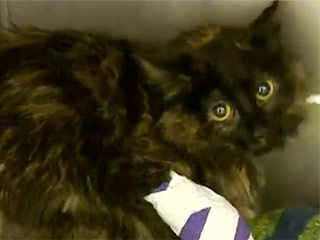 Who could do this? That's what people in Minnesota and beyond are wondering right now.

A reward is being offered for information leading to finding the person who tossed a tortoiseshell cat from a moving car on May 2 in Roseville, Minnesota.

According to KARE 11 news, the cat suffered broken teeth, three fractures to her hind leg, and lost skin on her paws and tail, which required amputations.
Can you speak up? I can't hear you – the cat is purring.

This is a common predicament for Tracy Westwood, the owner of Merlin the cat, who has just been awarded the title of World's Loudest Purr, reports Guinness World Records.
Most dogs are happy to see you, but this dog has better reason than most to get excited.


Who's hanging around? Not this orangutan – he has important mothering matters to tend to.

The Internet is abuzz over an adorable Discovery Family video featuring an orangutan bottle-feeding three tiger cubs.

Shared on YouTube by AnimalsMedia.com, the video says the ape, who lives at a safari park in Myrtle Beach, South Carolina, watched his caretakers care for the babies and fancied trying it for himself.
Army veteran Michael Hammons was arrested for saving a dog's life.

The Athens, Georgia, man heard people in a parking lot talking about a distressed dog stuck in the backseat of a hot Mustang and decided to take action, reports WXIA.

Instead of waiting for police with the rest of the bystanders, Hammons grabbed the leg of his wife's wheelchair and smashed the car's window to let the animal out.

"I've got PTSD, and I've seen enough death and destruction," Hammons, a veteran of Desert Storm, told the news station. "I didn't want anything else to happen if I could prevent it."
Whales, dolphins and other marine life are dying needlessly in our oceans, and Kate Mara wants you to know about it.

The actress stars in a new PSA for Oceana, which explains how these majestic creatures lose their lives in nets that are meant to capture swordfish.

"A mile wide and a hundred feet deep, drift gillnets are virtually invisible and catch ocean wildlife indiscriminately," Mara tells Oceana in an interview. "They snare – and regularly kill – sharks, whales, sea turtles and many other marine animals that swim in its path. In fact, the drift gillnet fishery often discards 60 percent of animals caught in these nets!"
She may be pocket-sized, but Kelly Osbourne's new dog is a giant-sized load of responsibility – and the TV personality is working overtime.

Not that she's complaining. Judging by the adorable photos on her Instagram feed, her love for Nancy the miniature Pomeranian is immense – so great that she can't resist taking the pup everywhere (and in all honesty, if we had a dog this cute neither could we).

"She is like having a real [baby]," Osbourne wrote on Instagram May 1. "I have not slept a full night since we got her, she has to eat every 3 hours!"

But seriously, who needs sleep when you have a dog this cute? Nancy is living proof that Puppy Insomnia is very real.
Getting stuck on Highway 101 is definitely something to hoot about.

That's what one owl learned last Friday when it was apparently hit by a vehicle and found itself injured near the center divider of the California highway, The Press Democrat reports.

California Highway Patrolman Justin Fetterly responded to the call about the barn owl, and when he arrived at the scene, he cornered the bird with fellow officer Brian Wood. Fetterly used an emergency blanket to scoop up the bird and then drove with it in his lap to a nearby emergency animal hospital in Santa Rosa.
Turns out dogs have way more in common with Gwyneth Paltrow than you thought: all they want is a harmonious life. Or at least that's what dog trainer Cesar Millan, also known as "The Dog Whisperer," says.

Millan told PEOPLE that one reason some pups bark incessantly is that they are living unstable lives.
Zach Spurlock was out scuba diving in the waters around Port Canaveral, Florida, fishing for lionfish for his friend's restaurant, when he happened to notice a great white shark calmly swimming in the water nearby.
The Latest
Get PEOPLE Pets Everywhere
Advertisement
Photo Special
Top Pets Category